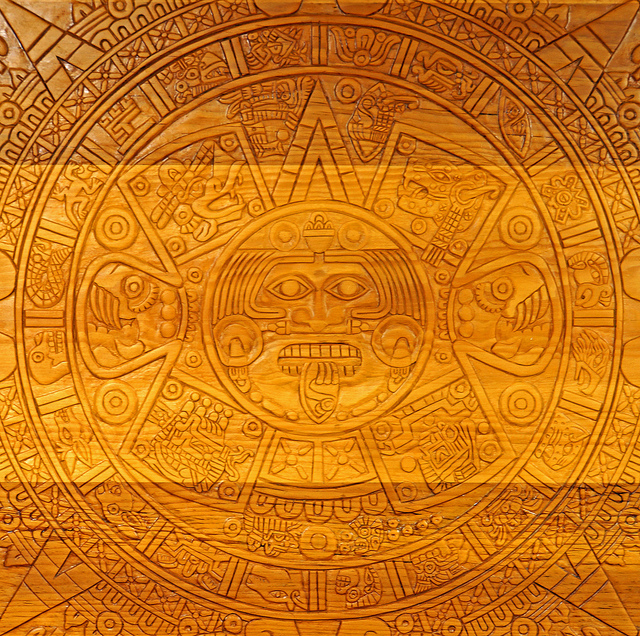 "We are inhabitants of a reality with the Cosmos as model." ~ Carlos Barrios
The Mayan people are astonishing and beautiful. They are incredibly strong and, in my experience, often kind, caring, grounded, wise and connected to the natural rhythms of the Earth, sun and moon.
For the past several months, I've been getting more interested in the Mayan Cosmovision—specifically the sacred Mayan calendar with its system of 13 tones and 20 totems or day signs.
I've had the pleasure of participating in three Mayan ceremonies, all within the past six months. These are traditional fire ceremonies in which a shaman opens a portal to commune in prayer with the spirits and offerings are made to the fire and the 20 gods that rule the 20 day signs.
Each day has both a number and a sign. There are 260 unique number/sign combinations in all. Halloween day, October 31, is 8 Net, for example. Sunday, November 1 is 9 Snake. And Day of the Dead, as celebrated in Mexico on Monday, November 2, 2015, will be 10 Death! Tuesday, November 3 is 11 Deer. The numbers for from one to 13 and then start over again. The whole cycle of nahuales rotates every 20 days.
We can look back at dates in history to see how the Mayan cosmovision relates to major global events from the past. September 11, 2001 was 6 Crocodile. The day of Martin Luther King Jr.'s assassination, April 4, 1968, was 13 Star.
The calendar number and sign that occurred on the day of your birth tell you your personal number and day sign. Unless you have access to a shaman in your neighborhood, the easiest and quickest way to discover your Mayan birth sign is by using this site or any of the variety that come up when you search "Mayan birth sign calculator."
The birth sign has two parts: a galactic tone, which is a number from one to 13, and a Nahual, which is a day-sign that is typically associated with an animal or natural element. There are 20 Nahuales in all. I myself am a 6 Deer.
Here are my interpretations of the Mayan astrological system that I've studied:
13 Numerical Tones:
1. Unity, solitude, solidarity, whole, first, beginning, self-guiding, complete, solo

2. Duality, dynamic, duos, desire for reunion, yin/yang

3. Action, will, power, effort, expression, rhythm, motion

4, Heart, love, action, stability, direction, dimension

5. Empowerment, communication, networks, investigation, listening

6. Flow, mind, thoughts into action, intuition, energy work, dynamic developments

7. Spirit, reflective, mirror, ethics, purpose, goals, spiritual path, practice, soulfulness

8. Justice, love, fairness, balance, organization, aura, pain-body, healing

9. Abiding love, patience, seeing the big picture, persevering, completing the circle

10. Creation, manifestation, collaboration, responsibility

11. Resolution, answers, signs, change, simplicity, improvement, refinement

12. Wisdom, understanding, retrospect, connecting parts to whole, interdependence

13. Completion, ascension, renewal, trying new things, trying again, finishing a cycle
20 Birth Signs/Nahuales:
(Each of the signs corresponds to one of the cardinal directions.)
East: Crocodile, Snake, Water, Corn, Earth

These days emphasize our need for creativity, trying something new and moving forward.

North: Wind, Death, Dog, Jaguar, Knife

On these days, the mind can be under a lot of pressure, so we need to protect ourselves from negative energy.

West: Night, Deer, Monkey, Eagle, Storm

On these days, we may encounter others and experience time for sharing and cultivating relationships.

South: Net, Star, Road, Vulture, Sun

These are days that bring up strong feelings and emotional extremes, and they may also be times of much activity and accomplishment.
Crocodile people are intuitive, emotional, artistic and can be visionaries.
Wind people are imaginative, romantic nature lovers.
Night people are soft-spoken, diplomatic and intelligent.
Net people are curious, perceptive and fiery.
Snake people are powerful, intense and magnetic.
Death people are peaceful, patient and intuitive.
Deer people are mighty, tenacious and independent.
Star people are friendly, emotional and sensitive.
Water people are warm, sincere, sensitive dreamers.
Dog people are friendly, brave, loyal and attractive.
Monkey people are creative, calm, clever and charismatic.
Road people are practical, industrious and organized.
Corn people are calm, creative, practical and good with money.
Jaguar people are courageous, curious and intelligent.
Eagle people are friendly, kind, smart, spiritual and sociable.
Vulture people are wise, introspective, patient and practical.
Earth people are talented, analytical, and can be visionaries.
Knife people are active, sharp, and deeply challenged yet able to heal.
Storm people are tender, sensitive, nurturing and feminine.
Sun people are strong, healthy, positive, enthusiastic and brave.
~
Relephant bonus:
Relephant:
~
Author: Michelle Margaret Fajkus

Editor: Travis May & Ashleigh Hitchcock

Photo: Flickr/Hartwig HKD