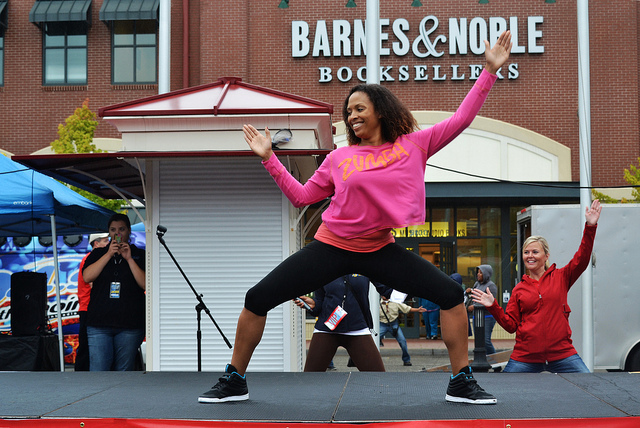 "Black Women have not focused sufficiently on our need for contemplative spaces."
—bell hooks, Sisters of the Yam, 2005
One morning, a day or two past the overconsumption of a Thanksgiving dinner and its left overs, I decided to get a gym membership at the local YMCA.
When I went to the gym to pick up my membership cards, I made a beeline to the back of the gym to check out the treadmill, take a selfie with a few sweat beads on my forehead and call it a day.
While changing out of my boots to my sneakers in the locker room, an older woman in her 40s came up to me, and started taking about losing a dress size. I was pretty sure that she had mistaken me for someone else, but I love a great conversation so I was all in.
She showed me pictures of her new waist line, and talked extensively about how her dresses were now fitting "loose." Then in the midst of showing me her new curves on her phone, she says, "Come on girl, we 'bout to be late for Zumba."
Zumba?
Images of skinny white women in neon colored workout gear with headsets on popped into my head. I told my new friend, "Oh no, not for me, I'm going to walk the treadmill, maybe next time." As I was walking past the room for Zumba to the treadmill, I peeped into the room and immediately noticed the instructor—a honey brown, thick, smiling woman (I would find out later that her name is Crystal) who was already shaking it tough with a group of women.
I decided to come completely in, and tucked myself at the end of the second row, by the door—in case I needed to escape. But instead of needing an escape, the energy in that room pulled me in closer. In that class, we grinded, we squatted, we jumped, we did salsa and merengue, we twisted and we turned for an hour to the sounds of Tina Turner, Janet Jackson, Mark Anthony and Pitbull.
It was exhilarating.
It felt liberating.
I was hooked.
This was November 2012. I started coming every Saturday to that Zumba class. Then twice a week. Then three times a week. Along the way, I have met other women at Zumba who encourage each other to pull through when we dread that one song that tires us out. We high five each other when we get through it. We compliment each other, when someone has lost five pounds–or no pounds. We are a communal of Black and Brown women dancing our way to collective and individual freedoms of the body.
Zumba changed my life. I used to hide myself. Ever since I can imagine existing, someone, somewhere, had something to say about me. I was too dark, too fat, too something. In Zumba, I put all of those things front and center. This fat black body shows up and shows out.
A few months ago, as I was entering the class for Zumba, someone said to me, "Hey Ms. Zumba Queen."
I smiled, as I wear that crown proudly.
You may find that Zumba may not be your twist, but it's a start to finding out if it is. Here are some helpful tips:
—Find a Zumba class in your neighborhood. This website will help.
—Wear cute outfits that accentuate your body. It's your body—adorn it to your liking.
—Invite a friend or even a few. I have found that having a support system to shake it down with you, gives you that extra level of support.
—Love your body or in the meantime, like it. In order to get the most out of Zumba, you have to connect with your body in order to get it to move in sync with you to the beat.
—Have fun. At times, exercising can feel like a dreaded chore. Zumba is a dance party. You may not be able to get every step down. But the goal is to not stop moving. Move at your own pace.
—Smile.
Author: Iresha Picot
Editor: Travis May
Image: Flickr/Tony Atler