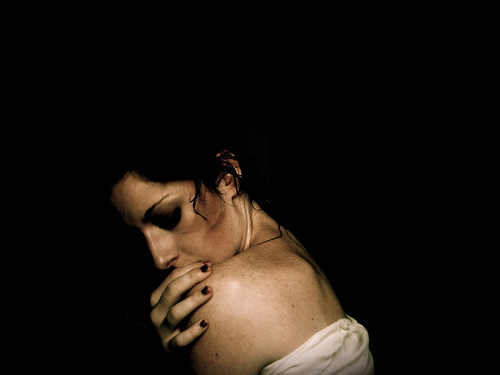 With statistics like that, something so common is not often talked about at all. Women are suffering in silence.
I refuse to do that.
My miscarriage ripped my world apart and is now a defining moment in my journey as a woman. My life is now divided into "before the miscarriage" and "after the miscarriage." With a history of Polycystic Ovarian Syndrome in my 20s and years of hard work to heal my body and boost fertility, my greatest fear had always been that I would not be able to conceive, especially since I'm now 37.
I didn't even think about the possibility of a miscarriage—it seemed like that was something that only happened to other people. I knew very few people who'd had miscarriages, so it seemed like an unreal thing.
It turns out that I knew plenty who had, it's just that nobody speaks about it.
After the joy of a positive pregnancy test and excitement of parenthood, at nine weeks pregnant I began to experience some bleeding. At 10 weeks pregnant my husband and I were given the heartbreaking news that I'd had a missed miscarriage. Not only had we lost our baby, it had stopped growing at six to seven weeks and my body still thought it was pregnant.
I don't know which was worse—the shock of finding out I'd miscarried, or the horror that I'd been carrying a dead baby for weeks.
Our world slowly imploded in the quiet darkness of the ultrasound room, gazing at the stillness of the screen where our baby's heartbeat should have been, the unfriendly technician barely saying two words to us even though we all knew it.
Our baby had died.
The following days were a blur of tears, anger, disbelief and of course sharing the sad news with our family and friends.
While we hadn't announced our pregnancy to the world (aka Facebook and Instagram) we did make the choice to share the happy news before the magical, so-called safe 12 week mark. We told family and close friends along with my yoga students who I simply couldn't hide my epic fatigue and nausea from in the early weeks.
On hearing of our early pregnancy a few people gave us the grave warning that we shouldn't share the news so early in case of miscarriage. But to us this was joyful, wonderful news and we were thinking positive. We decided that if the unthinkable happened, we would have support. And when the heartbreaking and unthinkable did happen, support is exactly what came our way.
Three days after our ultrasound, I posted on Instagram and Facebook the news that we had lost our baby at 2.5months pregnant. Sharing our experience felt really raw but at the same time healing as we didn't want to suffer in silence.
We were blown away by how many friends reached out to us sending love, prayers and messages of support. What was even more mind blowing was how many women we knew who shared their experience of miscarriage too. Women ranging in age between 20 and 70. Heartbreaking messages from close friends, family members, friends of friends, yoga students. All these women and many men deeply effected by the loss of a baby, for many the loss of multiple babies. Some losses recent, some 30 to 40 years ago. All significant in their lives.
Ultimately when to share your pregnancy news is a personal choice that is unique to each couple, along with the decision whether to share the sadness of a miscarriage or not. But I am saddened to think that overall the norm seems to still be don't tell in case you lose the baby and if you do lose the baby, then still don't tell.
But here I am, heartbroken and humbled by the loss of our baby.
I refuse to suffer in silence. The pain is real, the disruption to our lives is real, the devastation of plans for motherhood is real, the shame is real.
I have decided to miscarry naturally, which I believe is the ultimate test in patience, faith and trust in my body. Three weeks on from the ultrasound I have bled every day while I still wait for my body to slowly pass the remains of conception.
This is not something I want to deal with while needing to put on a brave face for people. So I don't.
I alternate between feeling shame that I miscarried, sadness for what I've lost, respect for my body's wisdom to end a pregnancy that perhaps wasn't quite right, anger that my body couldn't sustain a pregnancy and a deep, unending grief at no longer being pregnant, no longer carrying our little one, feeling that spark of life inside me.
But the one thing I do not feel is shame for sharing our pregnancy news too early or for sharing our miscarriage news publicly. This is real, this is happening and I am grateful to every single bit of love and support sent our way.
We do not have to suffer this grief in silence or isolation. I send love and support to every woman (and man) grieving the loss of a baby, recent or long lost.
Speak out. You are not alone.
Author: Felicity West 
Editor: Renée Picard
Image: LMAP at Flickr