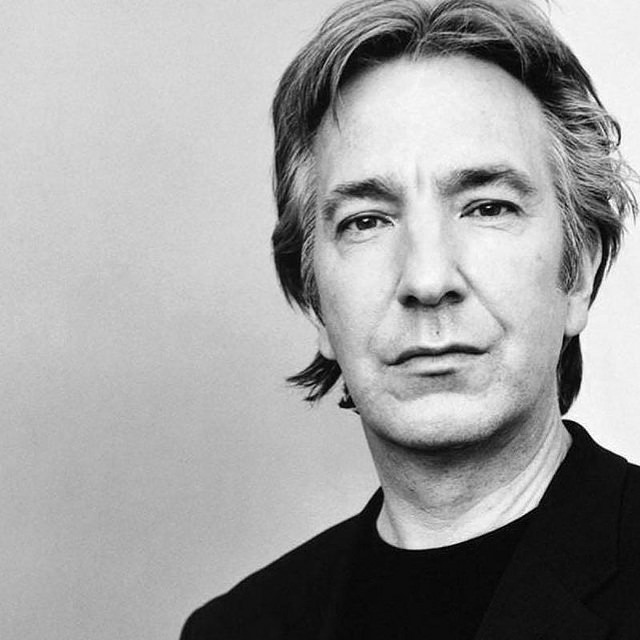 "I am pissed off, is what I am." ~ Alan Rickman as Metatron in Dogma, 1999
We all know them—those Facebook posts that overly mourn the death of celebrities we hardly knew, some more famous than others.
I usually just can't help but think it a bit ridiculous and over the top and I've always said I would never go down that road.
That was until today.
Today I learned my lesson.
My husband sent me the link to a newspaper article about the current refugee discussion in Germany but I never got around to reading it, let alone to watching the related video, because there was a single line above that article saying, "Breaking News: actor Alan Rickman dies."
Hang on! What!?
I gasped, thinking it must be a cruel joke or some kind of hoax but no, it appeared to be true and my world stood still for a moment.
Looking for a report that revoked this awful news I searched the news channels, German as well as British, just to have the heartbreaking reality confirmed.
While reading all those articles and careful obituaries I realize that they all did their homework. Even if they mainly refered to him as the actor who played Severus Snape in Harry Potter, they also valued all his previous work as actor and director.
All his achievements and accolades have been listed by now, and many tributes have already been given to him.
So what is left for me to say?
How about, I never realised how big an impact a complete stranger could have on my life.
My colleagues thought I was over-reacting when I heard the news. How could I be so upset about the death of someone I didn't know?
Why do I feel his loss deeply? Why am I so sad? Why am I shocked?
Why do any of us react this way to the death of a celebrity that we didn't know personally?
As much as we might love and admire their work and their talent, it's more personal than that. It's about their influence on our lives, our loves, our memories—the small and big ways they've changed and sometimes shaped our lives.
While I certainly don't deny my admiration for his viciously played Sheriff of Nottingham (so brilliantly done that I actually wanted Robin to die) or his notoriously bad tempered Alexander Dane in Galaxy Quest, it's definitely something else that makes me appreciate Alan Rickman's life—something more.
If it wasn't for Alan Rickman I wouldn't be the person I am today.
A bit far fetched? Far from it.
I had just passed my intermediate exams at university 16 years ago when I discovered that Colonel Brandon (Sense & Sensibility), the Sheriff of Nottingham (Robin Hood—King of Thieves), Metatron (Dogma), Alexander Dane (Galaxy Quest) and Hans Gruber (Die Hard) were played by one and the same actor. I had no idea!
The variety of these characters (and not just villians) intrigued me and I wanted to know more so I started digging. I found a little website  This one was a little different to the usual discussion boards you find on fan club websites and the like. The people on this forum didn't call themselves a fan club and the main aim of that discussion board was to exchange knowledge about films and where to get them. It might be difficult to imagine but at that time Amazon had just started their business in Germany and it wasn't that easy to get hold of films like Mesmer, Rasputin, Dark Harbour, Truly Mady Deeply, Closet Land, Close my eyes…and many more.
I was in my mid-twenties and was struggling with a break up.
Talking to those girls and spending evenings watching these films made a huge difference at that time in my life.
We organized a few film weekends and the community grew but there was a small group of women that got on really well and friendships developed beyond that mutual interest in Alan Rickman's work. Some of them are still my best friends today, 16 years later.
I started to discover a liking for the English language despite me nearly failing grammar school graduation because of my poor language skills. So not only did I watch those films in English, I started reading books in English and ended up watching all British films in English.
And then, there it was: my decision to move to London once I complete my Masters at university.
Two weeks after I graduated I moved to London, found a job, new friends, my love for the theatre and the appreciation of the ups and downs in life. London life was tough. As a newcomer, I found that you never earn enough to really live life to the fullest in this town but you still try your best because that's what life is for and of course, as Samuel Johnson said, "If you're tired of London, you're tired of life." 
In the end I was tired of London though and after 6 years I decided to return to Germany. But those years spent there changed my life.  Everything I experienced there, and all the people I met wouldn't have been if it weren't for my admiration for Alan Rickman.
Of course I have moved on from those times where I would impatiently wait for a new Alan Rickman film or news about him appearing on stage somewhere (yes, I even flew to Dublin for a weekend to see him in a play!) but his death shows me that he is still there within me somewhere.
It may sound silly or cheesy (to cite one of my friends) but Alan Rickman tangentially made me the person I am today as he is the root cause for decisions I made, people I met and crossed paths with and lessons I learned.
So what if there hadn't been an Alan Rickman or my liking for him?
There would probably have been a different actor or singer and subsequently different people and different experiences in my life and maybe I would be a different person. You know, Sliding Doors.
But I'm glad that's not the case.
I like my life as it is and this is why I'm mourning one of the greatest British actors who's now hopefully been appointed as the "Voice of God."
~
Relephant read:
~
Author: Raika Woköck
Editor: Khara-Jade Warren
Image: Icaro Ferracini/ Flickr
~