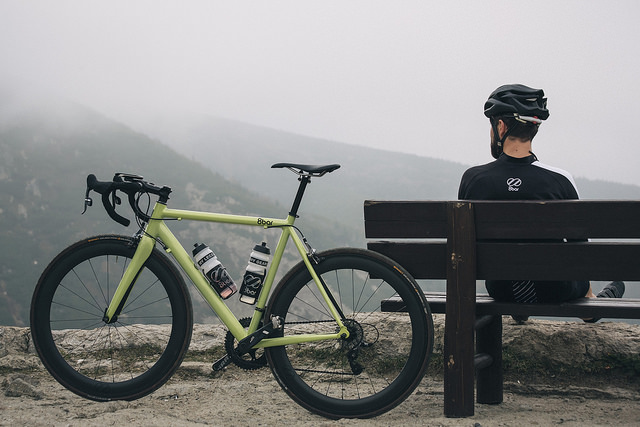 For as long as I can remember, there has been a part of me that longs for the sublime.
A niggle that urges me to head off on an eternal adventure, filling my freedom bucket as I roam from exquisite valley to roaring river, stopping only to gaze at nature's marvels along the way. It's a dream many share, and fewer achieve in their lifetime.
As a youngster, I would escape the madness of my house by packing my notebook into my backpack, and heading off down the alleyway next door. It was a magical place. Rich velvet foliage stretched on as far as the eye could see, and my small fingers freed juicy blackberries from thorny prisons. The squirrels were still innocent enough to approach me for monkey nuts, taken straight from my hands. I sat in the shade, and wrote about my dreams. It was a place where anything could happen.
I explored the overgrown jungle of a neighbour's yard, peeking through at the broken, abandoned cars, making up a fantasy about how it came to be so desolate. I imagined my future, and the discoveries I would make. I wanted to see the whole world and was determined that my life would be lived in the moment, enraptured by the wonders of distant shores. I resolved not to be like other grown-ups. I didn't want a boring corporate job that I didn't care about. I refused to pound the pavements of a concrete jungle. Most of all- I didn't want to spend my most precious gift–time– building someone else's dream.
Then life happened.
My parents divorced. Money was tight. I got the highest exam results in my high school year, and I remember the very moment that I decided that, actually, I needed the high-flying career that I had always vowed to avoid. I was determined to use my academic achievements to help my family, should they ever need it. So College, University, a graduate job came next. The steps were logical, almost satisfying: tick, tick, tick. I didn't stop for the gap year that I longed for. I knew that graduate positions were gold dust, and that I needed to get some experience under my belt as soon as I possibly could. Adventure took a back seat to reality.
But the Universe remembers the promises we make to ourselves.
My first job was its very own adventure, as I jetted off to India for seven weeks of intense graduate training. My eyes were re-opened by that beautifully vivid, chaotic place. I remembered that the sights, the smells, the colours, the intensity, were all of the things that I had ached for growing up. I met new people. I met the love of my life. My dreams stirred. I saw clearly all of the excuses that I had been making to myself: 'I'm too busy, too broke, too far into my career plan to have adventures.' I didn't want to make excuses anymore.
I realised that adventure didn't necessarily mean abandoning all of my daily commitments for an epic 'once-in-a-lifetime' trip. (Though sometimes, of course, the longing to escape it all is overwhelming). The more I thought about it, the more I felt that adventures could be found anywhere, if I looked hard enough.
I asked myself: what defines an adventure?
For me, adventure encapsulates the spirit of freedom. The ability to get up and go, and to do something outside of my everyday comfort zone. It doesn't have to be as dramatic as sky-diving, or white-water rafting, though of course it could be either of those things. More important is the attitude of openness to something different, the willingness to try (and sometimes fail) and the capacity to go with the flow as new, unimagined elements unfold around us.
I began to brainstorm mini adventures that I could work around my lunches, evenings and weekends. My partner is always keen for new experiences, and together we began to plan activities that required little time and cost investments. We discovered that adventure could be as simple as taking a new route home from work, or planting exotic flowers in the back yard. Anything that captures the essence of childlike wonder and enthusiasm, whilst finding delight in everyday things.
So, whether you work 9-5 in a corporate job, have family commitments, or are a national geographic explorer, my wish for you is a lifetime of experiences, in whatever shape or form that takes for you. I would love to hear about the inspiring adventures that you create for yourself everyday, because let's face it: Adventures are stories that long to be told.
Feel free to connect with me here, or via the usual channels, to share ideas for all to enjoy.
In the meantime, here are some of mine to get you started:
1) Go camping for the night and sleep in the great outdoors.
All you need is a tent (or swag), warm clothes, food and light, and you are good to go. If you don't want to go too far, sleep in your own backyard- you will see your home in a whole new light by morning.
2) Go Kayaking.
Find a river/ocean and hire a kayak for a few hours. Feel the spray on your face, and access some areas that you would never have reached on foot. Amazing!
3) Take a canvas and paints to a spot of natural beauty. 
Find a pretty spot, set up your canvas and let your imagination run wild. All kinds of people will stop for a look and a chat, so it's a great way to meet some interesting new characters.  My friends and I had a competition to paint the same mountain landscape from a look-out, resulting in much hilarity. We hung the truly terrible canvases in our home to remind us of the fun we'd had that day, and they never fail to make me smile.
4) Get yourself lost on purpose.
When I first got my drivers licence, (way before GPS even existed), my sisters and I would play a game. We'd jump in the car and drive as far as we could, taking any turns we felt like until we were truly lost. We would stop and grab a milkshake at a random café, then try to find our way home again, chatting and laughing, and discovering new sights along the way.
5) Go for a hike with friends.
Get off the beaten track. Swim in rivers, lay in the sunshine, crunch through leaves. Get home exhausted, but happy.
6) Do something that scares you. High five yourself afterwards!
For me, this ranged from driving for five hours (and through a shallow river) to a remote writers retreat, to signing up for singing lessons. I couldn't say which terrified me more, but I was so pleased with myself afterwards for confronting my fears that I felt invincible!
7) Watch the sunrise or set.
Grab a picnic rug, some friends and some nibbles and watch the sunset/sunrise from a beach, park or garden. Last summer we instituted 'Sunset Wednesdays' with friends, to do just that.
8) Sign up for a fun run/race.
Do it by yourself, or with friends. Train for it and make a day of it. Dress up, dress down. Race for a cause if you want to, and know that you made a difference.
9) Impromptu train trip
Pack an overnight bag, head to the train station and get onto the first train you see. Find a hostel on the fly (all part of the adventure), then explore your new surroundings!
10) Head to a Yoga retreat.
Or if u can't afford one- get some friends together and create your own at one of your houses. Drink green tea, have hot bubble baths, and treat yourself gently for a whole weekend.
11) Rollerblading/ Cycling/ Segway
Find something with wheels. Use them to fly free down boulevards, parks and trails.
12) Look up free meet ups in your area.
Meetup.com is a great way to follow your passions and hobbies with other like minded folk. Whether it be ladies who lunch, surfing buddies, or book clubs, there is something for everyone to enjoy. When I moved countries, this was a great way for me to meet people and do things that I wouldn't normally do.
13) Volunteer
For me, nothing is more satisfying than helping a cause that means something to me. Clear rubbish from a forest, become a mentor, serve at a soup kitchen. Whatever fills your heart to bursting- do that and enjoy every moment. That way it will never feel like a chore. This is my latest escapade, and I'm currently looking into a scheme that lets you take an elderly friend for tea. Watch this space!
Relephant read:
Author: JoJo Rowden
Image:8bar bikes/flickr