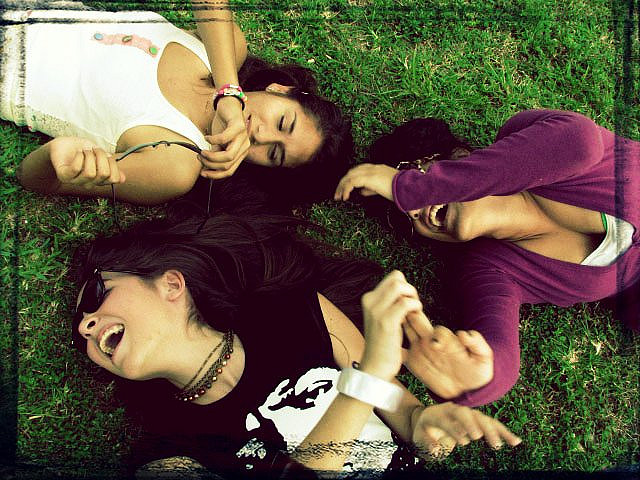 The great emotion of finding joy in the simple things—do you remember that?
Getting the maple syrup in all of the golden brown waffle squares perfectly? Listening to your girlfriend laugh uncontrollably while trying her hardest not to snort? How about watching those reruns of America's Funniest Home Videos with your brothers? What about seeing your son's first performance on stage while he's bouncing around covered from head to toe in a cardboard cutout of a rock?
Oh, and listening to your grandpa hum that old Western tune. You know, the one he has on cassette in his old truck? Gosh, he thinks those cassettes are the coolest thing since sliced bread!
Who of you remembers lying on your belly on the carpet and reading the Sunday Comics from the local paper after morning service? The satisfying flavor of Great-Grandma's back porch sun tea? Mmmm.
Oh, the things I crave so, so deeply.
Simplicity.
It reminds me of the late 80s and early 90s. Before cell phones were a need. Before Facebook and Twitter. Before Reality TV took over every channel. Even before Netflix! I want to go pick out a tape or two at Blockbuster and a 12-pack of orange soda and make out. O-M-G, how I miss that.
I need to feel that deep hunger for all of my friendships. You know, how you all miss one another on such a powerful level. I want to feel the pure bliss of a long phone call full of juicy gossip spewing from my bestie, whom I haven't spoken to since three Fridays ago—instead of typing "LOL" on Facebook Messenger with my tablet while applying MAC makeup this morning.
I want to feel passionate again about going outside and feeling the sun. Really, physically feeling the warmth of the sun on my cheekbones. Not lying in a sweaty tanning bed for eight minutes to get that extra "glow" the Kardashians have been raving about.
I want to send so many handwritten letters to all of my pen pals decorated with ridiculous doodles in the corners of the pages—instead of posting a Grey's Anatomy GIF on their Facebook wall.
I want to feel alive again.
Awake and seriously smelling the roses. All of them. Inhaling that sh*t in with all of my might.
I want (sugar-free) milkshake dates with walks in front of those sparkly windows and deep talks about the future.
I want to plant a garden again and taste the soil from my homegrown veggies at suppertime—instead of placing my order on grub hub from my iPhone.
I want to walk the dogs at dusk and talk about each house we pass, totally judging their choice of decor. Not pin that paint color for the office on my latest "home remodels" board on Pinterest and send you the link via text.
I want to be okay with sitting in my thoughts while doing a cross stitch of kittens and listening to a Norah Jones album instead of scrolling through the most popular YouTube videos of the day on my MacBook Pro.
I want to drive to the local public library, look up a book by hand, check it out and make sure to keep checking the pocket in the front of the book cover to make sure I return the book in time—instead of using that Amazon gift card I got in my stocking to download that one book I saw on Oprah's Instagram to my recently updated Kindle app.
I want to feel the joy of hanging cutouts on my fridge of my new favorite quotes that I read in a magazine in the waiting room at the doctor's office—not reblogging the quotes I found on QUOTEOFTHEDAY's Tumblr page.
I want to spend weekend evenings on the back porch by the grill with the radio playing Johnny Cash and watch him sway back and forth instead of reserving a table for two at that super awesome new place that totally got mad reviews on Yelp last week.
I want to have monthly gatherings with my girlfriends at that dimly lit eclectic Boba-slash-Coffehouse and talk about our periods and how I cried at that one TV show where that guy wound up not giving that girl the rose—instead of sending you all a group text with several kissy-face emojis and an "I miss you b*tches!" (perhaps in all caps, as if that gets my point across better).
I want to spend the last 15 minutes before closing my eyes at night writing in my journal and lying in the dark talking about the weirdest fandom theories ever or that gross fart I totally smelled at the market today instead of sitting there and deleting the 167 emails in my inbox whilst listening to him slay that humongous dragon from his iPad.
I want to teach my child how to make the best ever paper airplanes and build model cars, not buy him the latest Disney DVD's to watch on the new 32-inch flatscreen that Santa brought him this year.
So, I want you all to know that I'm not trying to ignore your adorable school achievement posts, or your opinions on the latest political debate, or your family's newest addition photo albums. I promise.
I am just placing plastic over the windows while I remodel the entire inside, so-to-speak. So, if you can, please forgive me. I may be gone from this busy tech world for quite a bit.
I am choosing to make this new year one where I truly live again.
I do love calls, occasional texts, handwritten cards and letters and, most of all, visits. I want to see that crooked smile you always have, not that sunglasses-face emoji and peace sign! Thank you ahead of time for allowing me this time to remodel inside my capsule over here, and most of all for not thinking that I'm running away from everything.
Because frankly, I'm not running anywhere, I'm finally coming home.
~
Author: Amy Smethurst
Editor: Toby Israel
Image: all.consuming/Flickr
~