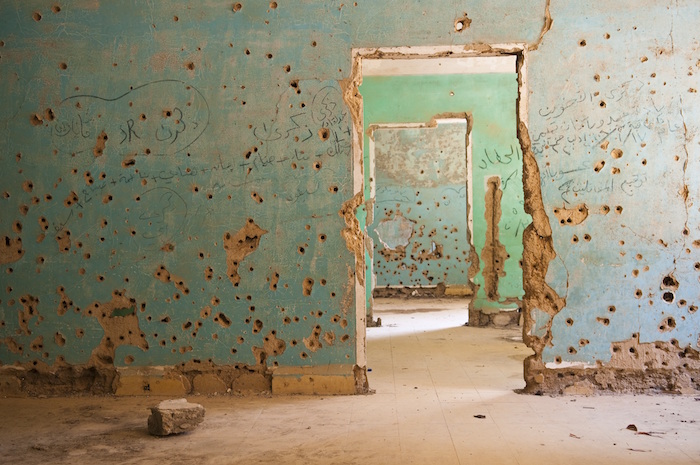 Syrians like to joke that Assad is just trying get the population back to where it was when he took office.
The Syrian population grew by almost six million between 2000 and 2011, when his regime began slaughtering demonstrators. But since that time, four million have emigrated, putting him well on the way to his goal.
It is little wonder Syrian humor has become black, like thick Arabic coffee, whose grounds settle at the bottom of the cup. Syria is being reduced to rubble, with all too many Syrians crushed at the bottom. The resulting trauma is producing an array of coping mechanisms, from extremism to cynicism, lending to Syria a sense of surreality.
Syria may be the first country to have entered postmodernity through the stone-ages. The Syrian conflict is akin to the First World War in that while it involves virtually everyone, it is understood by seemingly no one. This lends to the conflict the impression of a war of all-against-all. Since everyone possible seems to be fighting, all-too many have concluded no one could possibly be right. But while war usually dirties everyone's hands, some will always be more sullied than others.
It was well understood in pre-war Syria that people could do what they wanted, so long as they did not discuss politics. The Assad regime made participation in communist parties punishable by lengthy jail sentences and membership in the Muslim Brotherhood punishable by death. As of last year, Reporters Without Borders ranked it the world's fourth most censored press. All of this made studying Syria challenging. There have been few Syria experts to educate the press. And information on it has tended to be imperfect. Hence, when Assad blamed the peaceful protests that broke out in 2011 on "terrorists" and "foreign elements," few could confidently point out he was simply making it up.
It is ironic that while the effort to democratize Syria failed so miserably, the truth itself was so radically democratized. Where facts were hard to come by hack-bloggers and conspiracy theorists simply took a cue from Assad and made them up. And as the conspiracy theories abounded, passive audiences became morally paralyzed. The more Syria was reduced to rubble, the more discourse on it came to dissolve into mud.
It was a classic postmodern case of moral authority being buried in a barrage of perspectives. But it was not simply the abundance of perspectives that made deciphering the truth so difficult. Leftist humanitarians stopped reading relatively impartial Amnesty International and Human Rights Watch reports in favor of Russia Today, blithely ignoring its reliance on mass political repression and journalist assassinations. If Syria was confusing, much of the reason lay in this reliance on censored state-media. But there was more.
The geopolitical changes transforming the Syrian landscape were tectonic. And as the ground moved, the Left was caught flat-footed. American hegemony gave way in Syria to a multitude of would-be imperialists. Russia, Turkey, the Saudis, Iran. Meanwhile, anti-imperial activists fought the last war. Whereas Iraq began violently, Syria began nonviolently. Whereas Iraq was waged by a foreign power, Syrian protests were home-grown and from the ground-up. The Left got Syria wrong simply because their models did not match reality.
And whereas the Right made things up in order to start a war in Iraq, the Left made things up in order to stop a war in Syria. The Syrian Left demonstrated for a better life, while the Western Left defended regime war criminals against mainstream media criticism. The Syrian Left organized for the right to express their views freely in a democratic society with equal rights for all, while the Western Left organized to stop their own governments from protecting Syrians from mass starvation and chemical bombardment.
Leftists have long defended the marginalized and sought to bring about greater social equality. And they have almost always fought against imperialism. Hence, it is more than a little ironic that, in their confusion, the people who most cherished these goals often found themselves supporting some of the world's most conservative and imperialistic regimes. Leftist justice activists defended the neo-liberal Assad, to whom the Bush administration outsourced torture; the dictator Putin, who ended Russian democracy and made protesting virtually illegal; the Iranian mullahs, whose merger of church-and-state would have been too extreme for the most fanatical of American evangelicals. And it was all in the service of preventing a war few in the West were actually proposing. Somehow justice activists found themselves lauding dictators in suits, at whose hands they would almost certainly have been jailed and tortured. It was a moral degeneration in values rivaled today perhaps only by the rise of Donald Trump.
Syria has become a factory that produces imperialists and anti-imperialists alike. But all too often the anti-imperialists cheer on the new imperialists, with far too little irony. Somehow the world's most absolutist dictators successfully pose as bastions of freedom against Western-inspired democracy. And the same people who rallied in support of Iran's Green Revolution and the Arab Spring reverse course to applaud the very dictators who shut them down.
Syria has since ancient times been a sort of vortex that draws in empires. The Greeks, the Romans, the Arabs, and the Ottomans all ruled Syria, but few called it home. And once again, a multitude of lesser-great-powers are sucked into this essentially poor, largely land-locked state, which was until quite recently considered to have little geo-strategic value. It is ironic this backwater is now a proving-ground for aspiring imperialists. It is ironic that so many bit players have recently taken the global stage. It is ironic that somehow the black-hole has come to appear the center of the universe. And this abundance of ironies has leant to the global imaginary a sense of existential dread.
Syria has become the battleground on which the current world order is being torn apart, but it may also set the conditions for the coming order. And this is perhaps the greatest irony of all. To quote Psalms, "The stone that the builders rejected has now become the cornerstone." And it still remains to be seen the kind of international geopolitical order it will sustain.
If you liked this article, please friend me on Facebook and join the conversation.
Author: Theo Horesh
Editor: Travis May
Image: iStock (purchased by author)