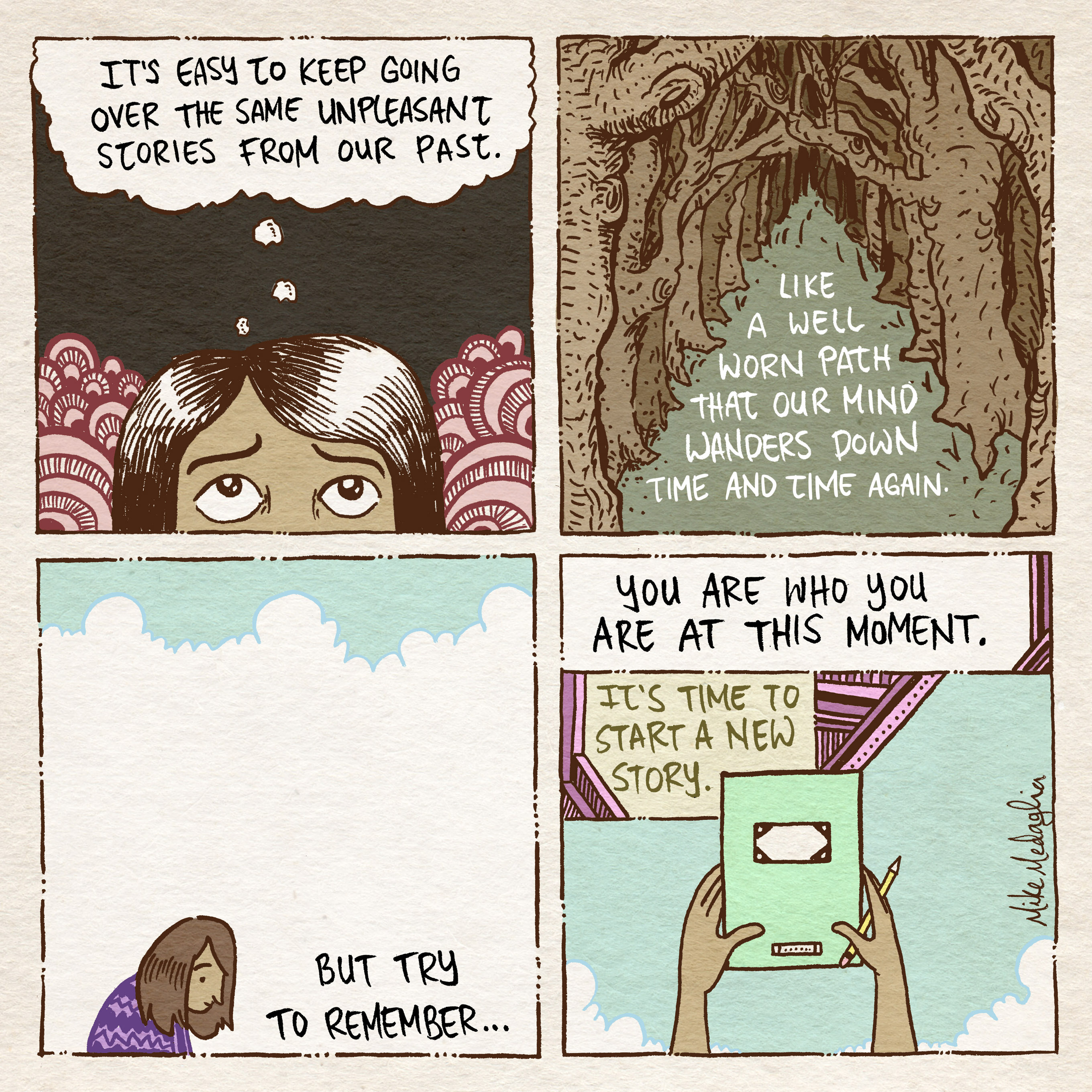 I have so many moments in my past that I beat myself up about over again and again.
And the majority of them are stories of me saying something stupid, doing something awful or any combination in between.
Yet I go over them, over and over, until the path to those thoughts becomes worn down and easy to travel. I find myself going through them without even actively trying.
It brings me no joy, makes happiness retreat in the opposite direction and can be so tiresome.
But what we did and who were in the past are just stories.
They only exist as ideas in the present and belong as much to us as anybody else's story does. We are who we are at this moment and who we become in the future starts right now.
Step by step, moment by moment, choice by choice.
Of course we need to take responsibility for past actions if they have had a negative effect or caused harm that needs repairing, but for things we can't change, and chapters that have ended, we can let the path to those thoughts grow back over and leave them behind.
I often think about this pigeon in a tree I once saw.
It was a random moment when I was walking through the woods years ago. My mind was riddled with thoughts about all the things I did in the past that I regretted. After a while I found myself leaning on a fence and staring at a pigeon. He was in a tree, jumping lower and lower down a branch which was bobbing up and down as he went.
Somehow this took me out of my mental maze and I became focused on this pigeon. Then I decided that I would really feel this moment and observe it. So I stood there and watched.
As I walked away after sometime I made a conscious effort to go back to this pigeon in my mind, over and over again. Then I kept doing it throughout the days that followed. Until eventually the thought of this pigeon, bouncing in a tree became a new place for my mind to wander.
It worked and that one simple sight of a pigeon in a tree has become a cherished moment in the story of my life and allowed me to give myself a break from negative thoughts.
So start your new story.
When you next find yourself watching wildlife, or see fresh snow falling on the pavement, or anything uplifting and beautiful that catches your attention, make note of it.
Think about it and write it into the new story of you.
Each moment is a chance to start again. Each breath a chance to be mindful. Each thought a chance to dream. And each step a chance to move in accordance with the flow of the universe.
Turn a new page.
Remember that each mindful moment is a happy ending and a beautiful beginning.
~
Check out the rest of our weekly comic series:
~
Author & Artist: Mike Medaglia
Editor: Khara-Jade Warren
~