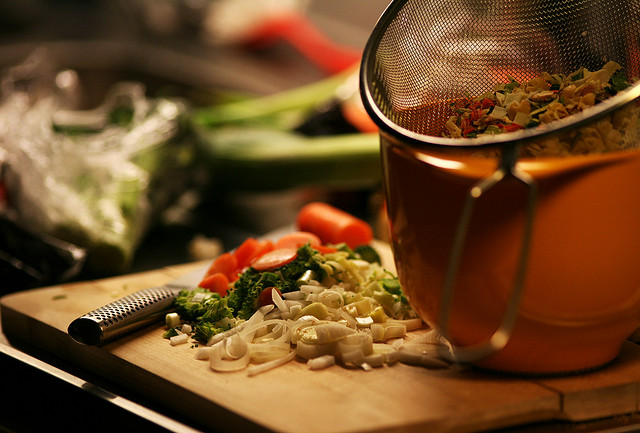 The holidays put us in that weird place, where we've eaten what feels like a ton of stuff that's too rich, too fattening, too chocolate, too—well, fill in the blank.
We've drunk things that were too sweet, maybe too inebriating, or even too carbonated or caffeinated.
Out here in Illinois, if we're not having winter tornado activity, we're certainly not having snow or the typical winter kind of weather—but, it is bone-chilling damp and grey. We needed a break from the surfeit of rich stuff we've been eating. I looked in the fridge the other night—nothing appealed.
There was nothing in there that was "enough" for the two of us. There were bits and dabs of this and that. I really didn't feel like cooking something from scratch, and I really didn't feel like a salad was going to fill what my tummy was asking for.
I felt inspired to do what my grandma did—"Make something out of nothing."
Her background, growing up during the Great Depression, made her an inventive cook and baker. It was a "use what we have" mentality that she passed on to me.
She was a woman who could use a turkey carcass six ways from Sunday, and no veggie or fruit was tossed away willingly.
I like to think that I've utilized her gift well.
After a short contemplation—gazing at the rye bread rolls that my hubby made earlier—I had a flash of genius: Fridge Soup.
I grabbed the Dutch oven and got to work—in about 20 minutes, we had dinner!
All that was needed came out of my pantry, my fridge and my freezer.
Some of it came from my garden, which we'd harvested and processed at the end of the season. (Be sure to see the notes at the end for some other suggestions.)
This particular recipe is neither vegan, nor vegetarian, but of course—meat is optional.
This serves 6 to 8 people, so I have plenty to stick in the freezer and bring to work later.
.
To make Fridge Soup, you'll need:
4 cups water
1 veggie broth cube
1 cup sliced carrots (we used garden carrots we'd frozen)
¾ cup sautéed mushrooms and leeks (again, from the freezer)
4 garlic cloves, minced (always in my house)
¼ cup sliced shallots (from the freezer)
½ stick butter
1 can each: Great Northern beans, red kidney beans and black beans—rinsed a couple of times (in the pantry)
Salt and pepper to taste
About 1 Tablespoon dried Italian Seasoning (pantry)
1 can of your favorite canned tomato (I had Red Gold in my pantry)
½ bag of frozen corn
1 cup cooked ham (optional, from the freezer)
½ cup cooked wild rice (from last night's dinner)
.
Melt the butter in a Dutch oven and add the carrots and shallots. The heat is medium-high. Stir this around so that everything starts to caramelize nicely—should take about five minutes, if the carrots are thawed.
Add the garlic and let that get golden (Careful—you do not want to scorch the garlic!)
Stir, stir, stir—for about two minutes, so that everything is moving and nothing gets too browned. Then add the water and veggie broth cube.
Add everything else on the list—stir to mix well.
Turn the burner down to low, and let simmer for about 10-15 minutes. Serve when ready.
.
Additional notes:
Meat is optional. I've used chicken, ham and turkey at any given time, or no meat at all, but you can certainly use the meat substitute of your choice—or not.
It's "Fridge Soup," so whatever is in your fridge goes into the pot.
Same for the beans—don't like black beans? Switch to garbanzo. Use white kidney beans or black-eyed peas. I use canned for the convenience, so if you do, then please rinse 'em well.
Veggies? Your call. I had what I listed. I could've omitted the mushrooms, or added peas—or or even Lima beans, though I abhor Lima beans. The point is, use the veggies you might have in the fridge. That last little bit that's too small for even a single serving, let alone as a stand-alone veggie for dinner? Toss it in the Fridge Soup.
Herbs and spices are also your choice. A sprig of rosemary? A little parsley? If I had celery, I'd have chopped that up for a little zip. If you're very adventurous, at the very end you can put a couple of drops of your favorite chili or hot sauce in there.
You need something savory, so shallots, onions, leeks—if you like green pepper, use that. I don't like green pepper, so it will not darken the pot of my soup. But hey—live a little.
If croutons or crackers are on the shelf, they make a great side to this soup. Homemade bread is not necessary, though it's a lovely afternoon activity.
The point is, we really don't need to make a trip to the store to make this soup.
I had everything I needed for dinner—I just needed some inspiration (thanks, Granny).
In a "toss-away" culture, it's really kind of cool to root around and use what's already there. If we make a little more than we can eat, well—this soup is a great "plan-over" to use for lunch, or freeze for one of those nights when culinary imagination and energy are low.
So, go into the kitchen and look around—experiment and have fun.
Soup is always welcome this time of year.
.
Relephant:
.
Author: Pat Perrier
Apprentice Editor: Elizabeth Brumfield/Editor: Yoli Ramazzina
Photo: Flickr/David Pettersson