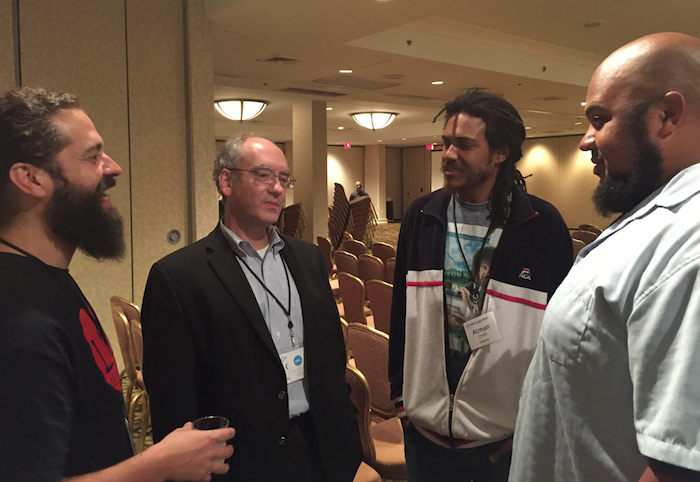 Naropa University President Chuck Lief interviewed several prominent leaders who headlined the Mindful Leadership Summit in Washington, DC, in November 2015. In advance of the sold-out Summit—which brought together more than 750 leaders from business, the nonprofit sector and government—Chuck Lief sat down with the three founders of the Holistic Life Foundation, brothers Ali and Atman Smith and Andres Gonzalez. The Foundation is a Baltimore-based 501c3 nonprofit organization committed to nurturing the wellness of children and adults in underserved communities through after school programs centered on yoga, meditation, and self-care. The 25+ members of the team serve more than 4000 school-age children in Baltimore.
~
Chuck Lief: You are taking mindfulness practices, which are associated with privilege, and are bringing them into new communities. How are you working through that?
Ali: Kids have a surface-level knowledge of what yoga is because it's in pop culture now, like in cartoons and movies, but it's not accessible to them because you don't find yoga studios in underserved communities, and you couldn't afford it if you did. So we make it accessible and practical for their lives. 
Most of our teachers look like them, and then we show them, "Okay so these are the problems in your life, and we can offer these tools to help you manage through the stress, the trauma, the anger, the hopelessness, the helplessness that you're going through in your life."
Chuck Lief: As the Holistic Life Foundation becomes more well known, how do you balance the requests from other communities with the need to meet commitments within Baltimore?
Atman: Our goal was always to help globally, with Baltimore as our base. We were going to help everywhere. I think at the time we didn't really think of how we were going to do that. I think we were thinking just the three of us were going to be able to do it. Now we rely on really well trained teachers who were former students. But there is a lot of stuff that we don't know. I mean we see the holes in our knowledge, so we want to bring in some experts to fill all those holes with our staff. All of that will help us meet these requests from other communities.
Chuck Lief: As you've seen your programs flourish, what are the challenges?
Andy: We are working with an elementary school that's at the epicenter of the Freddie Gray aftermath. And we're seeing some transformations here: suspension levels are down to zero, and test scores have gone up. And we've had a few success stories already, but we need funding for these programs to continue and bring them to scale. We're now crowdsourcing for our school-wide initiative, The Mindful Moment Program, through Network for Good.
Chuck Lief: What's the message to those young people that you're bringing in, in terms of what they should expect in terms of being a lifetime learner?
Atman and Ali, back and forth:  We always say at the practice, "It's not something that you do, it's something that you are." You've got to embody, and you can't just turn it on when you're in the classroom, then turn it off when you walk away, or practice when you're sitting on your cushion and then get up and suddenly you're a totally different person. I mean, never stop learning—you know what I mean? Linda Lantieri (Director of the Inner Resilience project and teacher who is a leader in social and emotional learning) said one thing that stuck, it's that you've got to do the work on yourself before you can share it with others.
We see our teacher every week, and he blows our minds. I'll tell him I've read something, and he'll give me a new mantra—he's constantly building and building. His favorite saying is, "You will not pass this class until you get this done. And you will not pass this class until you get this done." You know what I mean? There's always more, and that's what we tell people.
~
Check out more interviews from this series:
~
~
Author: Chuck Lief
Editor: Travis May
Image: Courtesy of Bill Rigler