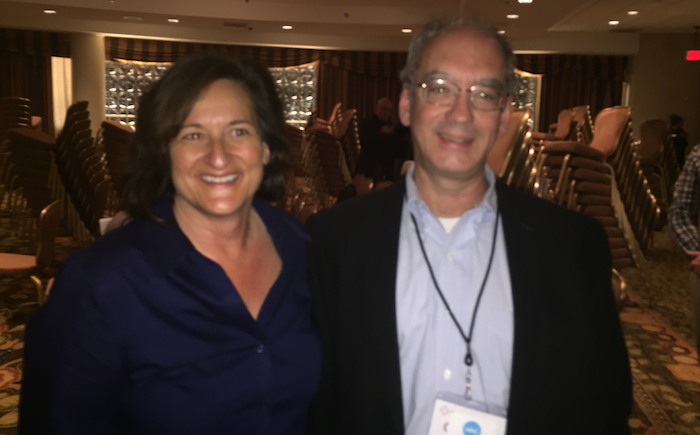 Naropa University President Chuck Lief recently interviewed several influential thought leaders who spoke at the Mindful Leadership Summit in Washington, DC, in November 2015. Here, Chuck Lief sits down with Rose Marcario, CEO of Patagonia and a Trustee at Naropa University.
~
Chuck Lief: What is your personal mindfulness practice?
Rose Marcario: I meditate every day, in the morning and at night. And when it's possible, I practice with others.
Chuck Lief:  How do mindfulness practices of any kind find their way into Patagonia as a company?
Rose Marcario: Well, it's really influenced my leadership. For me, this means leading from joy, and not fear, and having an aspirational view of the future where people can exceed their potential and find greater happiness and harmony. And that spills into the work that we're doing.
Chuck Lief: Does have mindfulness programs of its own?
Rose Marcario: We don't have a particular mindfulness program on site, but the way that we work is very much in line with an aspirational vision of the future and a shared set of values. Patagonia as a company has really stood for transformational change in the business world, and now in the greater world.
Chuck Lief: What are some of the metrics that you use to measure transformation or change?
Rose Marcario: Some of them are pretty specific. For example, how many rivers have we saved? How much land was protected? What impact has our funding to nonprofit organizations had? 
Chuck Lief: With professional development programs at Patagonia, are some of them looked at through the lens of transformational changes that are in line with your values?
Rose Marcario: We align experiences with our shared values of serving and protecting what we love. One example is that we provide environmental internships to our employees where they'll work for grassroots environmental organizations of their choice. We fully fund this experience and, in turn, ask them to share what they learned with the company when they return.
Chuck Lief: Can you describe Patagonia's concept of Mindful Consumption?
Rose Marcario: The most environmentally responsible action we can take is to make a product that lasts for as long as possible—it's the best path to sustainability. Changing the customer attitudes from immediately moving to a new purchase has a great impact on supporting our mission. We have long offered our customers repairs as an alternative to replacing.
Chuck Lief: What can senior business leaders do to help scale the benefits of mindfulness, contemplative practices and compassion?
Rose Marcario: Our work as leaders is to see that our practices and way of being with our colleagues can serve as a catalyst for our employees to personally model the values we present as a company. And we can be alert and aware of the long game. For example, we have an onsite child care center so we are with our children all day, because they inspires us to consider future generations in building a world in harmony, peace, and beautiful nature.
~
Check out more interviews from this series:
~
Author: Chuck Lief 
Editor: Travis May
Image: Courtesy of Bill Rigler