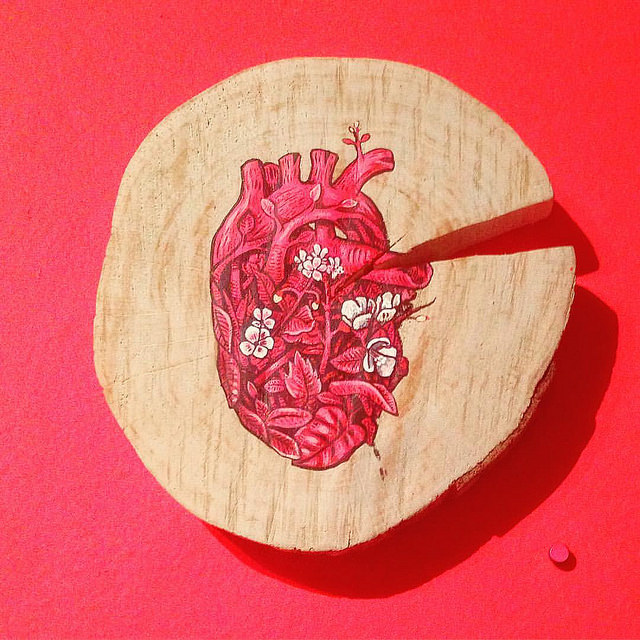 *elephantjournal.com received these review items for free, in return for a guarantee that we would review said offering. That said, we say what we want—good and bad, happy and sad.
I'm just going to put all my cards on the table here: Valentine's Day isn't really my thing.
I don't swoon over jewelry or tear up over well-placed rose petals.
So why am I writing a Valentine's Day gift guide, you might ask?
Because I do like love, and I do like reminding the world that love doesn't always look the way we think it's going to.
So, whether you'll be spending the 14th at a fancy French restaurant with your soulmate, spending an evening with your soul-for-the-night-mate, or curled up on the couch by your lovely, lovely lonesome, there is something for you to get and give on this guide.
Enjoy: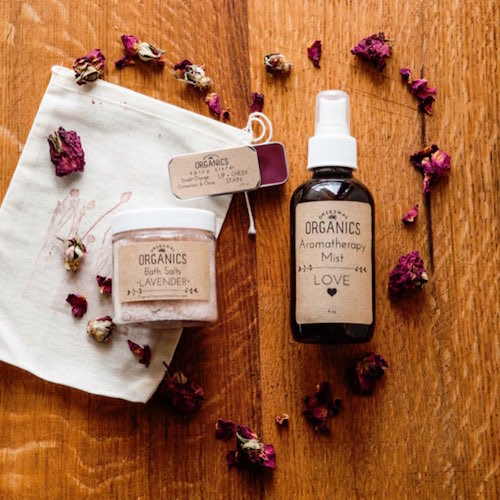 Valentine's Day or not, you kind of need this set in your life. Made in the Northwoods of Wisconsin by the owner, Rachel, everything in the set is made with organic, natural and wild-harvested ingredients.
As soon as I opened the (responsibly packaged) box these goodies came in, a cloud of rich, smooth, soothing scents wafted its way up to my nose.
The Spicy Sister lip & cheek stain is silky and subtle, and smells delicious but not too strong. It's a little too glossy on the lips for me—I'm more of a matte gal—but it's perfect for my cheeks. Dewey and natural and flirty-flushed.
The Lavender Bath Salts, I just…don't even know where to start. They look like a jar of fairy dust straight from an enchanted forest, they smell like pure lavender bliss, and the pink himalayan salt left my skin soft as (organic) butter. The singular downside: it's packaged in plastic.
And, finally, the Aromatherapy Love Mist. It's not perfume-y or fake, and it's not too overpowering—it's one of those scents that almost smells like a memory. Give your bedroom a few spritzes, and relax into the love.
This set is perfect for a night of pampering—or being pampered.
>> Available on Elephant Market. Get yours here.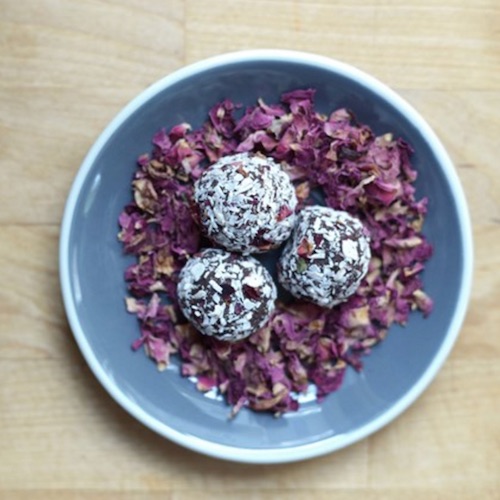 I might be eating one of these as I'm typing this sentence. Okay, I'm definitely eating one of these while I'm typing this sentence.
I had the indulgent pleasure of trying ten varieties of these organic, handcrafted in Asheville truffles. There wasn't a single one that didn't go with my favorite glass of cab.
I have to admit that I'm partial to the coconut truffles—perfectly sweet, and not too dense. But the good news is, there's a flavor for everyone, from fruity to to salty to peppermint.
Again, the only downside here is the plastic containers. But, the upside to the downside is that they are totally reusable—I'd suggest filling them up with love notes when you're done.
Whether you're feeding these to yourself or someone else, while you're eating these truffles, you will experience true love.
In case you were wondering, I've now consumed four after writing this entire bit.
>> Available on Elephant Market. Get yours here.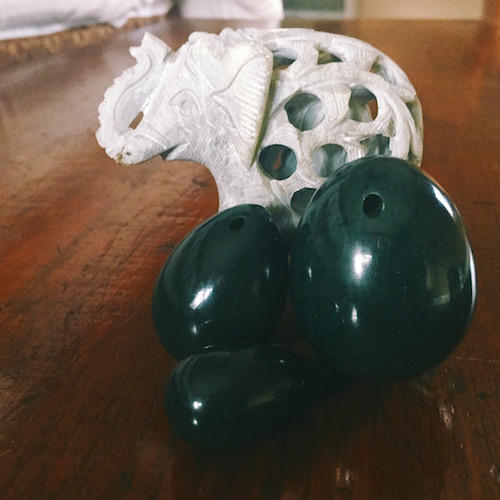 I feel like we're at a point in our societal maturity where I should be able to talk about my set of jade kegel weights openly and unabashedly.
Alas, I'm already blushing, so I'll keep this one short and SFW.
These eggs are honestly beautiful. If I didn't know what they were actually for, I would display them in a bowl with some other treasured stones I have. Actually, I do know what they're for, and I still have them sitting on my dresser, so…yay feminism!
The eggs are natural jade stones, and there are no dyes or chemicals used to make them, which feels especially important, considering. The jade was not chosen arbitrarily, either—its properties and history are eloquently stated here.
This set in particular has three sizes of eggs, depending on your, um, experience.
Speaking of experience, these were my three stages of yoni egg use, respectively:
Uncomfortable giggling.
Purely practical trial and error.
"Mmm yep, okay, I think I could get used to this."
Whether you're going solo or want to spread your love, this is a gift that is equally as enjoyable (for slightly different reasons) for the egg-user as the egg-user's special friend.
>> Available on Elephant Market. Get yours here.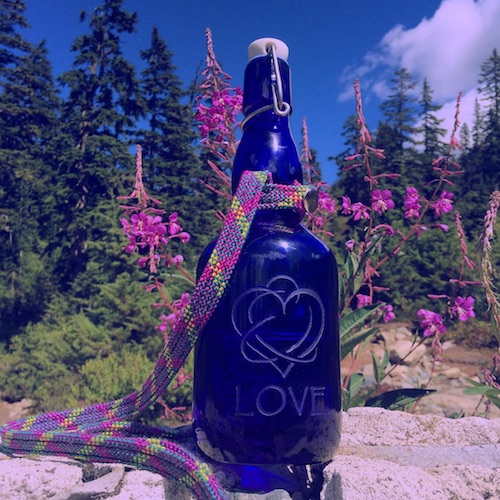 You know how there are some glasses that make the entire drink taste better just because of their awesomeness? The Blue Bottle is one of those glasses.
The bottles are based on the spiritual side of water, which is thought to be a "record keeper" of our thoughts and intentions. When sunlight passes through the blue bottle, it allows memories and thoughts to be released from the water. Then, drinking the water itself becomes a transformational experience for us—we can release them, too.
Good news: if water and spirituality don't exactly jive for you, that's okay. The bottles are striking, and there really is something special about sipping cool water from bright blue glass. They are sourced from Italy, and each one is sandblasted by an artist in the USA. The sandblasting makes these particularly special—the designs are etched into the glass and the sandblasting leaves deep, textured lines that add to the bottle's classic look and high quality.
Added bonus: as far as Valentine's gifts go, this one is pretty safe—for a crush that may or may not be reciprocal, a boss (Do people get their boss' gifts for Valentine's Day? They can now!), or best friend/gym buddy/mom.
>> Available on Elephant Market. Get yours here.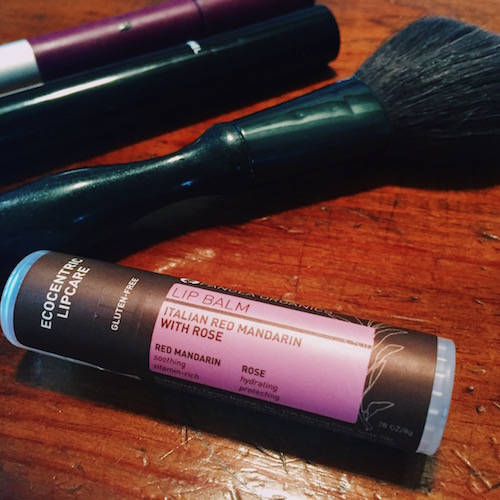 It's the simple things in life. Like lip balm.
Kissable lips had to make it on this list. Not even because they necessarily want to be kissed, or need to be kissable, but who doesn't love soft, smooth, non-chapped pouts?
I have the Pangea balm in Italian Red, which is made with essential oil of rose. In addition to that being undeniably romantic and appropriate for lips and Valentine's Day, it smells even better than you'd imagine and glides on like a dream. The balm is also made with Tamanu oil, which is full of antioxidant and healing properties.
It's nice and light but not too slippery, it's organic, and it's made in the USA.
It's so wonderful, I could kiss it.
>> Available on Elephant Market. Get yours here.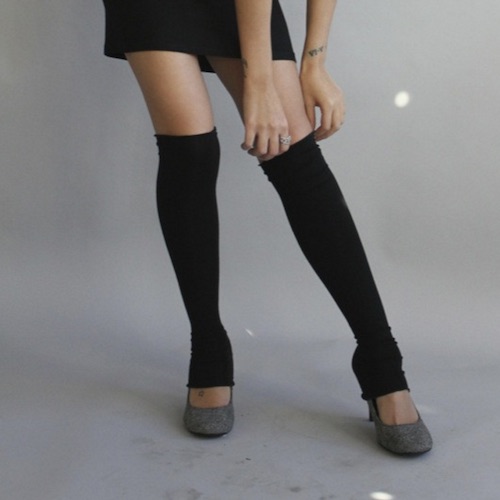 It's pretty hard to find a single thing that isn't sexy about thigh high stockings.
It's even harder to find a single thing that isn't sexy about this gloriously soft and stretchy pair of stockings from angelrox that can be worn as thigh highs, or knee highs, or calf highs, or however-high-you-want highs. Plus, they are footless, which just adds to their versatility.
These stockings are made from organic bamboo and rayon in the USA, which, again, makes them even more sexy.
There are few things I encourage more than feeling good about yourself when you're home alone, so throw these on with a big sweater and cozy up with a book. Or, dress them up for date night—they will be well received.
>> Available on Elephant Market. Get yours here.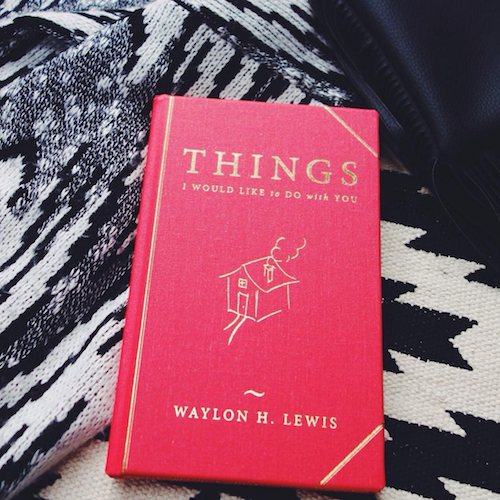 I may not swoon over jewelry, but if anyone presented me with this book, I might go so far as to audibly sigh in my swoonage.
Let's start with the presentation: it's a hardcover, clothbound red book with gold-foiled stamping on the front, and a beautiful gold-stamped pattern all over the back. The best part? It's printed on eco-paper with soy-based inks, in Boulder Colorado.
Now, for the story (or, stories): it's a book about love, and loneliness, and how these two things aren't mutually exclusive. These are the tales of the livings and learnings of past relationships, with one distinct difference from your everyday love story: the idea that maybe what we're searching for isn't happily ever after, after all.
But, believe me when I tell you, that doesn't make it any less romantic. In fact, it might make it even more so.
Full disclosure: This book will not make it to you or yours truly by Valentine's day (unless you live locally, in Boulder). The good news is, IOUs can be impossibly sweet, and we'll even help you write a love note if you ask nicely. 
>> Available on Elephant Market. Get yours here.
~
Well, there you have it. Gifts for yourself, gifts for your boyfriend/girlfriend/somewhere-in-between friend, gifts that can be as sexy or platonic as you want them to be, gifts that are good for your heart and the earth's heart.
Love on, lovers.
Author: Emily Bartran
Photos: Flickr; Seller's Own; Author's Own