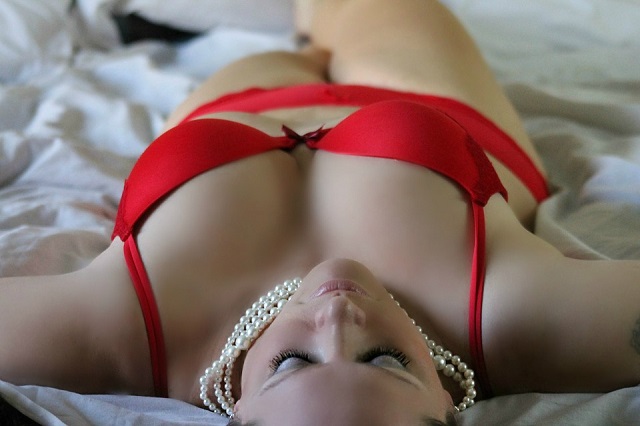 "Cupid is not my homeboy." ~ Unknown
.
Roses are red, violets are blue, and I've decided that I just don't need you.
I am not one of those people who will say "yes" to a date for February 14th just so I am not alone, because the fact is, that day really doesn't mean a whole lot to me.
Even when I was with someone on Valentine's Day, I never really understood why on this particular day we're supposed to have fancy dinners, roses, chocolates and sex.
I just don't get it—it seems to me that any other day of the year would be better suited for those gifts, than the one when the rest of the western world was saying that we should be doing it.
But, then again, I've always been just a little bit of a rebel.
So a few years ago, when I found myself single on Valentine's Day—for the first time in over a decade—I didn't really give a fuck.
It's not that I don't believe in love or that I don't know how to romance with the best of them—but it's because I have chosen to not buy into the artificial over commercialized hype of Valentine's Day.
Despite what the media would like me to believe—frankly, I just don't care that I am single on Valentine's Day.
Because the truth is that I am in a damn serious relationship—with myself.
I am my own Valentine—forever and always.
Even when the day comes that I have a man who has decided to stand beside me through both the darkness and the light of our individual journeys—I will still be in love with myself.
I will never forget the value in putting the love affair with myself as a priority.
So, sorry that I am not sorry—but I just don't need you.
I don't need a date to believe that I am attractive or charismatic.
I don't want to spend my time next to a man who I know has no real place in my future, just so that I am not alone on Valentine's Day.
And I won't apologize for the fact that I'd rather curl up in my jammies—on my couch, with a pint of ice cream—than dress up and pretend that I am happy.
The truth is that this fuckin' woman has never been good at doing what she is supposed to, and I am not about to start with a holiday as overrated and misunderstood as Valentine's Day.
So this year, the only company that I need is my own—because I plan on making rich decadent love to myself that day, just as I enjoy doing on any other.
I'll wake myself up smiling, as the sun breaks through the worn sisal shades covering my windows, and I'll dance around the kitchen barefoot as I make my children breakfast.
I'll kiss their sweet foreheads and wish them the happiest of Valentine's Days—and in the evening I'll cook a meal that makes my toes curl and my belly full.
Once the sun has dipped below the mountains, I'll draw a hot bath scented with chamomile and coconut.
I'll lather my soft skin and doze off and on as I listen to John Legend sing of a love that I know one day will come knocking on my door.
And when I am tucked in between my white cotton sheets, my skin glistening with fresh coconut oil, I'll touch my body reminding myself exactly how sensual and sexy of a woman I truly am.
Perhaps I'll even dream of the one who someday will steal my heart.
But never once will I shed a tear because I don't have a man next to me sharing in this particular day with me.
The truth is, that as much as I am looking forward to the day when I do have a man who desires to revel in my wild and independent spirit—I still won't need to celebrate a holiday in the way that everyone else does.
I won't need a dozen red roses, because his lips on my skin will make me blush the erotic glow of crimson.
I won't need fancy dinners out, when he'd rather help me cook in the kitchen and then stretch out by the raging winter fire, letting it warm our bare skin as we settle in for the evening next to one another.
And I surely won't need chocolates when there is no doubt that he and I will be the sweetest thing that either of us has ever tasted.
Because the truth of it is—love isn't about Valentine's Day.
And unfortunately, nowadays, Valentine's Day isn't about love.
Any love affair worth having is one that wakes up our hearts and desires on a regular day in the middle of any old week.
It's one that will sneak in under the door, as the humidity of a summer evening is staining our skin and warming the air around us.
And regardless of how amazing that love is—it will never have to celebrate a holiday that the rest of the world does just because that is the custom.
It's a love that breaks all the rules and never creates new ones—because it knows that the truest love is also the one in which each person is allowed to love in their own individual way.
So no, I don't need anyone beside me to celebrate Valentine's Day—this year or any other.
I don't need empty promises or the falsified company of someone, just to ease my own sense of alone-ness.
I certainly don't need a gift to know that I am truly priceless.
Because now I know that I genuinely am my own goddamn Valentine—and that may just be the sweetest treat of them all.
.
Relephant:
.
Author: Kate Rose
Editor: Yoli Ramazzina
Photo: Pixabay