Bonus: how to do the Eastern New Year right: Shambhala Day:

Read about the coming Year of the Monkey: "Cheerful Eastern New Year!"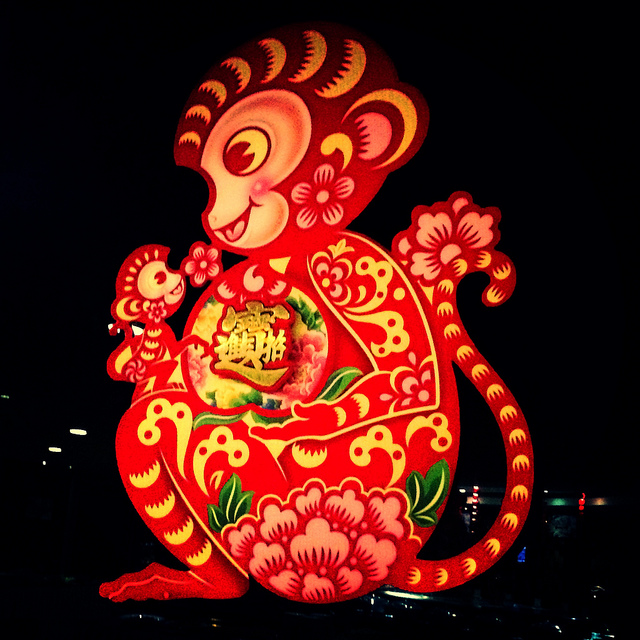 Happy Chinese New Year! 新年快樂
Gong Xi Fa Cai is Mandarin for Happy New Year.
Gong Hey Fat Choy is the Cantonese translation.
The Chinese New Year, also known as the Spring Festival, is determined by the lunar Chinese calendar, which is why the date changes every year.
This year the Chinese New Year begins on February 8, 2016.
Every Chinese New Year is characterized by one of the 12 animals of the Chinese zodiac and 2016 is the year of the Red Monkey, the ninth animal in the cycle.
The monkey is intelligent, smart, wise, curious, energetic, impulsive, inventive, hyperactive, cheeky, strong-minded and vigilant. Red monkeys are problem solvers and work well within group environments, while retaining their individuality.
The monkey (like all things) has a shadow side, which can bring out infidelity and trust issues.
Forecast for 2016 depending on your year of birth:
The years below are a guide. If you were born in January or February, your animal may be different, as the Chinese New Year can take place anywhere between January 21 and February 20. Click here to find out your sign if you are unsure.
Rat:
1912, 1924, 1936, 1948, 1960, 1972, 1984, 1996, 2008
Intelligent, wise, charming, social, ambitious, stubborn, desires power
Rats are going to have an amazing year relationship-wise. Those who are single will receive the opportunity to find love and those already in love may commit further with an engagement or marriage. The advice for married couples is to keep compromise in mind and don't be tempted towards an affair.
Careers are on the upturn so money is going to be flowing, although there may be a few jealousies or confrontations occurring.
1913, 1925, 1937, 1949, 1961, 1973, 1985, 1997, 2009
Hard-working, loyal, honest, creative, determined, patient, stubborn, poor communicators
Oxen will likely be lucky in love this year, as they have a romantic lucky star in their forecast.
Last year wasn't a great year for Oxens, so they are advised to work hard to clear out any negativity and make amends for any difficulties that they were responsible for. This year will be a far better year than 2015 with plenty of personal and career luck and success predicted.
This is definitely a year for dreaming big, whatever you have even considering, it is time to go for it! The lucky star in your animal sign will ensure that any misfortunate that happen will quickly be rectified, so have confidence and make a start on whatever you would like to achieve.
1914, 1926, 1938, 1950, 1962, 1974, 1986, 1998, 2010
Friendly, charming, enthusiastic, ambitious, confident, irritable, boastful
Tigers are going to have an amazing year in love, finding it easy to either meet a new partner or for their current relationship to be happy and harmonious.
The tiger is the Monkey's enemy so there may be a few conflicts throughout this year.
This is a year for a tremendous amount of change, just remember to be patient, control your impulses and think calmly and rationally before making big decisions. If any difficulties occur remember you can master anything you set your mind to with determination and perseverance.
1915, 1927, 1939, 1951, 1963, 1975, 1987, 1999, 2011
Kind-hearted, friendly, empathetic, sincere, intelligent, stubborn, discreet
Single Rabbits will meet lots of new people and possibly even the love of their life if they are single. Otherwise, marriage or deepening the relationship will be likely.
The Rabbits are going to have the best luck out of all the animals this year, with wealth and business opportunities in abundance. Creative Rabbits will be hitting their peak lighting up a constellation of exciting events for the ones who believe in possibility.
The prosperity star helps to bring money improvements, so it is a good time to invest in business.
1916, 1928, 1940, 1952, 1964, 1976, 1988, 2000, 2012
Successful, spiritual, courageous, innovative, imaginative, artistic, powerful, over-confident
Dragons aren't going to be having the best year for finding a new romance.
They are going to have a very lucky year and will receive an unbelievable amount of positive indications.
The Monkey's wisdom influences the Dragon, so it is a year to take inspiration from this characteristic. With optimism and perseverance they will get through any difficulties.
The victory star will be affecting Dragons, bringing luck to all aspects of their life.
1917, 1929, 1941, 1953, 1965, 1977, 1989, 2001, 2013
Wise, sympathetic, organized, elegant, attractive, discreet, lazy, vain
Those in long-term relationships may be receiving a proposal for marriage and those who are single are advised not to be too fickle with new romances.
Snakes are going to have some amazing luck and fortune this year, although they have to be aware of money issues, other than that the outlook is for a very good year ahead.
The victory star brings an extra addition of luck to all areas of the Snake's life.
1918, 1930, 1942, 1954, 1966, 1978, 1990, 2002, 2014
Clever, energetic, strong, popular, ambitious, arrogant, over-confident
This isn't the luckiest year for Horses when it comes to romance. Singles may only find short-term relationships and those who are in long-term ones should try to be more understanding and supportive.
The heaven luck star will be guiding Horses towards making positive decisions, especially where their career is concerned.
This year it is time to get out of your comfort zone and challenge yourself. Keep your energy levels high and always remain aware and alert so that no unexpected problems catch you off guard. This year is the one that you can start to think about major life changes and if you are prepared to put in the hard work you will easily achieve whatever you set your heart on.
1919, 1931, 1943, 1955, 1967, 1979, 1991, 2003, 2015
Polite, calm, compassionate, imaginative, intuitive, sensitive, determined, pessimistic
This is a good year for Sheep in the love department as long as they don't worry too much and they aren't too over-sensitive. There may be marriage, renewal of vows or even a new baby on the horizon. Those who are single will find it easy to attract potential love interests.
The wealth star shining on Sheep will bring wealth, not just in financial areas, but also highlighting romance, health and careers. A great year for taking up the artistic or spiritual pursuits they have been considering and putting off for far too long!
It is also recommended that they pay extra attention to their health this year and cut out any bad habits or take up new interests that could benefit their body or mind. Keep your eye on your money this year, be wary of spending money on unnecessary purchases, or you could find yourself in difficulties. Make a budget and stick to it and don't allow anyone to put pressure on you to overspend.
1920, 1932, 1944, 1956, 1968, 1980, 1992, 2004, 2016
Wise, intelligent, bright, charismatic, restless, lively, egotistical, arrogant
Monkeys will be busy with their careers or hobbies so they may not find much time to indulge In romance, so they are advised to take time out and spend quality time with their loved ones. Single monkeys are advised to be patient. A successful relationship is possible, but only if it is not forced and happens naturally.
They have the potential for unexpected wealth and abundance, although they should be wary of becoming too greedy. However, there are a few unlucky stars, so they are advised to be cautious and rest whenever possible. This year they need to pay attention to who they can trust and put things in place to balance their lifestyle so they relax, recuperate and rest more.
Whenever anything goes wrong this year, just remember to remain optimistic, keep smiling, show kindness and be sincere when making amends and any difficulties will very quickly be rectified.
1921, 1933, 1945, 1957, 1969, 1981, 1993, 2005, 2017
Kind-hearted, flexible, hard working, independent, honest, flamboyant, persuasive
Roosters are going to have a good year with romance. This is the perfect year for declaring feelings and making commitments.
The romance and education star will be influencing Roosters, sprinkling good fortune on love, education, travelling and self-growth.
Roosters are dreamers and this is the year to dream big, but the dreams must be kept realistic if they want to come true and be sustained.
Dog:
1922, 1934, 1946, 1958, 1970, 1982, 1994, 2006, 2018
Friendly, faithful, loyal, courageous, adaptable, critical
A challenging year for Dogs when it comes to love as they will be letting their emotional insecurity get in the way of commitment. Singles Dogs have a busy year ahead with personal growth and careers, so they may be better focusing away from romance and on to other interests. Couples may have miscommunications due to not paying attention to their partners or taking them for granted, this can turn small irritations into huge problems.
It is advised that Dogs trust their instincts in wealth and business dealings, as it could be a challenging year. As long as they don't let fear get in the way, with a clear head, they can successfully navigate anything that comes their way.
1923, 1935, 1947, 1959, 1971, 1983, 1995, 2007, 2019
Happy, easy going, honest, trusting, sincere, optimistic, sociable, unrealistic, materialistic
Although single Boars may receive a lot of opportunity for romance, this year doesn't seem to be the one that they turn long-term. Long-term relationships may struggle with misunderstandings and it is advisable to keep emotions under control
They are sensitive and sincere so they are ideal partners, as long as they don't become too possessive and jealous and allow their loved ones space.
It may be the year to focus on personal success, as wealth is looking stable with a lucky star shining over Boars.
Overall, for all animal signs it is a great time for individual pursuits, especially for new inventions, creations and for taking a risk and being daring, rebellious and adventurous. New projects should be successful with the Monkey's entrepreneurial and artistic influence, as long as they are rationally thought out and ruled by the head and not by emotions.
Dreams that may have been previously considered as far-fetched are within easy reach in 2016, with the year promising an incredible amount of positive transformational changes, making it a year to be remembered.
~
Relephant Read:
Relephant bonus:
~
Author: Alex Myles
Editor: Caitlin Oriel
Image: Epic Fireworks/Flickr