Vegans rejoice! Actually, anyone actively trying to cut down on dairy can rejoice!
Sure there are a handful of non-dairy vegan ice cream options out there—but anyone who's ever tasted a spoonful of Vermont's finest Ben & Jerry's ice cream knows that it's something special. This results from the care and quality they put into their ingredients. 
Their new non-dairy line is no exception—ingredients are certified vegan, fairtrade and non-GMO.
So what inspired Ben & Jerry to delve into non-dairy ice cream options? Quite simply, because people asked for it.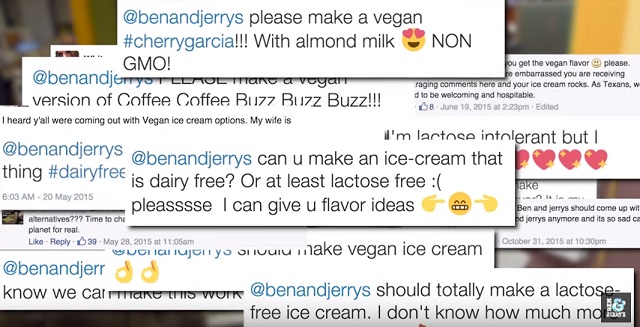 To start, four non-dairy, vegan flavors are being released—Chunky Monkey, Chocolate Fudge Brownie, Coffee Caramel Fudge and P.B. & Cookies. These are being made with almond milk, as after experimenting with different dairy-free"milk" options, almond milk proved to provide the best "blank canvas" for their recipes.
"It's so rich and creamy that while digging into a pint you will constantly have to remind yourself that it's non-dairy."
Yumm—I can't wait to try 'em all!
.
.
Relephant:
.
Author: Yoli Ramazzina
Photo: Screenshot.