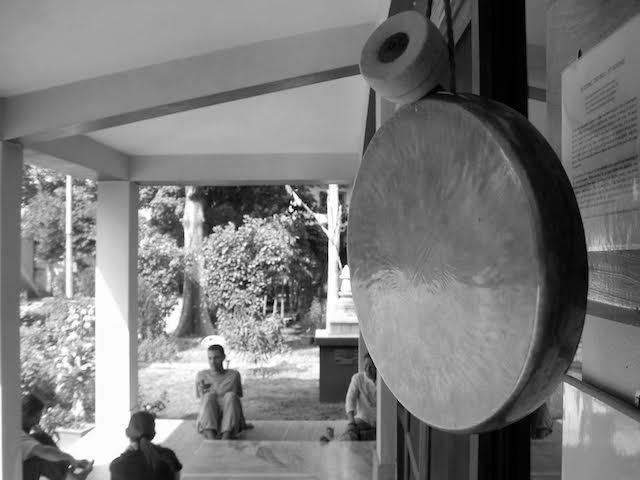 The following is an excerpt from Joshua Berman's book, Crocodile Love: Travel Tales from an Extended Honeymoon. 
*Editor's Note: Here at elephant, we're notorious bookworms—we love them, and want you to love them, too. But, recently, we found out books are evil—one of the worst things for the environment. Before you buy your next book, read this and this. Keep reading, but read responsibly.
A Moment 
of Silence
The grounds of the Root Institute for Wisdom Culture were a ten-​minute bicycle rickshaw ride from central Bodh Gaya. This was an international learning and meditation center, surrounded by its own walls and beyond them on all sides, by dusty, fallow rice fields. The sign at the entrance declared in red paint:
"No Killing, No Stealing, No Lying, No Sexual Activity, Dress Appropriately, Let the Monks and Nuns Eat First, No Music, Dance, Singing, This Is a Meditation Environment."
Inside was a verdant picture of peace, especially compared to the stark, trash-​studded brown landscape around it. The well-​watered grounds were verdant and shaded. A cluster of dormitories and temples was set amid golden Buddha statues, water elements, flower beds, and a few wandering goats and puppies for good measure.
Sutay and I were issued separate rooms and told not to speak with each other except during the daily group talks, in which we were encouraged to participate. "There are degrees of silence," one of the monks explained. "There is 'noble silence,' which means no eye contact, no interacting with others, no smiling or looking at each other. But this is not what we're asking. We ask only that you refrain from unnecessary verbal communication."
We knew this was part of the deal, the silence and separation; still, it was strange to go to bed alone that first night in such a plain room, a flashback to my previous solitary life. Remembering those times of longing made what I now had that much more amazing—Sutay in my life, doing what we were doing, staring straight into our future, but first, learning how to be in the present. The security of that was assuring and I fell asleep happy, eager to report to morning class.
The gompa, or prayer hall, where we gathered at dawn, was decorated in bright Tibetan style, with reds and golds, woven thangkas, and framed photos of various high lamas, including the smiling image of the Dalai Lama.
"The first fruit of meditation is slowing down," said Rita Riniker, a Buddhist monk from Austria who would be our guide for the next ten days. Her robes were scarlet, matching the room.
Eighteen of us were seated on the floor. We were random travelers from a dozen different countries. As we sat and adjusted and squirmed, we heard birds outside, a barking dog, and the droning loudspeaker from an eye clinic that had been set up under circus tents in one of the empty paddies outside the institute walls.
"Sitting here," said Rita, "with the intention of becoming calm and peaceful, is enough."
That was all we had to do. It was that simple. After a few tips on how to balance our bodies, observe our thoughts, and stay awake, Rita began the session as she would every morning for the next ten days. First, the slow, building chime of her prayer bowl, followed by its long, tapering into silence; then she said, "There is nothing to achieve. There is nothing to attain."
One of my legs began going numb; my back ached; a mosquito landed on my ear. This was not going to be easy.
Morning meditation began at 5:45 a.m. followed by yoga at 6:30, then breakfast, walking meditation, sitting meditation, a short break, yoga before a veggie lunch, group discussions (the only sanctioned time to speak), break, dharma talks, break, yoga, light dinner, walking meditation, sitting meditation, sleep.
Repeat.
This structure was actually a welcome change after the floating free-​fall of the road. The silence was nice too, offering a break from the standard backpacker chatter to which we were accustomed. Karin, a participant from Germany, said during our first group talk how nice the silence was: "You don't have to be anyone or impress anyone, or brag about where you've been and where you're going or how long you've been traveling. We're all just here, the same in silence. There are no stories, no competition, age doesn't matter, background doesn't matter."
But on that first morning, I found both physical and mental barriers to gaining any deep peace of mind. I gritted my teeth against the pain in my calves, my mind flashed from thought to thought with no focus. This was going to take time, I knew. And that was the thing—you had to take the time. I straightened my back and loosened my shoulder blades. My eyes were open, taking in the soft light. Slow down, I said to myself. Slow down, slow downslowdownslowdown.
I snuck a glance at Sutay across the room, my forbidden lover, perched on her mat like a queen, the straightest posture in class. Still, I wondered how she was doing. It was tough not being able to check in with her.
One morning we broke the rules and met clandestinely atop my dorm at 5 a.m., before the sun rose. We stood on the flat roof and embraced for a long while, not saying anything. Finally, the first hint of red-​orange light appeared in the east, behind a distant hundred-​foot-​tall seated Japanese Buddha statue across several rice fields. We'd visited the site as tourists the week before.
Now Sutay and I were looking at it from a different angle and in a very different light. We whispered quick stories and I made sure she was enjoying it all, then we descended the stairs, one at a time, and made it to the gompa before the morning bell.
Live in Boulder? We like your style. Find Crocodile Love at your Boulder-local bookstore, here! 
Author: Joshua Berman
Editor: Emily Bartran
Photo: Joshua Berman; Gordon Anthony McGowan/Flickr