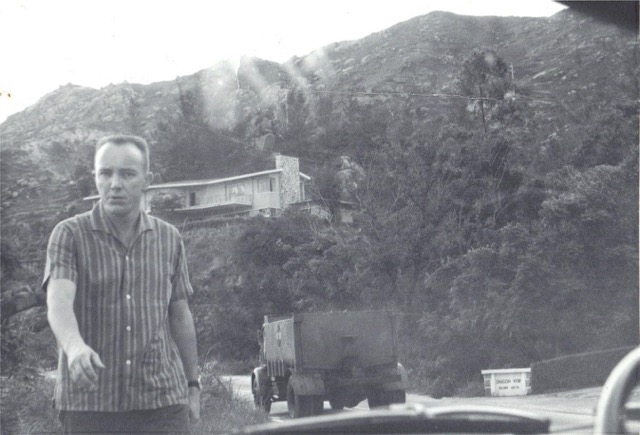 "The Dalai Lama told TIME Correspondent Dan Coggin, who journeyed to the god-king's exile in the Indian Himalayas at Dharamsala, that 'Tibet still exists despite all the Chinese have done. But I don't know for how long. Another 20 years like this and there will be no Tibet.'"
~ Dan Coggin, "Tibet: Himalayan Hell," September 13, 1968. TIME)
When I was 18, living in Houston with my mom and little sister, I received a large, very official looking check in the mail from the United States government.
I called my father, by then remarried and living in San Francisco by way of Bangkok, and asked him if it had anything to do with him. He told me it was his pension…from working in the C.I.A.
Besides his work with the Marine Corps, the United Nations, TIME Magazine, the Associated Press, and dozens of other meaningful journalistic jobs throughout his life, my dad was a real live spy.
There is still so much of my father's heroic life that I do not know about, but I speculate using news clippings and imagination. He was not the type to talk about himself or his many accomplishments, a humble giant, a friend of kings. When he died in 2012, I knew I would spend a lot of time giving homage to him in words, for words were the common bond that held us close, even if unspoken. He was the brave journalist. I am his daughter, the poet.
I read his articles in back issues of TIME Magazine, and came across quotes that linked him to the Dalai Lama, linked him to the Himalayas, and mountaintops, and mystery. I wish I could ask him about that day (and so many others). Instead, I wrote him this poem:
What was it like, dad?
These quiet heroics
of which you never spoke.
These moments
that would have shaped you
to be more of a man
in our eyes, than the man you were,
this past that built you
and broke you,
before we were even born.
Why didn't we know you?
I found out more about you
after you died than
I ever knew when
you were alive.
There were too may wars
tucked into the bags under your eyes,
too many of your CIA secrets
to distinguish the truth from the lies,
and I know you couldn't
sleep for the last
30 years for your life,
but this was just the beginning,
the early stages
of your renegade reporting,
the beginning of a career
surmounting impossible obstacles
to get to the story.
Dad,
what was this moment like?
Young American reporter, Dan Coggin,
Young exiled Tibetan God-King, His Holiness the Dalai Lama,
33 and 33,
both born in 1935,
both men of honor,
of spirituality,
of broad views.
Both with peaceful hearts,
two men becoming,
dare I say, brothers? Friends?
Or just an interview and a story?
September,
what was the weather like in September,
in Dharamsala, India,
in the Temple of His Holiness, dad?
Was there a mountain under your feet?
Were there a million stairs that led upwards infinitely?
I know you took pictures,
you were a photojournalist,
and if I'm anything like you,
I know you took pictures, dad.
Where are the pictures?
Why do I keep having to prove to myself
that my dad was a hero,
over and over,
in all these different languages?
What did you wear to the interview at the temple that day?
Did you wrap yourself in robes,
or were you the bellbottom-business class American?
I keep painting the scene in my mind,
the wide open room,
the vibrant colors, red and yellow walls,
shaved heads of young Tibetan monks
in russet robes,
the heavy smoke of sandalwood permeating
the sacred space all around,
painting thick the holy.
And they let you in, dad.
Why?
The Dalai Lama let you in
to hear the plight of Tibetans from his lips,
and he trusted you to convey his plea
to the most widely published American magazine,
and all I keep wondering about
are those little details.
Like, did you use that little gold pen?
Did your left-handed script scribble down
every word, or did you listen with your eyes and heart?
Did he trust you from the start,
or did you build something
with the storylines of your young brave face?
All I keep wondering about is
did the steam rising from his tea
fog up his black framed glasses, dad?
And did he grin? Laugh?
Did you both laugh?
Did you make him comfortable?
I bet you made him comfortable,
in his temple. Somehow you
extended your compassionate heart,
and he opened like a White Lotus to you.
You heard the stories of his
300,000 Tibetan people exterminated,
still more jumping into the Kyichu river,
(the River of Happiness)
to commit suicide as proud Tibetans
rather than suffer under Chinese control.
You must have sipped your tea
so gently
as he told you of the
1,300 year-old statue of Avalokitashvara,
the eleven-headed Buddhist God of Mercy,
smashed by Red Guards
and thrown into a gutter with
burning sutras and tantric scriptures crumbling into ash.
Dad,
how did your heart become this depository of
the world's pain?
Did you know then that you were also exiled?
That you were a young man
from Atlanta, Georgia
who would spend the better part of his life
in Asia, telling the horror stories
of wars that were not yours to witness, dad?
Korea, as the youngest sergeant in the Marines, 18,
oh, how your blue eyes must have cried at all they'd seen.
Then as a journalist in
Vietnam.
Tibet.
Cambodia.
Thailand.
Pakistan.
And what surely pushed you to the extremes,
the 1971 Atrocities in Bangladesh,
 ~
"TIME MAGAZINE:  A Letter From The Publisher, August. 2, 1971:
DAN COGGIN has spent most of the past seven years observing turmoil in Asia—grim but invaluable experience for his latest assignment, this week's cover story on Pakistan. A former Marine, Coggin witnessed the Indonesian crisis of the mid-'60s, went next to South Viet Nam and then served as New Delhi bureau chief. Assigned to the Beirut bureau last fall, he continues to contribute his expertise on Pakistan. He was one of the 35 newsmen expelled from Dacca on March 26, but in April he trekked from India by oxcart, rowboat, motorcycle, bicycle and bus to become the first American journalist to get back to the Eastern capital. He returned again for this week's story and, despite his having seen much war in the past, found that "this one has special horrors.""
 ~
Special horrors,
oh dad…
All before I was born.
It was after your death in 2012,
that I have reached out to reporters,
historians, professors in Bangladesh
who know the name Dan Coggin,
American Journalist,
Hero to the Liberation War.
Your name stands like its own flag.
I found out that,
as a journalist,
you made a career
of getting Kings
and Sheikhs,
Prime-Ministers
and Presidents
to tell you their stories,
to confess their humanity,
Why didn't you tell me your story, dad?
On that day in 1968,
with His Holiness the Dali Lama,
in that remote temple
in Dharamsala,
did sweat roll down
your fervent brow,
as the spiraling tea steam rose
into your blue sky eyes?
Dad,
looking across the table
to that god-king man,
that exiled brother,
did you stay inside yourself,
or did you look up through the steam and
smile?
I imagine my father smiled. I imagine his extended hand to the Dalai Lama. I imagine my father's scribbling on a small pad of paper, and how those scribbles wrote history as it unfolded.
Dad, wherever your spirit is now, I hope the light in you knows I am continuing your legacy; scribbling, scribbling, as it all unfolds. I love you.
~
Author: Kai Coggin

Editor: Travis May

Photo: Author's own.