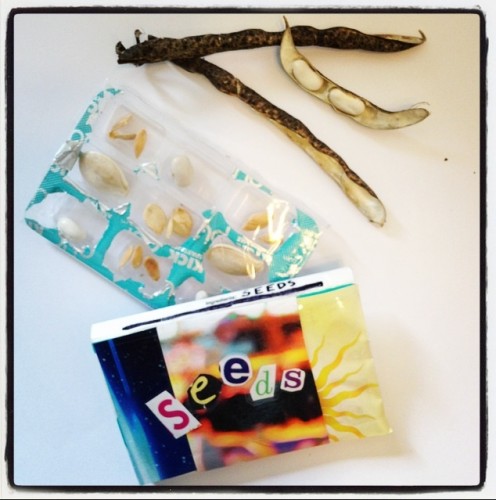 As the equal rays of sunlight return to our cold faces, these spring days become the perfect opportunity to start sharing seeds of love or, better yet, starting our gardens.
I've come up with a playful way to share the seeds I've saved from last year's garden.
For me, the act of saving seeds is one of the most radical things we can do for the health of our society and our planet, especially as seed companies continue to create GMO seeds.
Sure, it's a bit messy as you pull the seeds away from the slimy pulp of a cantaloupe or pumpkin. And yes, the seeds could get moldy if we don't dry them right, but then there's the undeniable beauty of taking a seed from last year's pumpkin, watching the seed sprout and the vine stretch across the garden on its path to creating a whole new pumpkin.
So why is saving seeds such a radical act?
Radical means going to our "roots," in that we see the source of food is rooted in our own hands. We take responsibility for being a part of the food cycle. We slow down our consumption of pre-packaged food and instead, we participate in the creation of our own lettuce, tomatoes, potatoes, kale or sunflower seeds.
Sure, it's easy to pick up a packet of seeds at the local Natural Foods Co-op and, more than likely, these seeds come from mindful people who are making a difference, but why not share seeds for free?
The idea of sharing seeds came to me the other day while buying my son some gum at the local co-op.
My youngest son has ADHD and he loves gum, as it helps keep him centered when he's in hectic environments. As a mother, I am constantly trying to blend the consumer world with the ethics of environmental awareness—but it can be a tricky path.
I tried the chewing on celery idea, but that advice got a bit bland after a while (just kidding).
For the sake of my son, I ended up buying this naturally sugar-free gum in its small package, which seemed like a waste of wrapping, until an idea for upcycling popped into my mind.
Why not use these little packages for seeds?
So I've created a simple way to share seeds through upcycled chewing gum packages. It's a radical act and maybe one of the easiest things we can do to keep the purity of seeds alive.
Here's how to share the seeds:
1. Buy the gum in the (pop-out) packages like the one in the above photo.
2. Chew the gum. Blow bubbles. Crack jokes with your friends while digging in the garden.
3. Take the pumpkin or squash seeds that you've saved, and insert the dried seeds into the empty slots. I used a mixture of seeds, including pumpkin, squash and green beans for my package.
4. Cover with a piece of 1″ wide tape.
5. Decorate the outside in whatever wild way you'd like.
6. Give them away!
7. Or use for a fundraiser to raise money for your community garden.
Author: Jessie Wright
Editor: Nicole Cameron
Image: Courtesy of the Author; BenjaminCombs/Unsplash