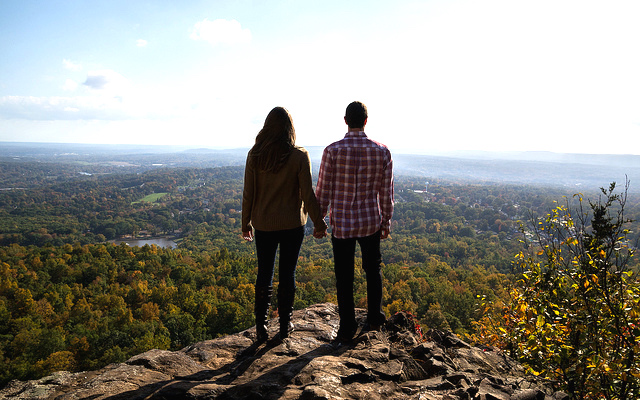 Look at you, walking into my life—just like a breath of fresh air.
A warm summer breeze that I crave all winter long.
There you are, the complete embodiment of everything I ever wanted. But more so, everything I didn't even know I wanted. Everything I was so blissfully unaware that I needed.
You waltz into my chaotic life and somehow make it feel purposed.
You shower me with laughter and allow me to unapologetically be myself.
Listening to me ramble on about my crazy thoughts and daydreams—you never seem to tire of hearing them.
With over seven billion people on the planet, you make me feel as if I am the only one, besides you. Somehow being around you shrinks the population from seven billion to just us two.
You make me feel comfortable in my own skin.
You appear in my life and break through every barrier. Every wall that I have so tirelessly constructed and secured. Every guard that I have built up around my heart and soul to protect them. Barriers I have built to protect myself from men like you—the kind that can ruin a woman.
And my natural instinct is to hate you for it.
To pull back. To do anything possible to not leave the responsibility of my heart in anyone else's hands—to not allow that power to slip from my own stubborn grip.
I am terrified of possibilities that I have unwillingly placed at your fingertips.
The power you have assumed upon yourself. The power you have to give me hope and then demolish it. To send my dreams soaring toward the heavens just to pummel them back to the earth.
The newfound fear I have of losing the only puzzle piece intricate enough to fit against my rigid and complex edges.
The flood of emotions that I am drowning in from all of the feelings which you are awakening within my soul.
I hate what you could do to me. I am completely comfortable with you, but at the same time utterly terrified by you.
I hate the idea of losing you. The idea of being without you. The thought of rebuilding after you.
But above all, I hate that I am so infatuated with you that I have to tirelessly think of reasons to hate you.
Aimlessly grasping at straws trying to convince myself that we aren't perfect.
Oh, how I want to love you.
I long to trust myself to love you. To completely free myself from the emotional chains that I have locked my heart down with.
I want to be free. I want to love you. And mostly, I want to let you love me.
~
Author: Emily Cutshaw
Editor: Caitlin Oriel
Image: Brian Holland/Flickr