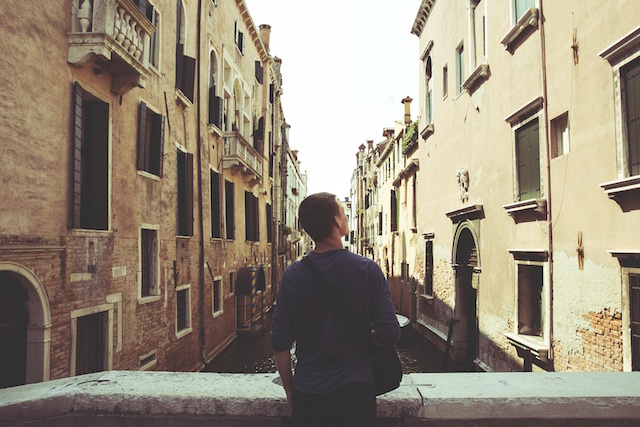 About three years ago, a friend asked me, "What do you want to make in your life?"
At the time I was still in a similar mindset as most of my friends, so I answered: "I want to get a college degree, find a good job and live in a beautiful house." He corrected me and said, "No, that is what you want to have. What is it that you want to make?"
Talking about the perfect life we want to live can be easy, but when it comes to actions, it's a whole different story. Back home, I am surrounded by people who have chosen a different life path than I have. Just getting out of college, they are all aiming to get well-paying jobs and build a career. There's nothing wrong with this path, but I wonder if they know why they are doing all this.
What drives them to get up in the morning? Is it to survive? To impress their boss and get a promotion? To make enough money to support their not-yet-existent family or just to get drunk on Friday night?
So few people have a clear answer to what drives them. And this is why I travel.
Travel fulfills me. While finding my own drive can feel like a puzzle, it is slowly becoming clearer with every inspiring experience of wandering human beings and connecting with nature. People I've met on my travels have shared their life stories with me and places I've worked abroad have shown me a much wider perspective of life. Some travelers are just seeking adventure, some are trying to find themselves again and for others, it's a way of life.
Whatever brought us to the same hostel, with old guitars hanging on the wall, is our drive. We left our comfort zones to change our lives.
One day, while talking to my friend, I informed him that after a lot of thinking I finally knew what I wanted to make in life. I started explaining the feeling I get when I step on a plane, departing for a new destination. The feeling I get when I drive on a desert road in Utah with absolutely nothing but open land, late afternoon sun and Explosions in the Sky blaring.
"These are the things I do that make me happier than anything I have. And what we have is replaceable, but what we do is not." He corrected me again and said, "No, this is what you want to do. What is it that you want to make?"
I've spent the past few years thinking about it and my answer is this: I want to make opportunities.
I want to make a sea of opportunities. I want to build a ship and welcome aboard every soul that has a desire to change their life. Once they've seen all the danger and beauty of traveling on this ship, I want to inspire them to build their own and explore.
I want to make my life an example. I want to help others aim for the life they want and not get caught up in daily routine when they are really dreaming of something else.
Many of my friends say to me, "Where are you going next? I wish I could do what you do. You are able to travel, but I can't." Don't get me wrong, I feel lost more often than one would imagine. I still question whether it's right to leave home for six months at a time. I worry about the future. I worry about financial security. And I feel like crying when I see photos of my friends back home spending a fun weekend at the seaside together.
Well here's the reality: it's not easy to live our dreams. There are good times and bad times; there are numerous sacrifices that we need to be willing to make.
This is when I focus on myself and think of all the wonderful experiences I've created in my life, the inspiring people I've met and the stunning places I've seen—places people only dream of seeing. This is when I focus on being grateful for the present moment.
As I write this, I am sitting in a private beachfront villa in Thailand, watching the orange sun slowly diving into the Andaman Sea. Today I'm grateful to have met a lady at the dog shelter where I recently started volunteering. She is a working nomad and within one hour of meeting, she made me feel like I'm not the only one traveling in a different direction. Our conversation inspired me to start writing again.
Her way of life is exactly what I believe in, but hard to find and have faith in, in this career-oriented world we live in. She unknowingly created the opportunity for me to regain trust in what I'm doing in life.
The opportunity for us to live our dreams is out there. We just have to define our goals—decide what we want to make. Then go out there and make it. No matter what.
Author: Eva Gisburne
Editor: Nicole Cameron
Image: Joshua Earle/Unsplash
Bonus: