The bad news first: It's still winter. And for those of us hibernating in wintery climates, the local, seasonal food options are bleak. A few tired winter squashes may linger on our countertops, but fresh local produce is still weeks away.
Colorful spring fashions tempt us from store windows, and sandy spring break beaches taunt our dreams. We daydream about the tender, sweet baby spinach and perky Easter egg radishes of early spring.
We can't help it—we're human, and we're hungry!
The good news: When the days are short and the nights are long, it can be ever-so-tempting to pick up a bunch of asparagus shipped in from Mexico. But before we go lusting after sexy, imported spring veggies, it's worth pausing in the present to check out the dependable, yet desirable root vegetables waiting patiently in our produce drawers.
Handfuls of watermelon radishes, pounds of carrots and turnips for a creamy mash all are all begging to shine.
Sometimes, we just need a bit of inspiration to turn that pumpkin into a chariot.
There's no need to slink off to a secret hideaway with that scandalous asparagus wearing a tremendous carbon footprint!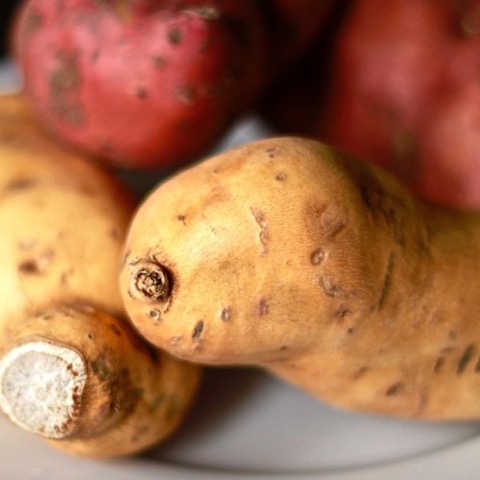 Here, in my opinion, are the eight most fabulous roots (in no particular order) and some good reasons to give them a twirl:
1. Watermelon Radish.
A local farmers market darling, the watermelon radish is a breath of fresh air in late winter. It's a bit unassuming on the outside, but cut into one and be amazed; the inside is deep fuchsia, speckled and looks like a juicy watermelon. Add these beauties to a colorful crudité platter, toss thinly sliced into salads, top slices with egg salad or hummus as a fancy-schmancy, yet easy-peasy appetizer, or roast them (yes, roast them!).  Watermelon radishes are a rich source of antioxidants, particularly zeaxanthin, lutein and beta–carotene, which are known for promoting healthy vision.
2. Turnips.
Ah, the voluptuous turnip. With an interesting, bitter flavor, turnips (especially the Gold Ball variety) make a comforting mash. But because of the bitterness, they're especially delicious mixed with Yukon Gold potatoes and a bit of red onion. Steam the turnips, 'taters and onion until cooked, then mash! A bit of butter or ghee is a must. Turnips are a great source of fiber and vitamin C.
3. Sweet Potatoes.
A true workhorse in the kitchen, sweet potatoes can be baked, roasted, mashed, made into soup and turned into dessert. Orange-fleshed varieties, such as the heirlooms Jewel and Garnet, are farmers market dandies, while Beauregard is likely to be found at the supermarket. But it's worth seeking out the elegant, white O'Henrys (which taste like a toasted marshmallow when baked or roasted) as well as the vibrant purple varieties. In case we need another reason to love these gems, they're often touted as a superfood—high in fiber (eat the skin), antioxidants and minerals.
4. Leeks.
Ah, the lovely, long and leggy leek. Sliced and sautéed on their own as a simple side dish, tucked into omelets or stirred into scrambled eggs, their subtle onion flavor goes well with another of my favorites—a drizzle (or spoonful) of white truffle oil. They make potato soup extra special, too. Leeks are a great source of vitamins and phytonutrients that protect your eyes.
5. Beets.
Yes, beets taste like dirt. But don't we love dirt? Wrapping these dirty babies in foil—skin and all—and roasting on a high temperature (could also be called steaming) turns the earthy taste into an earthy sweetness. Let them cool, and the skins will slip off easily. Slice and toss with dirty-minded ingredients such as walnuts, fresh herbs, feta cheese or oranges. The nutritional benefits of these colorful gems are plentiful; they're a good source of folate and magnesium, a cure for constipation and a protection against colon cancer, just to name a few. Don't ditch the tops; they're worthy of our attention, and probably more nutrient-dense than their bulbs. Try sautéing the greens like spinach.
6. Carrots. 
Carrots are the girlfriends of the vegetable world: under-appreciated and taken for granted! Regular ol' orange carrots are great, but check out some of the other colorful varieties—the purple, red, white and yellow versions are delightful. Roast 'em, puree into soup, and shred into muffins. Carrots are low-cal, high-fiber and, it's true, good for our eyes.
7. Sunchokes (or Jerusalem Artichokes).
Warning: Some foodies find sunchokes highly addictive, but they make many people fart because they contain a certain kind of carbohydrate called inulin. Unsexy, but true. Nevertheless, they are absolutely delicious roasted with lemon and thyme. Often recipes will suggest eating them raw in salads. Proceed with caution! It might be a bit tricky trying to digest these little devils in their uncooked state. They also have a reputation for being great in soup. Like most roots, sunchokes are a good source of vitamins, minerals and fiber, and also act as a prebiotic, which is good for gut health.
8. Celeriac.
This mysterious root probably has the fewest names on her dance card. And what a shame. A big, knobby, brown bulb, celeriac—a.k.a. celery root—has a flavor often described as a cross between her sexier sisters, celery and parsley. Like most roots, she's tasty roasted or mashed with potatoes. This ugly duckling is also often paired with green apples and featured in a rich and creamy soup. Celeriac contains anti-cancer properties and is a good source of Vitamin K and phosphorus.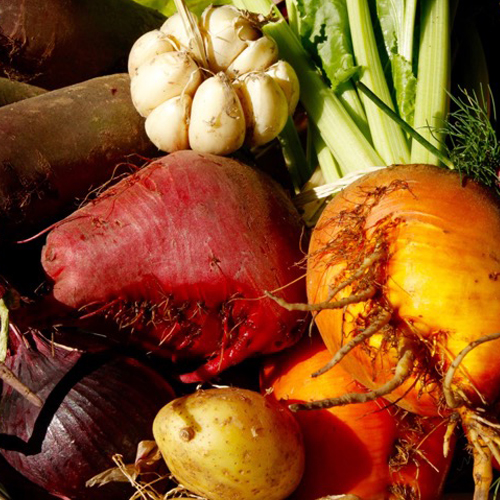 Our summer flings with verdant snap peas, luscious squash blossoms and shapely eggplants will be here soon enough, but there's no need to merely bide our time.
Prepared well, these root veggies will have us longing for late winter instead of hoping to escape it.
Relephant Links:
~
Author: Lisa Murphy
Apprentice Editor: Monica LaSarre / Editor: Toby Israel
Photos: Author's Own
~