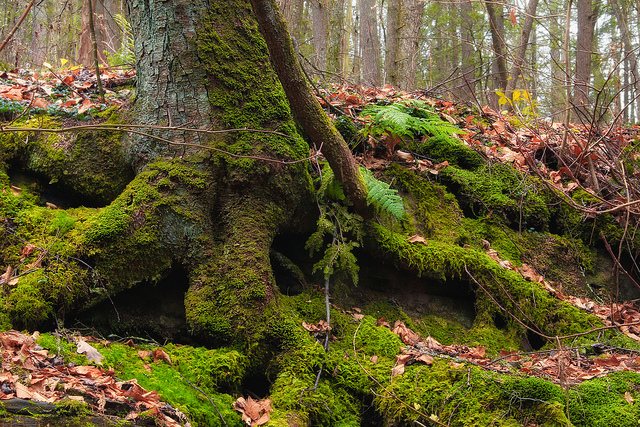 "I looked in temples and churches and mosques. But I found The Divine in my heart." ~ Rumi
When you're a child, you don't know you're encountering God.
Or rather, you know you're encountering something; you just don't necessarily call that something God. I think that children encounter the divine often and easily. They remember in a way that isn't yet clouded, and see in a way that isn't yet veiled or distorted, by a world that wishes to teach them a different way.
When I was little, the word I found in my head for this strange presence that seemed to be able to put its arms around me was "The Hug."
This "Hug" could be found in a number of places but, most intensely, I felt it down by the river.
When things in the farmhouse were particularly bad, and the hatred and viciousness threatened to overwhelm and break me, I'd creep out across the lawn, past the calf sheds, through the milking parlour, climb over the fence and run across the field and down the hill to the place that I knew would restore me.
Sometimes I'd run so hard my whole body felt like it was shattering from the pounding of my feet and heart. This part was the most dangerous. I knew that, once I reached a certain point on the slope down, I was out of sight and no one would be able to call me back. And once I reached that point, I knew I was safe. But until then, until I was below the brow and out of sight, I knew I wasn't yet safe.
Within minutes, I'd be there. First I'd hear the river, with its familiar melody as it rippled and gurgled over the slippery rocks covered in river weed. Something would leap in my chest, as I moved out of that world of coldness and shouting and into another world of gentleness and soothing.
And then, at last, I'd see the tree stump.
My pace would have slowed to a walk by then, and my breath would be steadier. "The Hug," I knew, was waiting. Just like always.
As I crawled through the tiny rabbit hole-like entrance, into the cave itself, the smell of earth and river filled my senses. An old tree, probably struck by lightning, had fallen over, tearing up the ground with its roots to create a cave in the soil. The front of the cave opened straight out onto the river itself, and so the tiny entrance on the side was the only way in. Inside, the cave walls were covered with a mass of roots, like arteries and veins. This was where "The Hug" lived, and where I felt its arms enveloping me as I sat there, deep in its womb.
It would begin with a sensation, a mixture of goosebumps and sunlight, streaming into me, filling my whole body. And then, the squeeze, followed by the tenderest feeling of being held close. Gradually, I would lose all sense of myself until, once again, The Hug and I were one, and I no longer knew what was The Hug and what was me. All I knew was a bliss and joy I could find nowhere else, and a calm beyond anything I could begin to understand. I was immersed in a knowing and a being beyond words, for which I had no concept. To me, it was simply "The Hug."
I would now call it love beyond comprehension. It wasn't the theory of love, or an act of love. It was love.
And in its embrace, I was love too.
And as I would sit snuggled in that tenderest of hugs, I would find my gaze drawn to the river, as it meandered in front of the cave. Sometimes joyous, sparkling and dappled with sunlight, other times heavy and dark and mysterious. But always I would find myself flowing in and with it, knowing that it carried in it the wisdom of the ages, that it knew me, just as it had always known me.
But as I grew up, learned, read, searched, was sent to Sunday school, went to church—in fact, many churches offering just as many dogmas—nowhere did I seem to be able to find anything that spoke to me of that hug I had known. And continued to know. No longer in that one place, but in many places and in many forms. I knew its essence, and somehow its essence was also my essence. Yet everywhere I looked, I could only find references to a power outside of myself, different from me, vaster and wiser than me—yes, that was accurate—yet with none of the intimacy that continued to be my experience.
And then, I found Rumi!
You know that wonderful moment when something resonates and you hear your truth mirrored back to you? And you know you've come home? Here it all was! All I'd known in that tree stump cave across that field by the river! Word upon word, line after line, poem after poem:
"There's a field somewhere beyond all doubt and wrong doing. I'll meet you there."

"What you seek is seeking you."

"There is a voice that doesn't use words. Listen."

"Do not feel lonely, the entire universe is inside you."
"Everything in the universe is within you. Ask all from yourself."
"You are not a drop in the ocean. You are the entire ocean, in a drop."
"When you do things from your soul, you feel the river moving in you, a joy."
"Purify your eyes, and see the pure world. Your life will fill with radiant forms. "
"Even when tied in a thousand knots, the string is still but one."

"Only from the heart can you touch the sky."
"Try another way of looking. Try you looking and the whole universe seeing."

It was all there! All I'd experienced, put into words that resonated in the deepest parts of me, finding the joy that had been waiting always to be found. That of knowing and being known, being held in the most complete hug we can ever know.
And so I've come home. To the oneness I've always known, simplicity, the love I believe we all are, the vastness and intimacy of this amazing universe, the Hug! This has been my journey. To my truth. In my own way.
And I share it with you not to say this should be your truth, but rather as an invitation for you to find and speak and share your truth too. Whatever that might be. For that can only enrich us all, and the oneness we share and are.
Maybe Rumi could have the final word:
"This is love: to fly toward a secret sky, to cause a hundred veils to fall each moment. First to let go of life. Finally, to take a step without feet."

Author: Janny Juddly
Editor: Catherine Monkman
Photo: Nicholas A. Tonelli/Flickr