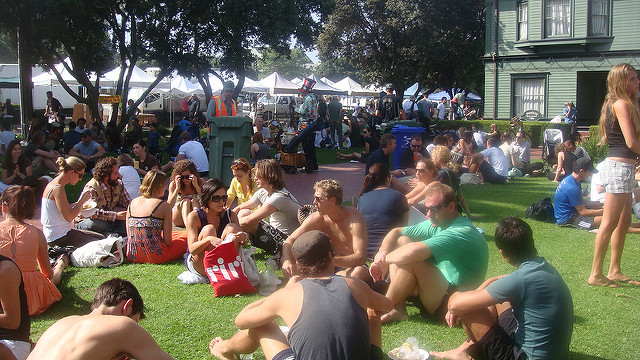 Farmers Markets are becoming increasingly more popular, however, the concept of farmers selling their goods to local people is centuries old. Lancaster, Pennsylvania is home to the oldest Farmers Market and has occupied the same location, all year round, for over 275 years.
Not only are markets a place to buy and sell healthy produce, they are also the perfect outdoor meeting point for family, friends and neighbors to gather and consume hand-crafted beverages or homemade soup, savories and cakes.
For me, the best way to spend a spring or summer Saturday afternoon is exploring one of my local markets, picking from an array of seasonal offerings and at the same time supporting my local economy.
Not only do I look forward to the market, so does Pumpkin, my small and very cute furry four-legged friend. She is well known at the market and knows exactly how to do "adorable," so she is constantly fussed over and fed treats from stallholders whom she recognizes instantly or passersby who seem compelled to stop and greet her.
The most noticeable thing about going to the market is that it immediately seems to energize and lift people's spirits. Barely anyone walks past one another without a smile, a nod or a warm "hello."
Walking around the market is sensory heaven due to the wide variety of vibrant and beautiful colors, smells and mouth-watering tastes while absorbing the buzzing energy of the highly charged but very relaxed atmosphere.
The main difference between shopping at a Farmers Market and shopping at a supermarket is that every week there will be a new delight to try and the person responsible for its production will be on hand to explain everything that is needed to know about it, from how best to store it to the best way to consume it.
Usually all of the products that are on sale will have been grown, caught, reared or baked by the person in charge of the stall, all within a geographical area that is in close proximity to the market.
Here are a few more key benefits to shopping at your local Farmers Market:
Supports Independent Farmers And Small Businesses
Many farmers struggle to make a profit when they sell their produce to chain stores or large supermarkets therefore markets are often a preferred choice as the farmers have control over their pricing. As we buy direct from the farmer, we are cutting out the middleman (the stores) so we are able to get high quality fresh produce for a fair price.
Organic
The majority of produce available is organic and the main reason for this is because it is seasonal, therefore, artificial chemicals are not required to help it to grow outside its normal cycle.
Environmentally Friendly
The products on sale at Farmers Markets are all fresh therefore they are not sealed in plastic packaging that is harmful to the environment. As it is all locally produced, the goods haven't travelled long distances so they have not usually had preservatives added and they are also not contributing carbon dioxide emissions to our harmful collective carbon footprint. Due to the produce being recently picked, it means that whatever we buy will last far longer in our cupboards and fridges. When I shopped at a supermarket I would often have to return midweek to purchase more fresh fruit or vegetables, however from the market my purchases easily stay crispy and fresh for the whole week.
Fresh Produce
The goods on sale have often been locally harvested less than 24 hours before market day, which means they retain more nutrients than fruit and vegetables that have travelled long distances to sit on a supermarket shelf for days.
Produce Available
Most of the food available at my local Farmers Market is organic and unlike in large stores the organic produce is not sold at an elevated price. At the market I visit there are plenty of gluten-free options, the eggs and poultry are always free range, the meat is pasture-raised and the fish is fresh and caught locally. Although I am vegan, I respect other people's food choices, so whenever I am cooking for guests I always ensure that I head to the market and source mindfully and purchase ethically.
Smells
Before I even get near the market the mixture of tantalizing smells in the air from the vegetarian hotdog stand, freshly roasted coffee and the freshly baked sweet pastries communicate that I am not going to be able to walk away empty handed. I am not only tempted to eat lunch while visiting there, I also never manage to leave without bags packed full of colorful and tasty bargain buys.
Educational
Many people at the markets take their children along, not just so that they can have fun and indulge in the overall experience, but mostly so that they can enjoy learning about the entire process of where the food they consume has come from. This often inspires children to eat well and also helps them to appreciate the many stages of their foods' journey. The farmers are on hand to happily take on the role of teachers and share their knowledge and wisdom with whoever is hungry to find out more.
Although some of the fruit and vegetables may still have been sprayed with pesticides it is usually far less than imported goods and many farmers do not use pesticides at all.
Just to be sure I always run my fruit and veg under cold running water, as soaking them may mean that chemicals can leak in under the skin. The most commonly sprayed products, known as the dirty dozen are strawberries, apples, nectarines, peaches, celery, grapes, cherries, spinach, sweet bell peppers, cherry tomatoes and cucumbers.
Strawberries have just topped the produce list for being the most contaminated product for the second year running, so it is always best to ensure they are thoroughly cleaned before consumption.
A trip to a Farmers Market is an integral part of my weekend where I can purchase an abundance of delicious nutrient-rich affordable produce, converse with passionate farmers about how the food I am purchasing has been grown and also learn about the best ways to consume it by cooking with recipes that have been handed down over the years from one farming generation to another.
Mostly though, I just love the overall vibe and would soak up the magical environment every day of the week if I could.
There are 759 Farmers Markets in California and 637 in New York and with a 500 percent increase over the last 20 years in the United States, most people won't have to travel very far to find one.
To find a Farmers Market in the U.S., click here.
And to find one in the United Kingdom, click here
Farmers Markets are a celebration of food and an experience that once tried, quickly become addictive. Fortunately it is a very healthy, affordable and highly sustainable one, not just for me, but also for the entire planet.
~
Author: Alex Myles
Editor: Travis May
Image: Flickr/Jason Rosenburg