I have always held a strong sense of right and wrong. I have always wanted to help people.
Someone asked me recently why, and I responded that this was as much a part of me as the color of my eyes.
Then I realized that these innate characteristics were likely multiplied during defining moments in my own life when I wished for someone to help me.
I was the kid who found baby birds on the ground and took them home to live in our hot water cupboard. I would enlist my friends' help to find bugs in the garden that we would mash up and painstakingly feed to the "patient" with tiny pipettes. More often than not, the baby birds didn't survive, which bought floods of tears.
Sometimes they did, though, and for every feathered life saved, the angst was worth it. 
At some point along the way, the bird-rescuing kid transitioned to one who dreamt of being a lawyer. I was going to put the bad guys away and keep people safe. I had seen the law in action when, at age 10, I had blown the whistle on a teacher who had been regularly hitting my friends in class—and it was brilliant.
At age 14, I got to do a week of work experience through a school initiative. Of course, I chose the local courthouse, where I had the opportunity to sit in on a trial. A man had been accused of assaulting a police officer. This man was known to the police and did not deny having struck the officer. As the story unfolded, it became apparent that the police officers on duty had used excessive force, and that it could easily and reasonably be argued that the man had acted in self-defense.
Throughout the trial I sat quietly. I watched, and I listened. When the ruling came that the accused was found guilty of assault on a police officer, I was outraged. So outraged, in fact, that as a spindly little 14-year-old, I marched myself right into the judge's office and demanded to know how he could possibly justify his ruling.
The judge, a distinguished and well-respected gentleman, responded rather graciously by telling me to take a seat. He also asked his assistant to push back his meeting. I can recall clearly the look of dismay on her face as she closed the door behind her. The judge then patiently talked me through the constraints of the law and explained why he was required to rule as he did. He advised me that there was nothing to stop this gentleman from laying his own case against the police and mentioned that this is what he advised the lawyer prior to the hearing. He assured me that in his sentencing he had taken all the information into consideration and had been lenient in his sentencing.
With all the sincerity that I could muster from my large leather chair, I told the judge that having witnessed what I considered to be a miscarriage of justice, I could never be a lawyer.
It had become clear to me that the law was not the same as justice.
To this day, I smile whenever I think of our chat, because it was a fantastic mixture of ludicrous and wonderful.  In that moment, the judge treated me not as a stupid, skinny little girl but as an equal worthy of a real conversation.
I will always admire him for it.
I suppose it makes sense that as an adult now living in London I would find myself actively involved with helping people in the refugee crisis. But if I am honest, I didn't see it coming.
It began innocently enough. Last August, my friends and I swapped our regular catch-up date in the cafe to a few hours of volunteering with Calais Action, which was organizing aid collections at a local warehouse for refugees in camps in France.
Our logic was simple: if you could give a few hours to do something good for people who desperately needed help, why wouldn't you?
It felt good to put our time to good use and know that we were a part of something that would make a difference, so we went back. After a few weeks, my friends took on the role of warehouse managers, and the warehouse soon became our permanent cafe. Instead of chatting over cooked breakfasts and multiple cups of tea, we spoke while sorting through mountains of clothing, shoes and camping equipment.
The warehouse drew in many interesting people with varying degrees of knowledge and experience of the crisis. Much of what was discussed around me was either not covered by or contradicted what I had read in the mainstream media. Whilst the media spoke of economic migrants and a "migration crisis," the people I met spoke about refugees and a "humanitarian crisis."
I was motivated to learn more and grow my own understanding. As I learned more, I was inspired to do more.
My first trip to a refugee camp was to The Jungle Camp in Calais, so named by the residents who believe they have been treated as less than human by authorities in France. While there, we sat with refugees who embodied the word "resilience," living in the squalid makeshift shanty town with a pervasive smell of toxicity wafting across from the nearby factories.
They offered  us tea, and apologized for not having more to give.
My enduring memories of that day are of the generosity of those who had nothing, and of the young Kurdish boy with jet black hair and soulful brown eyes who acted as an interpreter for at least half a dozen families in the area. He couldn't have been more than 12 years old, and in my mind I drew parallels between his existence in the muddy camp and that of my nieces and nephews.
I wondered how the children I loved would fare in such a place—how they would cope with the responsibility of representing so many—and I was grateful that I did not have to find out.
That day in The Jungle was both an end and a beginning for me. It was an end of thinking that I did not have "enough" in my life, and the beginning of seeing the painful truth of disparity in our world.
Two subsequent volunteering trips to the Greek island of Chios and the start of a small aid collection group later, I might just be at my helpful limit.
But, I have sat with refugees in the most inhumane conditions, and I have heard stories of the terror they fled, the hopes they had for safety and the fear and uncertainty they faced. I have sat with them, not as a "superior" volunteer or a citizen of Europe, but as a person, and as an equal.
Together we have sat—and cried. They have introduced me to their families, and I have told them tales of my own naughty children safe and sound in London. We have handed out aid and joked.
When you have bonded with people over experiences like this, there is no walking away.
A few have quickly become (hopefully lifelong) friends. Now, in between the daily messages of legal updates, discussions on camp conditions and aid needs, there is banter. The banter is usually to the effect of how I am "crazy," and that they worry for my children who have me as an influence.
I acknowledge that jokes and banter may not be entirely appropriate in this context—especially when a recent report by the UNHCR warns that:
"…Europe is on the cusp of a largely self-induced Humanitarian crisis."
However, reports like this speak to what my friends already know. Amongst our group it is understood, but never stated explicitly, that sometimes it is good to bring a little light and light relief to the darkness while you wait for better days.
In many ways, helping with the refugee crisis is like a return to my childhood attempts at saving baby birds, except with significantly greater importance. I am often taken back to the same feeling of anger, sadness and nausea I experienced as the 14-year-old who realized that the law is not always the same as justice. Frequently, I wish that I had become a lawyer so that I could do pro bono work on behalf of those I care about.
There are days when the the darkness of the situation becomes almost overwhelming. On one such day, my friend sent me a Facebook message saying, "You are a Starfish Thrower."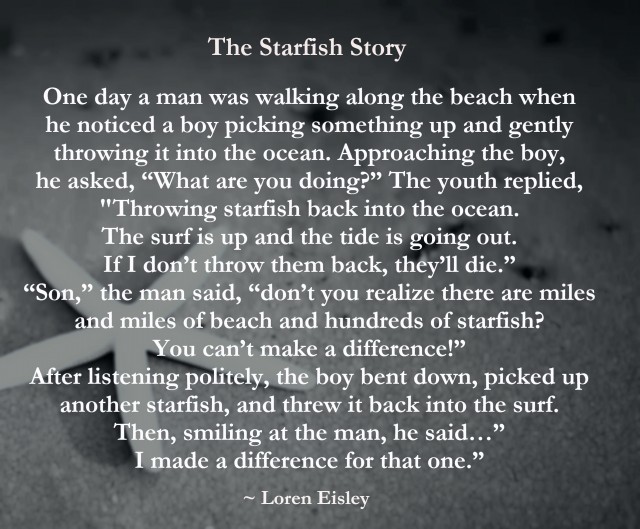 When we feel strongly that someone needs our help, we all have the power to make a difference.
We cannot change the world on our own; working together, it is possible. Even if we don't change the world, we can help to make one person's day a bit brighter with something as simple as a smile and a kind word. My cause and your cause may be different, but that's okay.
So, let's all bring a little more light to a darkening world in whichever way is authentic to us.  
Let's all be starfish-throwers.
~
Relephant Read:
—
Author: Vanessa Marjoribanks

Editor: Toby Israel 

Images: Logon Popoff/Unsplash / Meme: Author's Own
~