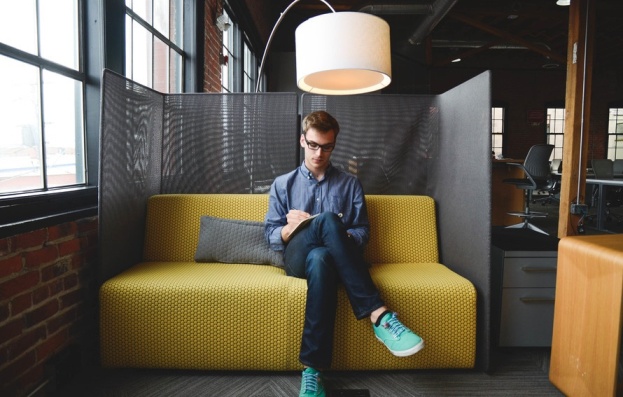 "Either write something worth reading or do something worth writing." ~ Benjamin Franklin
I am a born-again writer, and it's been nearly three years since I started to write.
Writing was a passion that had lain dormant; it was hidden deep in the crevasses of my heart, waiting to explode like a wild, volcanic eruption.
This love affair with writing has taken me from depressing lows that I can't wish on anyone to ecstatic new heights. It's a love story that rivals that of Henry Miller and Anais Nin.
My journey started with writing my "Morning Pages" as heralded by Julia Cameron in The Artist's Way. I would decipher my dreams and go on to analyze my previous day's actions and take a deeper look into the fears that were holding me back. It also allowed me to celebrate my wins and constantly reminded me of why I loved myself.
Writing has transformed me and released me from the shackles that have held me back since childhood. It has led to many of my spiritual trysts where I meet my true self and feel the power of grace within me. It has penetrated deep into my soul, always asking and forever searching for the best way for me to be authentic.
I am still in my toddler years as a writer, but already writing has taught me many lessons that I can apply in my life. It has stripped me of my arrogant egoic ways and taken me out the closed-box mentality that was me for so many years.
These are the lessons that I've learned from writing:
1. Pain is part of life and nothing to fear.
"When I write, I feel like an armless, legless man with a crayon in his mouth."  ~ Kurt Vonnegut
Writing is often painful, gut-wrenching, energy sapping and can ruin self-esteem. I hate it when I don't write as the thought of not doing so hangs over me like a shadow, judging me, labelling me as a loser. I hate it when my mind compares the normalcy of day to day things like doing errands, earning a living, and socializing with the power and allure of doing something I love.
"There is nothing to writing. All you do is sit down at a typewriter and bleed." ~ Ernest Hemingway.
Writing is simple but not easy. I hate when it's so hard that words get stuck in my throat, chest and heart and their flow from mind to fingers become restricted.
However, the rewards and personal growth I do get from writing makes up for all the pain. It has shown me that pain is often the doorway to awareness and change in our lives. It's something that's more powerful than happiness.
How can we grow without pain? What kind of life is living without heartache, tears and blood?
2. Vulnerability is power.
"If you do not tell the truth about yourself you cannot tell it about other people." ~ Virginia Woolf
Writing has allowed me to understand why being vulnerable makes me a better man. I am eager to share my thoughts, travails, and success. I want to be heard, and show my true self to the world.
I've let down the heavy armour I've worn since my adolescence and unveiled my emotional fragility. I now recognise that vulnerability is not weakness but rather, a great power that makes us more connected to others and more engaged in life. I want to feel my way into life, rather than sit behind a mask, watching life pass me by.
"And now that you don't have to be perfect, you can be good." ~ John Steinbeck, East of Eden
The thought that there is no perfection in life has liberated me as I now appreciate that life is about being present and being ourselves.
Vulnerability allows us to dig deep into ourselves leading us to our core where all uncertainty, excitement, and meaningful experiences exist. We have a better chance of unravelling the gems that hide beneath the many layers of our ego.
3. Self-discipline and grit protects our passion.
"At its best, the sensation of writing is that of any unmerited grace. It is handed to you, but only if you look for it. You search, you break your heart, your back, your brain, and then—and only then—it is handed to you." ~ Annie Dillard
We need a strong will and discipline in life to be able to achieve our goals. People assume that just because someone enjoys whatever they are doing, that means fewer hours of hard work. On the contrary, the people who enjoy what they do and are good at it, whether that's writing, singing or starting a new business, have the steely determination to put in the hard hours.
They realise that the sense of joy will follow when they remain disciplined and committed to that practice. And that the muse will only appear when we prove our diligence and focus deeply on the practice at hand.
The discipline instilled within allows us to turn failures into stepping stones and rejection becomes a detour to bigger and better opportunities.
I've had to sacrifice certain things in my life, like social activities, but I've optimized my life so that I can focus more on my writing. Now, things that don't mean much to me are slowly losing their value and fading away from my life.
4. Joy is a state of being.
"It's the most satisfying occupation man has discovered yet because you never can quite do it as well as you want to, so there's always something to wake up tomorrow morning to do." ~ William Faulkner
Writing has led me to several experiences that I call spiritual ones. I find myself in "flow" where time just passes and I can feel my heart is singing. The joy I get from completing my job is something I can hardly put into words.
This kind of joy is not like fleeting moments of happiness but something more, an overlying feeling that encapsulates my being, arming me with a deep knowing that I matter in this world, that I belong and most importantly that I am loved.
Listening to some soft classical music and writing early in the morning when I'm all alone before most people are awake remains one of the most joyful experiences that I achieve.
5. The universe is mysterious and on our side.
"Understanding is not a piercing of the mystery, but an acceptance of it, a living blissfully with it, in it, through and by it." ~ Henry Miller
I often get a thought, an idea on what to write about. It's usually a question that I want some answers for in my own life. I set an intention to write, for example, about emotional intelligence.
Suddenly my mind is flooded with new and different ideas. Also links, books and emails arrive serendipitously to aid me in writing my piece. It's like the universe has been invoked to come to my help.
I often start writing about a topic and find myself writing something completely different from what I had intended. I read it again and again and it's like someone else was writing and it's a new insight that I never thought about before I started typing away.
6. Serving Humanity makes us grow.
"You don't write because you want to say something, you write because you have something to say." ~ F. Scott Fitzgerald
Writing has taught me that we all have something to say, something to give and a role to play in life. We are all somehow, connected and as such the more we do give back, the more we grow as human beings.
We often look at the famous writers, billionaires, and social entrepreneurs and think that they are the ones whose duty is to give. We shun our responsibility to give back and more importantly lose the opportunity to grow as human beings.
Writing an article that inspires one person to pursue change and become a better person is as necessary as Bill Gates pledging billions to help eradicate malaria in Africa within a generation.
The lessons I've learned in writing apply to whatever we choose to do in life, whether that's setting up a business, singing or working at a job we love.
Life is all about finding the platform where we become our authentic selves, which allows us to explore our potential and get us out of our comfort zones so that we can grow in serving humanity.
Author: Mo Issa
Editor: Catherine Monkman
Image: Eric Bailey/Pexels