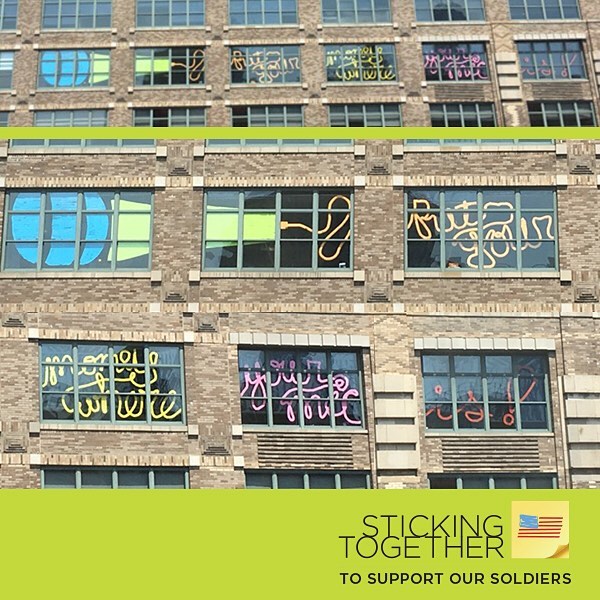 "Creativity is just connecting things. When you ask creative people how they did something, they feel a little guilty because they didn't really do it, they just saw something. It seemed obvious to them after a while. That's because they were able to connect experiences they've had and synthesize new things."
~ Steve Jobs
I work at one of the companies recently embattled in a fun, slightly competitive Post-it war on Canal Street here in New York City.
What started with a simple "Hi," formed with a few mundane, regular-sized yellow Post-it notes on an office window, became a full-blown display of creative dialogue dividing two streets housed with advertising/communication agencies.
The display brought both New Yorkers and tourists to take pictures of an array of words and art flanking the two buildings.
As an insider, I can tell you the energy inside our office was unlike any I have had the privilege of witnessing before. I'd like to imagine this kind of hysteria can only be birthed when there's an alchemy fusing the forces which bind the simple act of creation with an intrinsic desire to collaborate. Anyone in this industry or anyone who knows anyone in this industry knows we work our backs off; everyone who has been part of this loaned their spare time during lunch breaks and after hours to pull together these magnificent Post-it creations.
For a little over two weeks, we were caught in the whirlpool of both national and international media frenzy in our offices, on television, online, and in print. And a few days ago, it hit crescendo because our neighbors' windows were stripped of all their art, about five stories of Post-its, gone.
Everything. Was. Wiped. Clean.
It was eerily quiet and we knew something was brewing. When we peered out of our windows the next morning, we were greeted with a giant "mic drop" formed of yellow, blue, and pink Post-it notes. The atmosphere in our building was a mix of appreciation, slightly raised eyebrows, and envy; for me, this was the writer's equivalent of "I wish I wrote that."
It didn't take too long to get us thinking, and we sent a challenge back across the street to bring both sides together for a worthy cause. Our response, in cursive colorful text: "Put your money where your mic is."
The premise: we have this media attention, so what good can we draw out of this and put the overflow of Post-its to some use?
In light of the upcoming Memorial Day weekend, we invited our neighbors across the street to call a truce and join us at a fundraiser where all proceeds go to the NY Veteran's Hospital, which provides medical and support services to US Veterans.
And the Post-its?
Well, we're also bringing our stash of Post-it notes for anyone attending the fundraiser to write out thank-you notes that will be shared with veterans. All it took was being united, showcasing our creativity amidst this worldwide frenzy, using only office supplies and word of mouth to put some love back into the world.
To me, what the Post-it wars really symbolized was the true genesis of creation and perhaps the single most significant reason I enjoy working in this business is that I get to meet interesting people from all over the world inhabiting this wild, restless city—many of whom I have been able to call friends and quite a few, I get to call family.
~
Author: Neelam Tewar

Editor: Renée Picard
Photo: Courtesy of Biolumina