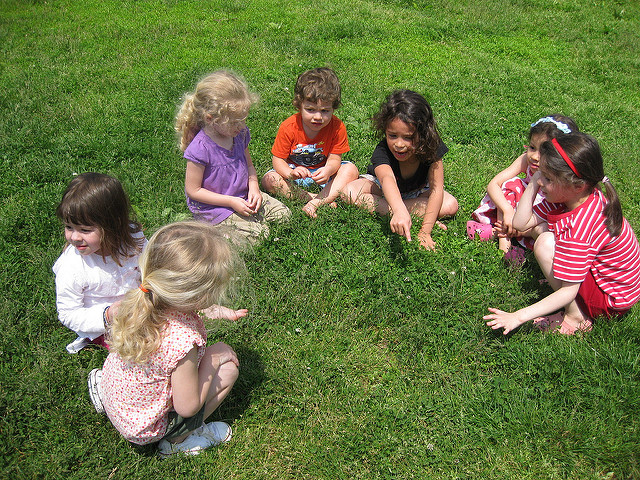 If there was one major thing I could have changed about my daughter's childhood it would have been her education.
My daughter, who has high functioning autism, was a little different than the other children at school and this was very noticeable right from her first days. She wasn't interested in friendships with other children; she had a wild and vivid imagination and creative play was something she preferred to do alone.
Although she is highly intelligent, academic subjects did not capture her interest. However, hand her a paint palette, a notebook or a mind-capturing book to read and she would lose herself in creating magical adventures and playing make-believe.
In her younger schooling years, this all wasn't so much of a problem. She was a whimsical being and lived much like a fairytale character floating around putting everyone in a spin wondering what enchantment she might conjure up next. There wasn't anyone who met her that wasn't entirely mesmerized by her and she was everyone's best friend—although she needed no one.
Unfortunately, I hadn't envisaged at the time that all of this would drastically change. It wasn't long before the differences became dramatic difficulties and life, as we knew it, would crumble and turn upside down.
And the most heartbreaking bit of all of it was that my daughter was not one bit phased about how she wasn't the same as the others—it was everyone else who had the issues.
As she got a little older, not only did she find it almost impossible to focus attention on her studies, she also started to be focused on by the other children. They didn't want someone in their class who was the "odd one out." It threatened their status quo. In the same way that baby birds throw the weakest one out the nest, they turned on her and made all her idiosyncrasies something to feel ashamed of.
We tried another school in the area and the exact same thing occurred. She was a shape that just did not fit into the sorter that the school environment offered. Children can be cruel to one another, and I understand that. But, as a mother, to watch your child wither in front of you because their beautiful brilliant vivid soul does not slot in with the ideals of much of society is a heart ache I hope another parent never has to endure.
My highly sensitive, outgoing, loving and openly affectionate child began to slowly curl inwards due to the rejection.
After searching and pleading for change or alternative options, we decided to home-school—for no other reason than there just wasn't any safe or reasonable options.
The amount of time I had prayed and wished that there was something soul-nourishing, compassionate, understanding and most of all, something that would perfectly fit my daughter rather than the expectation that she could change to fit the structure of a standard school.
If I could make a wish of the type of school I had envisaged, I would say it wasn't unrealistic, but it just didn't appear to exist.
Although the years have passed, I am still haunted by those days. Firstly because of the effect the bullying and the inability to fit into standard education caused her emotionally and mentally, but also because I held out the hope that there would be alternative options for current and future generations.
Then, just a couple of days ago I received a message from a friend of mine, Paul Hansen, describing a venture that he and his girlfriend Tairi Grace, a mother of four and a yoga teacher and licensed therapist, are hoping will manifest by fall of this year. Paul and Tairi, along with other founders are planning to open up a non-profit school that focuses on offering special and regular education students a unique education and experience designed to highlight the special gifts that each child has within them while thoroughly encouraging "whole brain thinking." The eco-conscious school, which adheres to strict academic standards, is named Grace Holistic Centre for Education and is located in Yorkville, Illinois. It plans to ethically develop and encourage individual strengths, through providing mental, emotional, physical and spiritual nourishment for each individual that is enrolled.
Tairi's oldest son, Aidan, has had an IEP since first grade and also struggles with sensory issues, social anxiety, and learning disabilities. She explains that due to his experience at his public school, "He was sobbing, I was sobbing, it was just torture." Unfortunately, I understand this all too well as I went through exactly the same trauma with my daughter.
Tairi believes that all children are born with innate abilities and a desire to learn and also believes they learn best experientially. The program at the school is designed to encourage children to "learn how to learn" so that they can apply and integrate what they have learned into their daily life in a healthy way. The offerings also include daily yoga and meditation, to encourage problem solving and critical thinking.
Their idea is that the students are provided with essential life skills, holistic health, organic lunches, mindfulness and a sense of self-awareness so that each child is empowered and their spirit is illuminated.
The curriculum is in place to discover the natural tendencies of the pupils, as well as fostering growth through meditation, pet therapy, gardening, aquaponics, and immersing in the Spanish language. There will also be focus on academics with classes structured to be exciting and engaging. Music, visual arts, history, science, math, language and aural/physical skills all high on the agenda.
The breakfasts and lunches provided to the students will be organic, non-GMO and additive/dye free. For children with ADHD or anxiety, a diet free from additives can have a crucial uplifting impact on their learning capacity.
Tairi is passionate about this grass-roots project and is funding the school from her own pocket along with donations from Paul's meditation class, cookie sales proceeds, local business owners who support Tairi's vision, determination and energy. One local bread company is donating their entire day's sales on June 9th. Tairi also runs a festival that celebrates wellness within the community and this year she has geared it towards fundraising for the school. A raffle will be taking place to support the funding, with all the prizes being donated from the vendors at the festival. Support and funding for the school is also coming from the parents of children that hope to attend the school, with 30 confirmed registrations thus far. There are currently 40 more places still available.
There is potential for a Therapeutic Day School and talks are ongoing with the Illinois Board of Education so that clearance may be given. If this occurs, there will potentially be 40 additional places available for enrollment.
Although the funding is coming in from various angles, it is all grass roots and it is an arduous task to raise the funds required, as the total build is expected to reach $70,000. Although there has been an immense outpouring of help and support, sadly, like with any little light that wants to shine through, it often has to push through the darkness first. As exposure has increased, there has been opposition from religious groups that are wholly unsupportive. There are those out there who feel that schools that offer holistic therapies and healing practices are against their religious beliefs.
The founders of the school are keeping their hearts pried wide open and continue to spread the word of love by hosting meet and greets and talking directly to families showing interest. They are pushing through these obstacles with grace, compassion and humility, understanding that everyone has different beliefs and values and they are determined to channel loving energy into all interactions, whether supportive or otherwise.
I can say, without any shadow of doubt, that if this one-of-a-kind school had been an option when my child was of school age, I would have traveled far and moved heaven and earth to give her the opportunity for a school that would be tailor-made for her needs. I can only hope that not only does this school receive the support required to make it a reality, but that the concept of it spreads so that all children everywhere can receive a high level of ethical education that is suited to sensory, creative and emotional needs as well as individual academic capabilities.
To find out more or to support the venture please click here and here
~
Author: Alex Myles
Editor: Travis May
Photo: Flickr/Valentina Powers