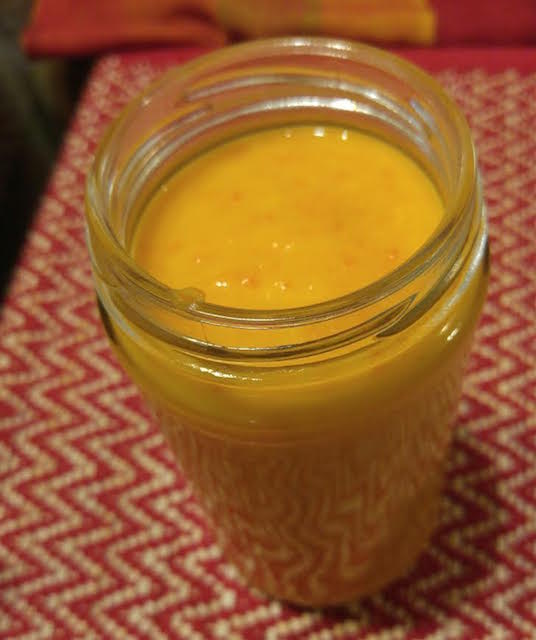 Kumquats are mini oranges with a lot of bite.
It is a challenge to eat too many raw—they do better cooked or baked, to enhance flavor.
Kumquats enhance the creamy richness of butter and eggs in this curd. This kumquat curd has no sugar and is a little on the tangy side. The curd tastes good as a condiment to toast, for breakfast, as a snack or to add pizazz to a dessert.
It is creamy and an energy pick-me-up that tastes good by itself, too. I have eaten it with a spoon right from the jar, just like peanut butter or jam!
Ingredients:
Makes about 14 oz:
1 cup of kumquat puree (To make kumquat puree, cut a kumquat into thirds. The ends don't have seeds, but the middle part does. With a small paring knife, dig out the seeds. Place the kumquats in a blender and puree until it looks like baby food. Can use now or freeze for later. )
2 eggs
4 oz. butter
1 tsp salt
1 juice of lemon
Method:
In a saucepan, add butter, kumquat puree, and salt. Cook over low heat and mix until butter is melted and mixture is well combined. Add the lemon juice and add water so it is a thick soup like consistency. Add eggs one at a time and stir with a fork to mix the eggs well into the mixture. Cook gently or just below simmer, stirring constantly until thickened, about two to three minutes.
Remove from heat and cool or refrigerate.
Enjoy!
Author: Stephanie Lee
Image: Author's Own
Editor: Emily Bartran