Four summers ago I was healthy and training for the biggest race of my life, a world half-ironman championship.
My main sources of happiness at that time came from swimming, riding my bike and running. I didn't have to think. I could just use my body to push away all of life's affronts.
During this same time frame, my mom announced she was dying from a blocked intestine and her surgeon refused to open her up to operate for the 20th time. He didn't think she'd make it through another surgery, so she took matters into her own hands and stopped taking her nutrition, which was delivered intravenously through her chest. She still ate real food but wasn't absorbing it. She eventually starved and her organs quit working. She was 56.
Her goal was to cheer me on at the race in Las Vegas, but she passed away two months before the event. Along with my sister and other family members, I was at the hospital during her last few days. Of course, like only my mom would do, she took her final breath as soon as my sister, uncle and I went out for one beer.
The next day, the hospital called to let me know I could come pick up her dentures. Why the hell would I want those? I had a planned training ride scheduled, so I rode to the hospital wondering where I was going to put those teeth—in my bike jersey?
I walked through the sterile hallways with my helmet still strapped to my head, clicking my bike shoes noisily on the porcelain. I retrieved the false teeth, clicked back through the hallways again, walked out of the front doors, and threw them into the first garbage can I saw. I tried not to laugh at the absurdity—of all of it. Her death. The dentures. My stupid clacking bike shoes.
I can say that dying/death brings out strange and painful experiences, but if you look closely, there's so much room to find strength and love you never knew you had:
Mementos are important, just not the dentures! I went on to compete in my first ever 70.3 World Championship. My mom would have wanted me to give it my best shot and that's what I did. Even after she died, I kept training—running, swimming and biking—and didn't take the foot off the gas. There are photos of me standing at the venue in Vegas with my mom's quilted bag draped over my shoulder. I didn't realize I was carrying it at the time. But now when I look at photos from that day, I am reminded that a part of her was with me.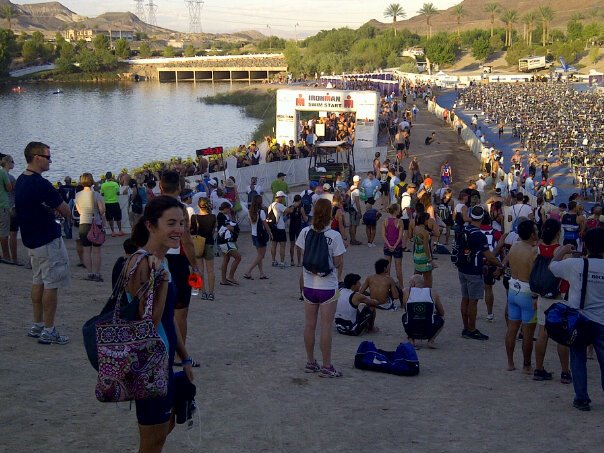 Signs of their presence—they're there if you're paying attention. It took six months after her death, but I finally got a sign that she was still in fact with me. I traveled to Colombia, South America with a good friend to ring in the New Year and to momentarily forget about the divorce I had just finalized. I was alone and sunbathing poolside on the rooftop of our hotel. One by one, seven little birds perched on top of a nearby terra cotta rooftop. The orange roofline against a cobalt sky was mesmerizing. The birds chattered to each other. I knew she was one of them. I knew she was free now to fly wherever she wanted to go. She wanted me to know, too.
Spend time with them—you'll be glad you did. My mom told us she was dying, but I couldn't get my head around it. Regardless, I made an effort to spend time with her. She didn't have cancer or a terminal illness. She was sick most of her adult life and I thought it would continue to go on until old age. But she did have a chronic illness—Crohn's Disease—and lived in pain 24 hours a day, seven days a week. When you have intestines that don't work properly and get kinked and twisted from bowel blockages, it's no way to live.
Be grateful for your own health. Don't take your body for granted. The same body I used to carry me through 70.3 miles of triathlon is the same body I dragged out of bed to go to a workplace I came to hate, the same body that cried tears as I signed divorce papers with my ex, the same body that drank too much alcohol and smoked too many cigarettes. Her cause of death was due to "complications from Crohn's." Her symptoms were exacerbated by lack of exercise, chain smoking, clinical depression and pain pill addiction. I have dabbled along her same path. The only difference is my body is healthy. Hers never was.
Talk to their friends and learn about their past. I had no idea my mom had tried to commit suicide at 40. Her best friend told me. I knew she was depressed her entire life, had dealt with dozens of surgeries, had struggled with medical debt and eventually bankruptcy, and was still grief-stricken by her father's death—but swallowing a bunch of pills? It gave me a better understanding of why we can't be healthy physically unless we're healthy mentally. I wish I had been a little more understanding and a little less judgmental along the way.
A dying body is weird. It doesn't look like the person you know. I always had this image that a dying body would look peaceful, like they are simply sleeping. But you can see when their soul has left. It's strange and hard to describe, but they are just a shell. Everything shrivels and goes inward.
Don't forget to laugh, even if death isn't funny. After my mom announced her pending death, my sister and I would drive three hours one way through Wyoming to see her every other weekend for months. We laughed, sang, cried, cooked—those are some of my best memories, not only with my mom but my sister.
Everyone deals with loss differently. I choose humor and draw from the strength I know was given to me by my mother. I'm still healthy, but I'm no longer running away.
Author: Melissa Davidson
Editor: Catherine Monkman; Katarina Tavčar
Images: Courtesy of Author