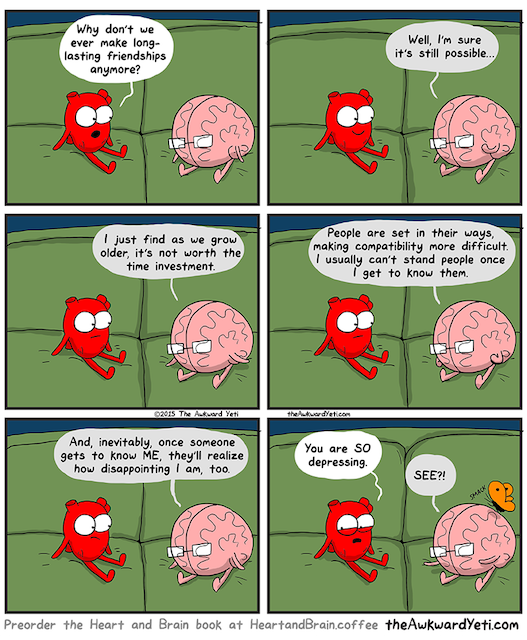 "There is nothing on this earth more to be prized than true friendship." ~  Thomas Aquinas
What is true friendship?
I feel as though many of us have forgotten what friendship is and isn't.
Is friendship obligation?
Is it borne out of need?
Does being a friend mean we should continuously allow another person to lash out at us every time they're having a bad day?
I say no to all of these. I believe we need to treat others as we wish to be treated, and be the type of friend to others we wish to have. I do not believe these behaviors have a place in friendship: obligation to bear the brunt of another's anger when they are feeling badly, incessant reminders of all the things a friend has done for us, selfish demands about who we should be in the friendship or needy demands for attention.
The words, "you owe me," have no place in friendship. No one wants to do anything because we owe someone. Does anyone want or need friends who keep tabs on each kind act, only to later bring them up the moment we can't do what they want? I know I don't.
That's not friendship, that's toxic, needy and it's energetically draining.
Both people in a friendship may or may not behave this way. Perhaps what started out as a good friendship grew into one where one person grows up and the other doesn't. Perhaps one friend remains stuck in a pool of their own misery, while the other breaks free. These are painful assessments to make. It takes serious soul searching for us to dive deep and ask ourselves, "Am I serving this person's highest good by continuing this friendship?" Or, "Am I serving my highest good by remaining friends?" If the answer is no, it's time to go. It's time for us to depart with love.
When we allow our friends space to be themselves and we act out of love, we receive the same in return. So when we do need a friend to be there, they happily show up and everyone is fulfilled and happy.
"Friends can help each other. A true friend is someone who lets you have total freedom to be yourself—and especially to feel. Or, not feel. Whatever you happen to be feeling at the moment is fine with them. That's what real love amounts to—letting a person be what he really is." ~ Jim Morrison
Many years ago, I was insecure, anxious and a people pleaser. I did everything other people wanted because I was afraid they wouldn't like me if I didn't. The only thing this accomplished was to make me miserable. Everything I did was done with unspoken expectations. And the moment another person didn't do something I needed, I was pissed. Let down. Bitter. Angry. I didn't know how to let anyone be who they were. I defined them, and when they disappointed me, I was hurt. It was a set up for misery.
That's no way to spend life.
It took me 33 years, but I eventually learned the difference between a healthy, spiritual friendship and a toxic, negative, co-dependent friendship. And these days, I don't want negativity in my life. I live to uplift the world, not carry it.
Here are five signs of a toxic friendship:
1. Actions taken with expectation of reward, praise or repayment. We must always check our motives. If you aren't doing it out of love, or to be helpful to someone in need, then please don't. This type of thinking is a set up for disappointment and resentment, which will destroy friendships. If we do it with the expectation of getting anything back, we aren't being a friend, we're just being people pleasing co-dependents.
2. Holding grudges. I can't say enough for forgiveness. If we can't forgive our friends, then who can we forgive? And if we can't forgive, we're in for a long, lonely life. And forgiveness means we don't bring it up again. Ever. Forgiveness means letting go. It doesn't mean we bring it up two years later to try to exemplify what fantastic friends we've been. The moment anyone says, "look what a d*ck you've been, and I'm so wonderful because I forgave you," is the moment a friendship is over.
3. Demands. True friendships include accepting one another for who we are. Demands are simply immature, and they have no place in a mature, conscious friendship. If we cannot honor and respect our friends and allow them the space they need to live their lives without us throwing childish temper tantrums about them not calling us, for example, perhaps we need to reassess why we think their world revolves around us. Friendship breeds understanding, and true friends will accept what the other brings to the friendship.
4. Self-centeredness. Yikes. As humans, we have an inherent ability to fall prey to our own self-centeredness. In today's society, it's worse than ever. So we must be extra mindful to practice consideration, and to realize the world doesn't revolve around us. I sure thought it did for many years but I've seen reality, and now I understand that everyone else isn't as obsessed with me as I once was with myself. (Come on, we've all been there.) When we can't be present for another person during an important event because we are too busy obsessing about how we feel or look at the moment, it's a sure sign of self-centeredness.
5. Jealousy. The green-eyed monster is a monster for a reason. As friends, we need to cheer each other on and celebrate our victories together. Jealously has no place in friendships, and it will send any healthy and balanced person running for the hills. Seeking to invoke jealousy in others is juvenile and we need to send that behavior back to junior high. Being jealous is just ugly, and even worse is lashing out at our loved ones when we are feeling jealous. Jealousy stems from insecurity, and when we are insecure we seek out others to fill in the voids. This never works, and it's a highway to loneliness. It will destroy friendships.
We learn and we grow continuously. Sometimes we outgrow relationships. This isn't bad or good, it's just a fact of life. When we find ourselves feeling more grief and negativity from our relationships, it's time to reassess them. Clinging to friendships out of fear or need isn't healthy, and it does not benefit anyone involved.
"A true friend stabs you in the front." ~ Oscar Wilde
No one is perfect and we all make mistakes. In friendship we can trust that our mistakes will be forgiven so we can be open and honest about them. Any deed done behind the back is not done in friendship. Words spoken behind hands as someone walks away are hurtful judgements, while words spoken in love to one's face are an act of friendship.
"I do not wish to treat friendships daintily, but with the roughest courage. When they are real, they are not glass threads or frost-work, but the solidest thing we know." ~ Ralph Waldo Emerson
We are true friends when we speak truth no matter what it is, when we empower others to be free and find their own way. When we can speak and listen honestly, and with courage, we are being a friend. We should not have to walk on eggshells.
"True friendship multiplies the good in life and divides its evils. Strive to have friends, for life without friends is like life on a desert island… to find one real friend in a lifetime is good fortune; to keep him is a blessing."
~ Baltasar Gracian
Let us find true friends and break free of those who would hold us hostage. I pray for a perfect world where we all come together in balanced love and harmony, and until this occurs we can only be what we are at any given moment. We are never God—so if someone expects us to save them, we should probably run.
When we find the true friends—the're the ones who honor us and uplift us in the same way we honor and uplift them, with no expectation of praise.
I'm dying to hear your experience and opinions on the definition friendship in the comments below.
Author: Lindsay Carricarte
Image: Courtesy of TheAwkwardYeti
Editor: Catherine Monkman; Ashleigh Hitchcock