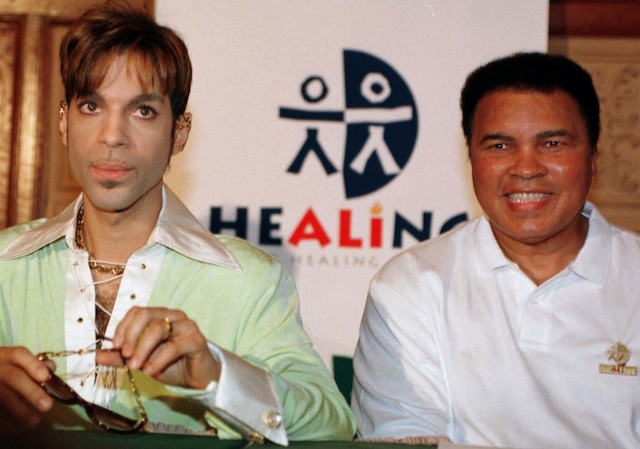 I was saddened when I awoke to the news that Muhammad Ali had passed on—saddened but not shocked. After all, he had been living with Parkinson's Disease for more than 30 years.
Unlike the complete and almost immobilizing shock when Prince died, I felt a sense of gratitude that Muhammad Ali had lived so long with this debilitating disease.
I first met Muhammed Ali in 1967 when I was 19 years old at the Congress on Racial Equality Convention in Oakland, California. I was determined to meet him, so I bought a copy of the Koran for him to autograph. I hadn't read a word of it and had no intention of doing so. But I figured it was a good way to meet him.
He signed the book and looked up at me and asked, "What's your name?"
"Gayle," I answered.
"Wait over there until I get finished," he said, pointing to a chair at the end of the table where he was signing autographs.
I sat and waited. And that was the beginning of a brief and very chaste "relationship" with him.
I was still living at home, and when I told my mother and siblings that Muhammad Ali had asked for my phone number and promised to call, they didn't believe me. He did call and my whole family listened to the conversation on the extension lines.
One day he said he wanted to see the Haight-Ashbury district of San Francisco. So we got into a limousine and drove right to the corner of Haight and Ashbury. We got out of the car and he stood there for a couple of minutes surveying the hippy scene before shouting "I am the greatest."
The next minute he was autographing tons of draft cards and people were throwing joints into the limo. It was a hysterical scene and a treasured memory.
I only ever kissed him once. We had dinner on the balcony in his hotel room. I was 19 and had never even been in a fancy hotel. This would have been the perfect opportunity for a famous man to take advantage of a silly, besotted young girl. But that's not what happened. After dinner he kissed me very gently on the lips—and then I was taken back to my house by his chauffer.
He did convince me to attend Nation of Islam services at the San Francisco mosque. I did for a while but I wasn't interested in wearing long, white shapeless dresses with my head covered. Eventually it was announced that he was engaged to a nice Muslim girl named Belinda. And that was the end of my brief and chaste "relationship" with "The Greatest."
My most abiding memory is of a sweet and gentle man. In spite of his public bluster, he was soft spoken and infinitely kind.
I first met Prince in 1998 or 1999 at the Essence Awards. He was presenting an award to my son-in-law. I was sitting two seats away from him and couldn't help thinking how delicate and beautiful he was. Later when he was introduced to me, he looked straight into my eyes and then took my hand and gave it the gentlest of kisses.
Mind you, I was a woman in my fifties at the time. But all I could think was, I will never wash my hand again. I could have been 15.
A few years later, I found myself at an after-party at Prince's Los Angeles home after the 2005 Academy Awards. I got to see him up close and personal, as well as hear him play with his band in his living room! I didn't really talk to him because Prince wasn't a great talker. He was very quiet.
But at one point he stood right next to me for two or three minutes, surveying his party and his guests. I remember standing there and pinching my left arm with my right fingers to convince myself the scene was real. It was a very low-key party with folks mingling and talking—very Prince-like. We were there until 5:30 in the morning.
The last time I saw Prince alive was when he performed on Saturday Night Live for the last time. On November 2, 2014 he gave one of the most memorable performances in Saturday Night Live musical history and I was there.
What struck me in my brief encounters with Prince were the same things I found memorable in Muhammad Ali—a gentle sweetness and kindness—enviable characteristics that we could all aspire to.
I will be eternally grateful for my for my personal memories of these two great men.
Author: Gayle Fleming
Editor: Caitlin Oriel
Photo: YouTube still