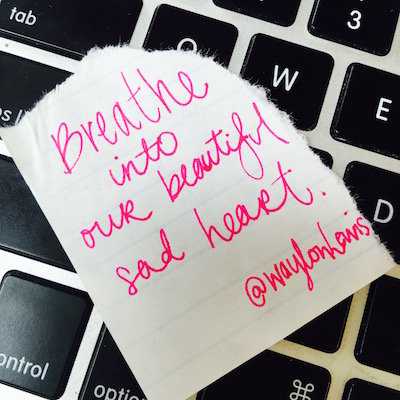 In today's elephant journal Facebook live stream, Waylon offers advice for handling heartbreak and suffering.
Reader question of the day:
"(I'm) really struggling right now, heartbroken. How do we avoid over-feeling?"
Waylon's answer:
"Don't avoid it. I think the easiest way to feel overwhelmed by over-feeling is to try and avoid it. The best thing you can do is…relax into it, relax into that heat and into that heartbreak."
Try the Tonglen meditation technique as a powerful and safe way to help us work through suffering.
"The ego's tendency is to push away anything bad and cling to anything good and ignore anything we don't care about. Tonglen reverses that tendency and then we can be strong but also vulnerable and stay grounded in a safe way." ~ Waylon Lewis
Bonus: book recommendation Gift from the Sea
For the mindful approach, skip to 10 minutes in:
Join us on Facebook every Monday through Friday at 11 am MST on Facebook.com/elephantjournal.
Relephant reads:
~
~
We got your social mediums right heah:
Listen: Walk your Talk on your commute or over dishes with Soundcloud.
Subscribe directly to our award-winning Youtube Channel.
Editor: Renée Picard