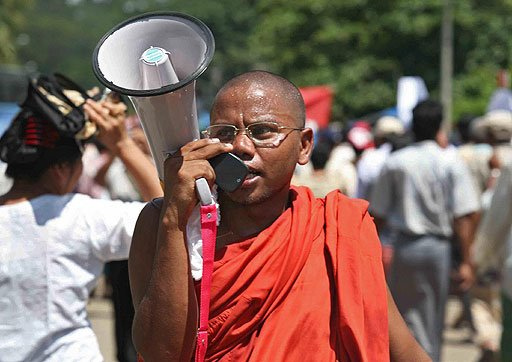 In Myanmar, it is the Buddhist monks who terrorize the Muslims.
Consider some of the violence sparked earlier this summer over the demand for recognition of Myanmar's million plus Muslim minority, the Rohingya.
Among other things, a couple hundred Buddhists rampaged through a village in central Myanmar, destroying a mosque and forcing Muslim residents to flee to a local police station, where they sought refuge for the night.
Around 50 police were deployed to guard the village but residents will relocate to a nearby town. Win Shwe, the mosque's secretary asserts, "Our situation is not safe, and now we are planning to leave the village. We still feel afraid."
Such attacks have become typical in Myanmar. Rafendi Djamin, Amnesty International's Director for Southeast Asia and the Pacific has requested that Myanmar's new government condemn the attack and clarify that such violence against Muslims and other religious minorities be considered a criminal offense. He advocated an independent investigation, the perpetrators to face justice and for reparations to be made to the victims.
Djamin appealed to the new government of Aung San Suu Kyi, a Nobel Laureate who spent 15 years under house arrest for her pro-democracy activism, to unequivocally condemn all incitement to hatred, violence and discrimination "and take concrete action to protect the rights of all people in Myanmar regardless of their religion."
Such action seems unlikely to happen, however, since the government of Suu Kyi is strongly influenced by extremist Buddhist monks, whose Ma Ba Tha association regularly meets with the government minister. Their leader, Ashin Wirathu, uses social media to incite religious hatred and spread false stories, denigrating Muslims as mad dogs and rapists.
The Rohingya people have lived in Myanmar for hundreds of years but the Buddhist majority oppose all moves to grant them official minority recognition. They insist on calling the Rohingya, "Bengalis," a derogatory term intended to denote that the Rohingya are illegal migrants from Bangladesh. After extremist monks urged Myanmar's government to officially refuse the existence of Rohingya Muslims in Burma and advocated the government drive the Rohingya out, Aung San Suu Kyi affirmed that her new government would not use the term "Rohingya," because it is inflammatory, and has banned officials from using the term.
Prejudice against the Rohingya is not new but has intensified in recent years. In 1982 the Citizenship Law reduced the Rohingya to the status of "foreigners," and they have been denied access to education and employment with restrictions imposed on movement, marriage, and reproduction. Many Rohingya children cannot even have their birth registered. Violence incited by extremist monks in 2012 claimed hundreds of lives, including the lives of small children who were hacked to death with machetes. Villages were burnt and thousands of Rohingya displaced. Since that time, some 140,000 people, mainly Rohingya, have been trapped in grim displacement camps in close to the border of Bangladesh. [3]
A two day conference concerning Rohingya persecution, held in Oslo, Norway in May 2015, concluded with a call from seven Nobel Peace Laureates to describe the Rohingya's plight as genocide. Desmond Tutu's appeal to end what he has termed the slow genocide of the Rohingya was backed by six fellow Nobel Peace laureates: Mairead Maguire from Northern Ireland, Jody Williams from the U.S., Tawakkol Karman from Yeman, Shirin Ebadi from Iran, Leymah Gbowee from Liberia, and Adolfo Pérez Esquivel from Argentina. They stated that, "What Rohingyas are facing is a textbook case of genocide in which an entire indigenous community is being systematically wiped out by the Burmese government."
Hopes that the situation would improve for the Rohingya, after military rule was replaced by a semi-civilian government, have been disappointed. Since Suu Kyi's party won a landslide victory in November she has yet to address the ongoing persecution and Buddhist terrorism. She has even refused to accept the Rohingya Muslim as an ethnic people of Myanmar and requested that foreign dignitaries refrain from using the term. According to a government minister, this includes a request that the American ambassador refrain from using the term during high-level talks, following pressure from Buddhist nationalists. "We told them that the use of the term by the U.S. embassy is not supportive of national reconciliation in Myanmar."
The ambassador, Scot Marciel, has affirmed, however, that in accordance with international practice, it is for the Rohingya to decide. "Communities anywhere in the world have the right to choose what they should be called." His response led hundreds of enraged nationalists, organized by Buddhist monks, to protest outside the U.S. embassy in the capital, demanding the ambassador stop using the term. "It is already clear that there is no such ethnicity as Rohingya in our country," Win Zaw Zaw Latt, from the Yangon-based Myanmar National Network claimed. "We demand the U.S., as well as Western countries and the EU, stop using the term Rohingya."
This month the UN warned the Nobel Peace Prize winner to end government violations against the Rohingya, including torture and executions, since they may amount to crimes against humanity. It is ironic that Suu Kyi who spent 15 years under house arrest and was regarded as a major voice for human rights and freedom in Myanmar is today responsible for human rights abuses. And it is incredible how little American Buddhists talk about it.
The Rohingya Muslims have often been referred to as "the world's most forgotten people." Hence, any effort to inform yourself about their plight can go a long way. Writing about them anywhere, on Facebook, blogs, or letters to the editor, can wake people up. American Buddhists traveling to Myanmar can challenge the monks there to abide by their precepts. And if your sangha is based in Burma, you can challenge teachers in your tradition to take a stand. American Buddhists have not been completely silent concerning the Rohingya, but like most of the rest of the world, we have largely ignored them.
˜
Author: Kyaw Kyaw Win (Gchit Salam) 
Image: Flickr/Burma Democratic Conservation
Editor: Travis May