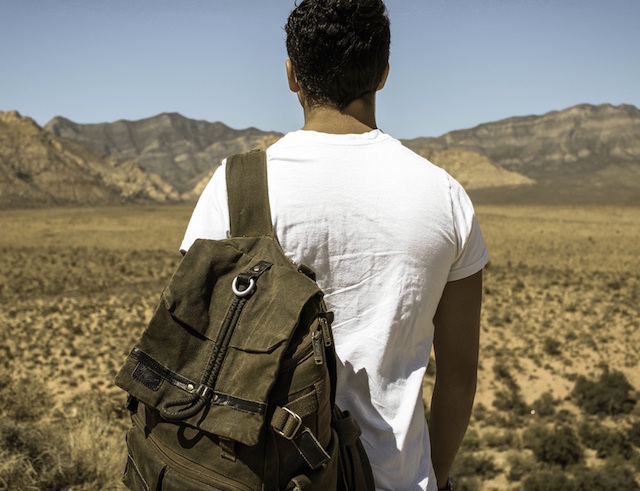 I've traveled the world for as long as I can remember. People often ask me what my first international trip was, and the truth is I don't even know.
My parents raised me on the idea that traveling is the best education.
I was never good in school. I was always distracted and quickly came to realise that I was a student who "learns by doing." I understood more about wars by visiting battle sites, cemeteries and memorials, rather than reading about them in a huge chunk of text that I didn't have the attention span for.
Every few years my family traveled to experience the world and get more of a hands-on education, learning about Darwin in the Galapagos, Aboriginals in the Australian Outback, and the effects of climate change by witnessing the minimal polar bear population in Arctic Norway.
After college, my urge to travel skyrocketed. I was free from learning what "institutions" wanted me to learn and I wanted to go everywhere. For the next four years, I traveled as often as I could, anyway I could while getting hands-on experience of the region's food, culture, religion, art and architecture.
I would travel in group tours, with my parents and friends, eventually breaking off from big trips to dip my feet into traveling alone, beginning to connect the idea of not only learning about the world through travel but also learning about myself through travel. I began by spending time by myself here and there at the beginning or end of another trip. First a few nights in Europe, then a week or two in Australia and eventually two months in South America.
One summer I arrived at a breaking point with my job and made a decision that the generous amount of money I was making wasn't worth it. I gathered up the courage and quit, nervous and apprehensive about the future while simultaneously not giving a sh*t, knowing freedom was out there. I had a very "Eat Pray Love" breakdown and decided to travel long-term on my own. I needed to find myself, my passions, my hobbies and potentially find a new place to live. I set aside six months to travel Southeast Asia—ready to scuba dive in the Philippines, volunteer in Cambodia and do an intensive yoga retreat in Bali.
The day after Christmas I boarded a flight to Bangkok, where I would meet a friend for New Years and break off to do my own thing a few days later. No more than two weeks into the trip and I found myself at an Irish bar in Malaysia.
One specific man had my attention—dark shaggy hair, scruffy beard, soft brown eyes, wearing a load of travel bracelets on tattooed wrists and a presence that felt very familiar. When he opened his mouth to introduce himself, his English accent and verbiage mesmerised me, and my insides seemed to say, "Hey, there you are. Long time no see!"
There was a comfort, ease, and a natural existence to our partnership. He mentioned how sexy my confidence and independence was, and how he thought I was totally out of his league—the exact same words I had already used to describe him in my journal. We had the same relaxed travel style, bracelets with stories collecting on our arms and had even been at the same party on New Year's Eve.
Our arrangement was simple: we were just travel buddies. If either of us wanted out at any point, all we had to do was hop on the next bus, plane, train, or boat to wherever we wanted to go. I had no definite plans, so I figured we would stick together until I got to Bali.
We backpacked another ten days in Malaysia together, wining and dining (or really picnicking on the beach with $3 bottles of Malaysian sangria), hiking to sunset viewpoints, skinny dipping with neon blue plankton at 2am, and very quickly realising there was more to it than just 'travel buddies.'
I mentioned to him my yoga retreat in Bali, so we flew there together and rented a villa outside Ubud. We spent another ten days bicycling the rice fields, lounging in the pool and talking about everything under the sun, while our evenings were spent listening to Ed Sheeran and watching the stars, curled up in what seemed to be bodies that were made to fit each other.
I quickly fell head over heels for this man. We melted together into one being through nine countries and five continents over the next year and a half, forgetting any sense of the 'real world' and living a continuous honeymoon. We traveled and worked our way around the world together, eventually ending up back in his hometown, London. I decided to fly back to the States for a few months to sell my things—that's when my world got flipped upside down.
It was not the ending I would have ever expected. There was no goodbye, no final hug, no physical closure—only a one-sided hang-up on Skype that came out of nowhere. And that was it. I had nothing left, no idea who I was or what I was doing. That confidence and independence I had when we met dissipated as we became inseparable. I was broken.
I spent two months in bed crying, questioning myself, wondering who he had become and what was I supposed to do next. A friend of mine asked me, "What were you doing before him?" and the words that followed were the keys to the freedom I had been searching for two years earlier:  "You need to pick up where you left off."
Terrified I wouldn't remember how to travel alone and fearful of being an insecure mess, I sobbed my way through hours on Priceline and finally bought a one-way ticket back to Bali, where I had never made it to that original yoga retreat. My heart pounded with sadness, anxiety and fear through 45 hours of traveling as I struggled to learn my independence all over again. Through spiritual development during my yoga retreat, I learned to allow the path to unfold organically, remembering to stick with my personal intention of self-discovery, unwilling to let anyone deter me from figuring out who I was meant to be.
Two years later and I'm still on the road, more independent, sure of myself, happier and healthier than ever before. People even mention to me how different I am now, and I've deemed the time before my ex as a "previous life."
Everything about me has changed since that flight back to Bali.
I've relearned how to rely on myself and gone far beyond any knowledge of my previous self that I thought I had. I've discovered my hobbies, my passions, how I like to spend my time and the things that are truly important to me. I've learned to trust my intuition, follow my gut and listen to my body when I need recharging. My fashion sense, my dietary habits, sleep patterns, and personal limits have all been curated based on self-discovery and expression of my personal truths. I'm all of a sudden being told I have style, hearing compliments on my admirable solo nomadism, and have shed 25 lbs. of emotional "weight" I had been carrying.
Since the break up two years ago, I've had a handful of friends who've also gone through break ups. They come to me for advice and my answer is always, "Take a solo trip."
In the process of traveling alone, you'll discover the complete freedom of doing whatever you want, whenever you want, wherever you want. You'll learn how introverted or extroverted you are, if you like to stay up late or wake up early, if you're a museum person or a temple person, a street foodie or a trip advisor follower. You'll test your limits of adventure, patience, cleanliness and temper. You'll see how people, animals and the land are treated throughout the real world and potentially discover a desire to make a difference, spread the word or maybe even just turn your back.
I thought I was on the right path but the Universe had something different in mind for me. It took heartbreak, a few wrong turns and some food poisoning to discover myself but all the tears (and toilets) made it absolutely worth it.
I encourage everyone, male or female to travel alone after a breakup. During the time when you're questioning yourself the most, wondering who you are, and having no idea what to do, your future self and authentic truth will be so happy you took that road less traveled.
~
 Author: Elizabeth Gottwald
Image: Toby Israel ; Unsplash/Taylor Nicole
Apprentice Editor: Ebbie Drew
Editor: Erin Lawson