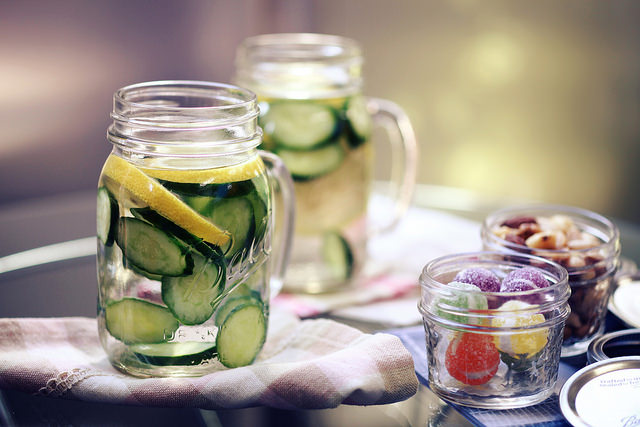 I remember years ago when they first started popping up all over the place—I wondered what the hipster trend was about.
Some of my friends started canning, many of them were already into crafting, and more and more people seemed to be into cooking and baking, so them having mason jars just seemed to make sense.
Me? Let's just say Martha Stewart and I aren't exactly cut from the same cloth.
So what was the deal? Why was I suddenly seeing mason jars popping up everywhere?
After I got rid of my things and moved across the country, I had to rebuild a little bit, but I wanted to keep things simple. I thought long and hard about what I bought and how it was used—basically, I wanted everything I bought to be multipurpose in order to save space, be green and save money.
When I began to hunt for environmentally friendly tupperware alternatives I didn't find many options, but then I realized just how far I could take something like a mason jar.
I'm sure most of us have caught on to this practical (and lasting) trend, but just in case you haven't checked out Pinterest lately—or if you are looking for a reason to pick up or upcycle a few more—here are some more reasons to keep them around and use as is. You don't even need to get crafty!
Save cupboard space.
You probably have too many glasses, mugs and/or Tupperware cluttering up your kitchen drawers and cupboards. No? Well without even knowing you, I'm going to beg to differ. Using jars as tumblers and containers just makes sense, space-wise. Not only can you get rid of cups, but you can get rid of (donate or recycle!) vases, food storage containers, candleholders, maybe even some bowls.
Plant things.
Make terrariums, plant herbs or just about anything else in them.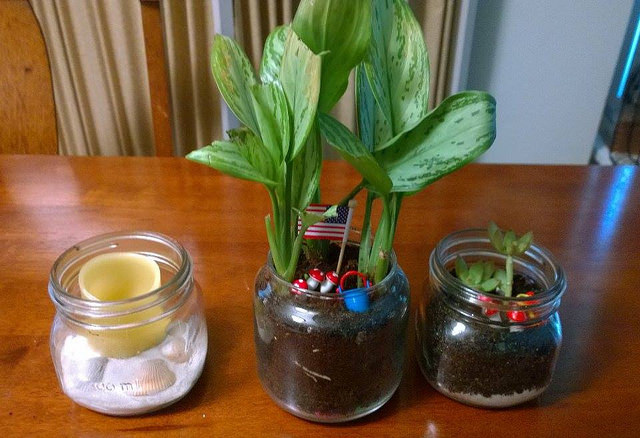 Freeze things.
I've been searching desperately for some alternative to freezer bags, and finally found out that yes, you can freeze things in mason jars! All you need to do is leave a little room at the top for the food to expand. Hallelujah!
Hot & cold drink things.
Pre-make your lemon water (or crazy-awesome concoctions like this) to keep in the fridge, or take coffee or tea to work a spill-free travel mug set with straw like this.
Healthy treats.
I've recently been discovering the joys of chia—I always wondered what to do with them, but I finally get that sometimes you just need a vessel to let them sit with the rest of the mixture. My next plan is to try a coconut milk fruit pudding like the one below. Smoothies are great options for satisfying sugar cravings in a healthy way—lately I've been reaching for a simple fruit and almond milk shake in the evenings if I'm craving dessert or wine.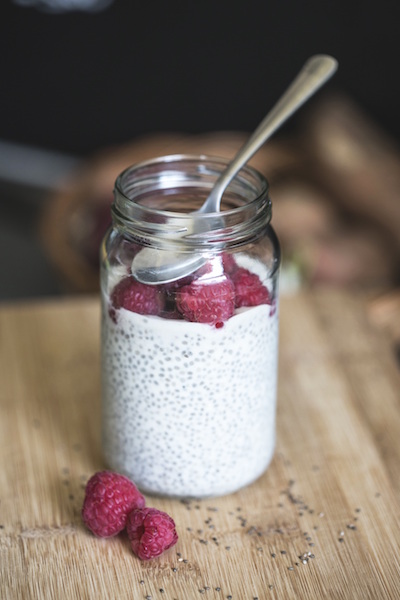 Dry goods.  
Use them to store all dried spices, legumes, rice, you name it. Poke holes in the top and use as spice or salt and pepper shakers.
Salads and dressings.
Use jars to pre-make favourite dressings and sauces to use throughout the week. You can also take almost any crunchy salad and throw it in a jar for easy, healthy lunches to go.
How to layer a jar salad:
Add liquids and watery veggies (tomatoes, cucumbers) first so that they sit on the bottom.
The next layer should be hearty and not absorb that watery stuff—think artichokes, broccoli, carrots—basically things that will act as a barrier for the dressing.
Then add proteins and crunchy stuff.
Leave a little room at the top to do the "tossing" and that's it!
*I think this would work well with our super popular vegan Chakra Salad. 
Here's a rough version of my favourite Asian-style dressing or stir fry base to keep in a jar in the fridge (vegan and gluten-free):
3 tbs olive oil or light oil
2 tbs peanut or almond butter
2 tbs tamari
2 tbs rice vinegar
3 tbs minced ginger ( and ~1 tbs minced garlic for stir frys)
1 tbsp siracha or chili sauce
1 tsp honey or agave
Organizers and other house things. 
A quick Google search found a bazillion practical uses for jars, both in and out of the kitchen. Here are some of the more interesting ones:
Pen holders
Candle holders
Match/toothpick holders
Terrariums
Air fresheners
Twine dispensers
Speakers
Pencil sharpeners
Snow globes
Breakfast things.

Apparently the small jars make good egg-poaching vessels—who would've thought? You can pre-make pretty much any breakfast to go and take them in the jar (like the salads), which is especially tempting if you are like me and don't like to eat a lot in the morning, or use them for overnight oats.
Relephant:
We've got a spill-proof mason jar and straw combo at our shop, which is also full of other eco-friendly, sustainable products.  
Author: Renée Picard
Photos: Freedom II Andres at Flickr; Forsaken Fotos at Flickr; Milada Vigerova at Unsplash