However, the necessity of clothing, not just for protection from the elements but also for creative expression, cannot be denied.
As a personal stylist I have found it possible to help my clients curate individual expression while keeping in mind the harmful effects of apparel production, distribution, and discard. Practicing conscious consumerism can take time, energy, and mindfulness, but in the end it will help us save lives, the planet, and in some cases, cash!
Simplicity
The first step in being a conscious consumer is recognizing how little clothing we actually need. Yes, clothing oneself is a basic human need, but most of us wear only 30 percent of our wardrobe. I get it, it's the American dream: more-more-more.
But what if less really is more? What if simplicity is key?
When we take that other 70 percent out of our closets, our line of vision opens up to those truly spectacular vintage jeans or that little black dress that clings to all the right places. Honor those pieces and your space by selling or donating whatever is no longer serving you. Your closet is where you start the day. The ability to make quick and easy decisions will boost your confidence and eliminate stress. Not to mention, buying less means less negative impact socially and environmentally.
Education
To ensure that you maintain consciousness you must stay educated. Learn about the footprint of your favorite brands by checking out their website and other resources like thegoodtrade.com and bcorporation.net. Looking for American-made companies that are realistically priced, use up-cycled fabric content, natural dye techniques, organic fibers, and fair trade is a good place to start.
Not every aspect of every brand is going to be perfect. However, finding companies that offset their impact wherever possible is ideal.
Only two percent of clothing companies produce in America. Although conservative in infrastructure and production volume, these companies tend to have lasting customer loyalty. They reach this conscious niche by abiding to the more rigid environmental laws and labor codes in place here in the U.S. Companies that claim to have little to no impact on the environment are probably not telling the truth.
I respect brands like Patagonia that are transparent about how much environmental impact their garments have. But instead of telling us to buy more, they encourage customers to carefully consider their need for the item. It's essentially the opposite of what all the fast fashion brands are doing and it's awesome!
Thread Documentary is a valuable resource for realizing the harm of genetically modified cotton not only on the planet but also on the grower and consumer. Learning about the harmful social effects of fast fashion can make it easier to say no as well. The True Cost, a documentary that exposes the horrific Rana Plaza collapse in Bangledesh and the loss of 1100 lives, is a powerful resource.
When making purchasing decisions, it is important to reflect on the garment's lifespan and use all available resources to determine if it aligns with your values. If you touch the piece and feel guilt about how little the worker was paid, how many jet engines it took to arrive in your hands or how many animals were killed in its production, it should be a no. Buying clothing is an incredibly personal experience and the guilt-free feeling you'll have when representing responsible brands will elevate your sense of self.
Resale
If you're willing to dedicate time and energy, curating your wardrobe with second hand gems is a completely guilt-free approach. Plus, it won't deplete your pocketbook like purchasing some of your favorite conscious brands at full retail.
Now that you have established what brands really resonate with you aesthetically, environmentally, and socially you are ready to go out into the world and find them used! Before you go shopping, make a list of what you're looking for to stay focused on real needs. Frequent your local resale stores, like Buffalo Exchange, Crossroads Trading Co., consignment, and thrift stores if you're ambitious. If you have garments to trade in at stores that buy outright, you are that much closer to your new, used wardrobe. Make sure these garments are laundered, in good condition, and relatively current in trends before attempting to sell them. Another great way to stay focused on your list is by using second hand shopping applications like Poshmark, Mercari, Depop, eBay, Etsy, and Tradesy. This way you can check for new listings from your favorite brands and shops, see when they go on sale, and purchase all from your phone.
And so the treasure hunt begins…grab a friend and go for the gold!
Offset
If you're really dedicated to fine tuning your style, a certain degree of "new" shopping is understandable as long as you offset. I recommend picking up new accessories like shoes and handbags that really showcase and embody your aesthetic and ethical code. Look for timeless pieces that will carry through multiple seasons. If buying new, remember to offset those purchases by refusing bags and excess packaging. Save the branded plastic tree that retailers shove in our hands! We've become so conditioned to accept bags that it feels almost like an obligation. Refusing single use items, like plastic bags is a powerful way to maintain the planet's health.
Care
Once your wardrobe is full of up-cycled goodies, you must care for your garments to prolong their lifespan. Read the care labels and tend to each piece with love and gratitude. If you aren't confident in your dedication to following the recommended care guidelines, forego the garment altogether. We have chosen these items as protection from the harsh environment that we have played a role in exacerbating, and we owe it to the planet to keep them out of the landfill for as long as possible. Use refillable detergent containers, and make efforts to hand wash and hang dry. Caring for your wardrobe should come in stride when you have a more personal connection to the designs, production methods, and ethical labor practices.
In order to exemplify the cost effectiveness of resale shopping, I have styled some outfits and compared the resale value to the original retail.
I styled and sourced the looks alongside the model, Liza Nielsen, another avid resaler. We paired vintage with high-end designer brands for the effortless working woman. Incorporating transitional summer pieces into pre-fall looks for those in-between months ahead.
We can have mindful wardrobes without the new price tag of truly conscious brands.
The stark contrast between the new and used prices should be reason enough to smarten up when it comes to purchasing decisions. We can dramatically reduce our carbon footprints by shopping local, resale, and refusing packaging. Vote with your dollars and contribute to positively affecting the planet, global economy, and human rights!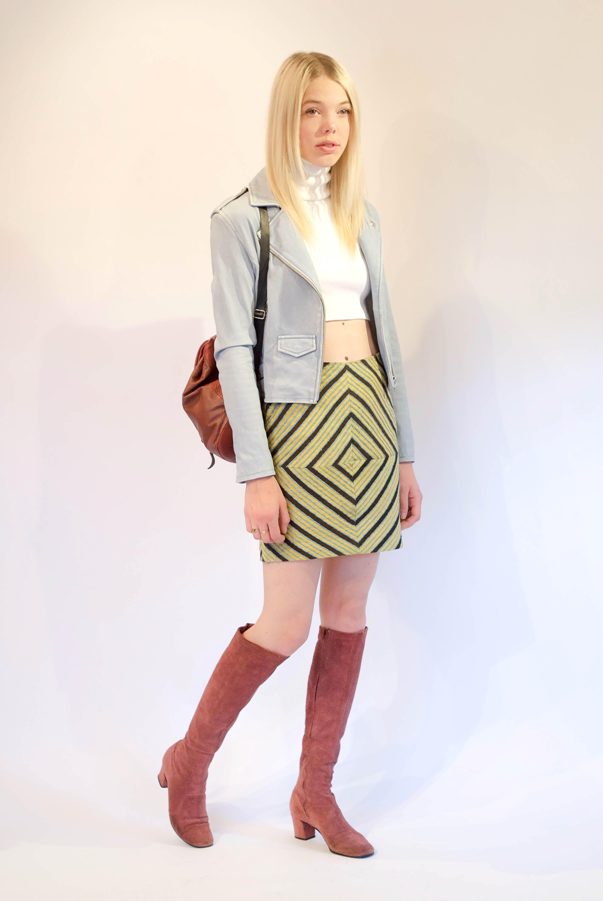 Date Night
IRO Leather Jacket—NWT $118 at Buffalo Exchange vs. $1,265 Saks Fifth Ave.
Vintage Turtle Neck—$7 at Vaux Vintage
No Name Leather Backpack—$55 at Rags Consignments
Opening Ceremony Skirt—$38 at Buffalo Exchange vs. about $400 at Opening Ceremony
Vintage Knee High Boots—$18 at Goldmine Vintage
Resale Value: $236
New Price: $1,665
Total Savings: $1,429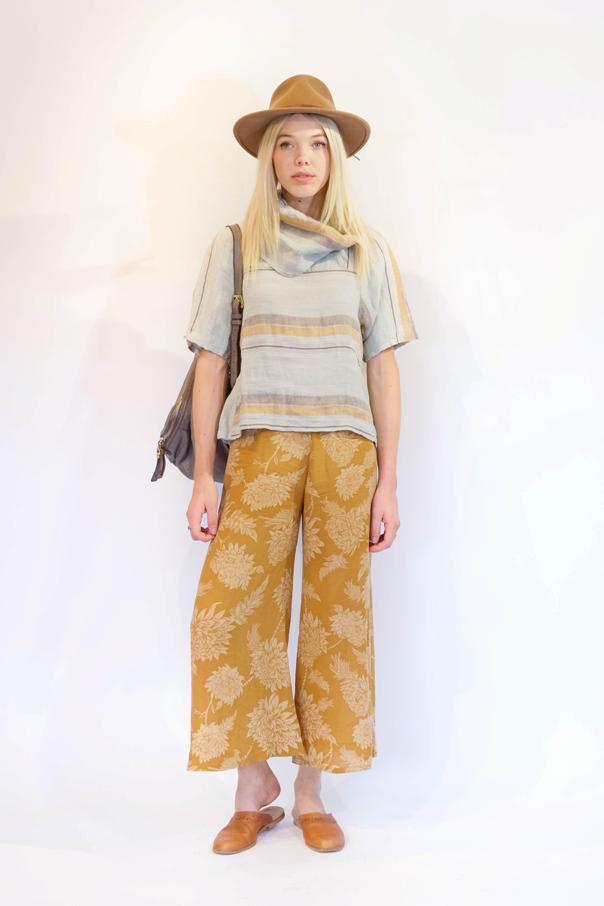 Farmers Market
Vintage Hat—$28 at Wasteland
Ace and Jig Blouse—$38 at Buffalo Exchange vs. about $220 at Nod and Rose Storehouse
Oryany Backpack—$38 at Crossroads Trading Co. vs. about $300 at Neiman Marcus
Novella Royale Pants NWT (Made in USA)—$62 at Poshmark vs. $139 at Revolve.com
Vintage Flats—$14 at Etsy
Resale Value: $180
New Price: $659
Total Savings: $479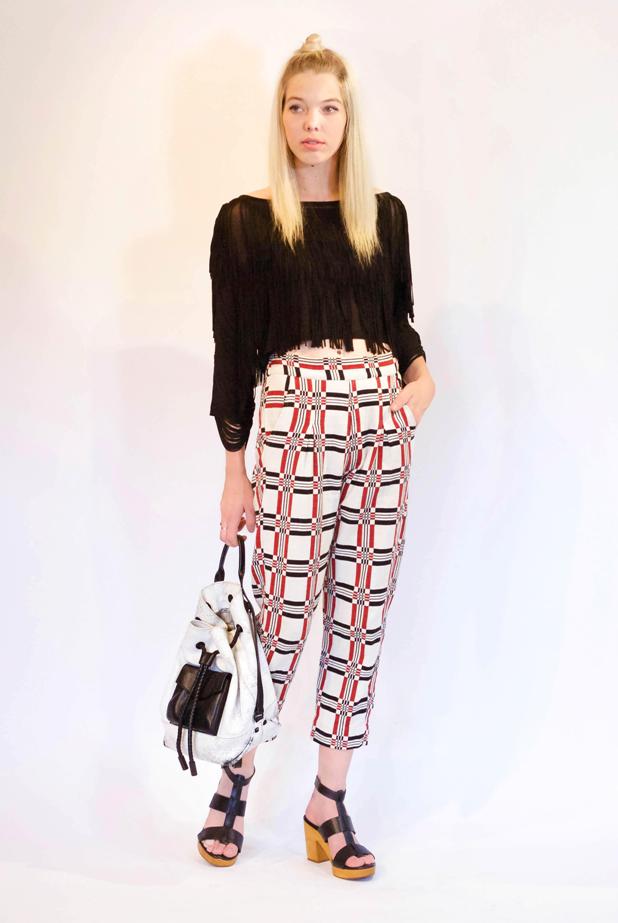 Girls Night
Philip Lim Top—$75 at Common Threads vs. about $400 at Shopbop.com
Ace and Jig Pants—$37 at Crossroads Trading Co. vs. about $260 at Barneys
LAMB Satchel/Backpack—$7 at TRU Hospice Thrift vs. about $400 at Nordstrom
Madewell Heels—$38 at Buffalo Exchange vs. about $158 at Madewell
Resale Value: $157
New Price: $1,218
Total Savings: $1,061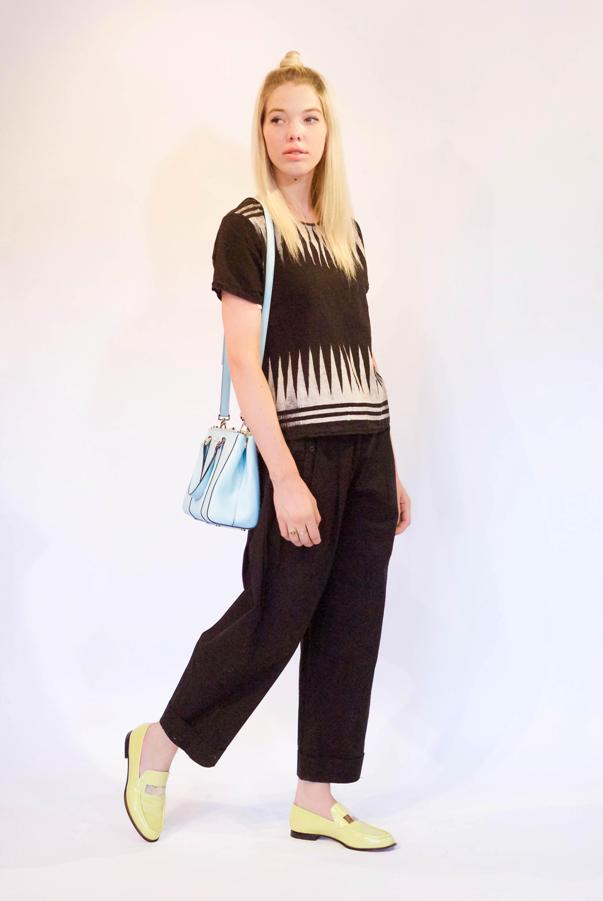 Work
UZINYC Top (Made in USA)—$26 at Buffalo Exchange vs. about $85 at Goldyn
Chloe Pants—$30 at Crossroads Trading Co. vs. about $900 at Net-A-Porter
Vintage Gucci Loafers—$26 at Depop
Kate Spade Bag NWT—$75 at Buffalo Exchange vs. about $300 at Nordstrom
Resale Value: $157
New Price: $1,285
Total Savings: $1,128
Author and Stylist: Madison Moorhead
Images: Photohraphy by Jessie Smith Design, Instagram
Model: Liza Neilsen
Editor: Catherine Monkman