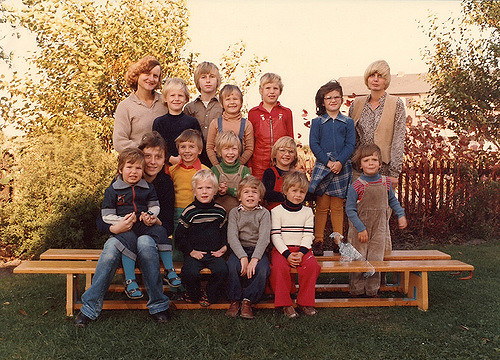 The following is an excerpt from Spit That Out! The Overly Informed Parent's Guide to Raising Healthy Kids in the Age of Environmental Guilt written by Paige Wolf.
*Editor's Note: Here at elephant, we're notorious bookworms—we love them, and want you to love them, too. But, recently, we found out books are evil—one of the worst things for the environment. Before you buy your next book, read this and this. Keep reading, but read responsibly. The author's book was published at New Society Publishers. 
Tips for improving health and sustainability in schools:
My son's elementary school was built in 1909. I'd venture to guess it wouldn't take too much searching to find asbestos, lead, PCBs, and the skeletons of our nation's forefathers. (The school is just yards from Philadelphia's "Tomb of the Unknown Soldier." Haley Joel Osment would surely see dead people.)
With budget cuts eliminating building upgrades for schools across America, parents like me are concerned about what might be lurking in the walls—as well as between them.
Public and even private schools are mandated to clean with industrial bleach and serve up cheap antibacterial pink soap. Back-to-school supply lists request antibacterial wipes and hand sanitizers, despite the fact that the FDA admits there is no evidence cleaning with disinfectants is any better at preventing illness than cleaning with regular soap and water.
It can feel like a hotbed of toxicity—and unless you choose to homeschool, your options for improvement are limited. Advocating for change is not always such an easy task, especially when you are dealing with schools funded at the federal level.
While it's not always possible to control the choice of janitorial supplies, monitor sources of mold, or eliminate chocolate milk from the school menu, there are a few simple steps we can take to make small but meaningful changes.
>> Disinfecting wipes are a growing favorite at schools, but these harsh chemicals are not necessary for routine cleaning and can trigger asthma, allergies and other health concerns.
If the teacher asks for hand sanitizer or sanitizing wipes on the school supply list, purchase disinfectants that use safer active ingredients and no synthetic fragrance, like EO Products, CleanWell or Seventh Generation Wipes. If you can afford to, offer to purchase a case for the whole classroom or see if other parents are willing to chip in.
>> If your school offers junk food or trinket fundraisers, offer alternatives like Terracycle waste collection or eco-friendly product fundraisers. There are dozens of programs offering everything from fair trade chocolates to reusable water bottles and tote bags!
When I was in school, half the students had boxes of M&Ms and Starbursts strapped to them, selling candy as an effort to raise money for the marching band or Key Club. As a parent entering a cash-strapped public school I fully expected to be bombarded with catalogs for scented candles and cookie dough.
My jaw dropped when, on the third day of school, my son came home with a catalog for Equal Exchange, a provider of organic and fair trade coffee and chocolate. The note read, "Thanks to Ms. Greenberg and her 8th grade class who petitioned the PTA to offer items that were fair trade. Their service learning project with a community nonprofit centered around learning about child labor." I didn't have to do a thing because the kids already did it for themselves.
>> Ask the teacher about birthday treat policy—many teachers will opt for one monthly birthday celebration versus several throughout the month. This offers less opportunity for mass cupcake consumption—after all, how many can they really eat in one sitting? (Wait, don't answer that.)
>> Explore avenues for outside funding for school eco-initiatives. Green Apple Program by The Center for Green Schools at the U.S. Green Building Council (USGBC) gives individuals, companies, and organizations the opportunity to help transform schools into healthier spaces. 2015 yielded 617 projects across the globe, from educational events to clean up, planting, gardening, and e-waste recycling drives. Additional funding is available from RecycleBank's Green Schools Program, where Recyclebank members can donate points to fund school greening projects across the country.
If classroom air quality is a concern, give the teacher a gift he can't refuse. I have gifted teachers with pothos plants, cheap and easy greenery that has the added benefit of helping to purify the air. I also donated a HEPA air purifier after upgrading the one in my home.
>> Start small, with one particular item you'd like to see changed or improved. If you can find a way to show the financial difference would be negligible or even beneficial, you have your best ammunition.
With a solution in mind I approached my public school's Home and School Association (HSA) about the terribly antiquated, rusted old water fountains students were reluctant to use. The fancy new filtered water filling stations seen in modern facilities cost less than $1,000. Surely one or two could be worked into the discretionary budget? Turns out I was far from the first to inquire. All that was required was a bit of a push. And through the teamwork of the HSA, the principal, another invested teacher, and myself, two brand-new water fountains were installed within months of the original discussion. It proved that the red tape isn't always as thick as we imagine—sometimes you can cut it with a pair of safety scissors.
>> Find other parents who share your values and will back you up. There's strength in numbers! In fact, there was a flyer going around a Houston public school illustrating the power of collaboration by likening one parent to "a fruitcake," three parents to "troublemakers," 10 parents as "we'd better listen," and 50 parents as "a powerful organization."
As parents, it's difficult to give up control to schools. We may question testing methods, teaching styles, curriculum, or communication. And it's hard to know when to be an advocate and when to take a backseat. But parents and schools across the country have proven that we can create healthier environments for our children.
Sometimes it takes a federal mandate, sometimes it takes a strong PTA, and sometimes, more often than you may think, all you need to do is ask.
Author: Paige Wolf
Image: Niels Heidenreich/Flickr
Editor: Catherine Monkman