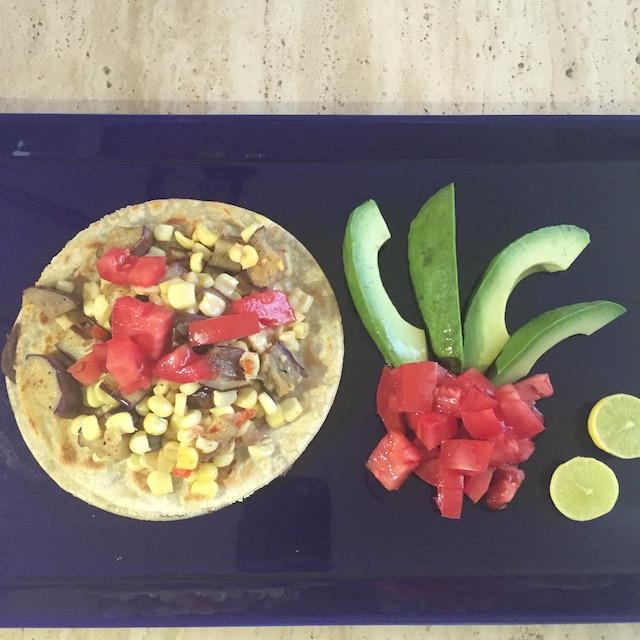 Quesadillas are one of my ultimate comfort foods. I love them any time of day—for breakfast, lunch or even as a midnight snack.
I always used flour tortillas and lots of cheese, and while it was a delicious combination, it wasn't even remotely healthy, so quesadillas were best reserved for special occasions. Lately, however, I haven't been able to have them at all. I have an autoimmune disease, and several doctors have recommended that I follow a gluten-free, dairy-free diet to hopefully ease symptoms. Besides that, for moral reasons I've been trying to drastically reduce the amount of animal products in my diet—including my beloved cheese.
The problem is, I've really missed quesadillas, so I decided to get creative. I came up with a gluten-free, dairy-free, totally vegan, extremely tasty alternative to quesadillas. The best part: this version is actually pretty healthy—and satisfying too!
Here's how to make my Vegan Bean Quesadillas With Eggplant, Corn and Fresh Salsa.
Ingredients:
4-8 Small Corn Tortillas (depending on your appetite)
1 Can of Refried Beans
2 Mini Eggplants—or 1 small regular-sized eggplant—diced into small cubes
2 Cloves of Garlic, peeled and finely minced
1 Ear of Corn, cut off the cob
1 Small Shallot, peeled and finely minced
1 Small Sweet Bell Pepper (any color you like), diced
1 Tomato, diced
1 Avocado, sliced
1 Small Bunch of Cilantro, chopped (about a quarter cup)
¼ Cup Pickled Jalapeno Slices
1 Lime, cut in half
Olive Oil
Salt and Pepper
Instructions:
Heat about 2 teaspoons of olive oil in a large skillet. Add the eggplant cubes and sprinkle with salt and pepper. Saute for about 5 minutes, stirring occasionally, until the eggplant cubes start to brown. Add in the pepper, corn, shallot and garlic. Season with more salt and pepper and sauté for 5 minutes. Remove from the heat, and stir in the juice of half a lime. Set this mixture aside.
Heat 1 teaspoon of olive oil in another skillet (preferably cast iron). Spread a couple tablespoons of refried beans (however much you like) on one corn tortilla, and top with a second tortilla so it looks like a quesadilla. Toast in the oiled skillet until it is brown and crispy. Turn and crisp the other side. Remove from heat and repeat with the remaining tortillas until you have as many quesadillas as you'd like.
Mix the diced tomato in a glass bowl with the pickled jalapeno, chopped cilantro leaves, and the juice of the other lime half. Season with salt to taste.
To serve, place a bean quesadilla on a plate. Top with about half a cup of the eggplant-corn mixture and then about a quarter cup of the tomato mixture (or really however much you want). Serve the avocado on the side. Non-vegan toppings could also include a drizzle of sour cream, a sprinkle of cotija cheese, or even a fried egg.
Enjoy in good health!
~
Author: Victoria Fedden
Image: Author's Own
Editor: Toby Israel
~