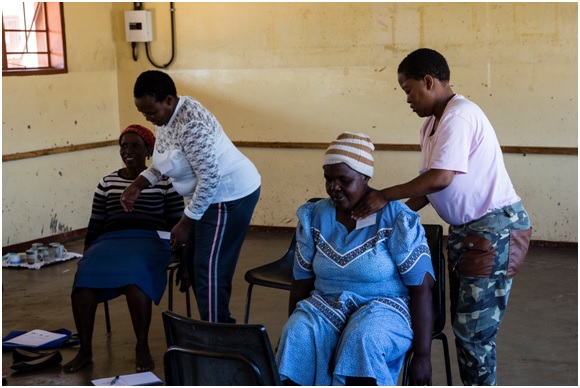 Can you imagine the transformative effect on the world if everyone had access to yoga?
It's no secret that yoga brings forth enhanced physical, mental, spiritual, and emotional wellness. For many, a yoga practice triggers an eye-opening domino effect of compassion in your body, mind and heart. Sometimes it lights a flame so intense that you're drawn to share the life-changing effect with others.
That's what happened to Erin Moon and Barrie Risman, two Canada-based yoga teachers who made it their mission to share the healing powers of yoga in underserved regions of the world. In fact, the co-directors of The Yoga Project can inspire yogis and teachers everywhere to find ways to serve and share their skills outside of the corporate studio or fitness industry model.
The World Spine Care Yoga Project launched in April 2016 with the goal of providing access to yoga to anyone, anywhere as a tool for spinal pain management. I spoke with Moon and Risman to learn more about the positive ripple effect of karma yoga (the yoga of service) as their program grows.
In mid-April, Moon and Risman hopped on a plane to Botswana with clinical director Geoff Outerbridge to launch the first-ever yoga teacher-training for active self-care in the country. As an initiative of World Spine Care, a nonprofit charity founded in 2008, the program doesn't believe handouts are effective, nor is barging into a foreign country and forcing people to do anything.
Instead, they pose the question: What do you need? In cultures that are rarely asked, WSC's approach is not only innovative but also desperately needed, with spinal being the leading cause of disability worldwide. For those trying to eke out on existence based on manual labor, the impact of back pain is devastating.
In cultures that are rarely asked, WSC's approach is not only innovative but also desperately needed, with spinal being the leading cause of disability worldwide. For those trying to eke out an existence based on manual labor, the impact of back pain is devastating.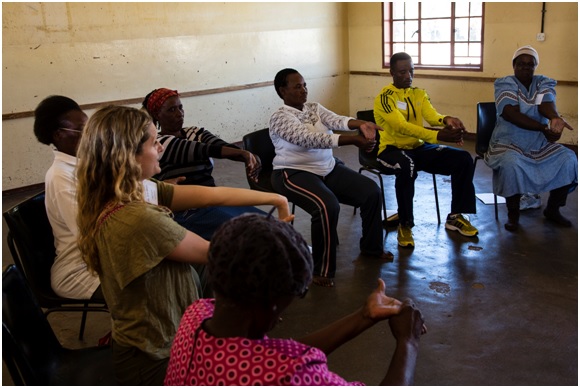 Their students consisted of two different groups in the village of Shoshong and city of Mahalapye: the first made up of women in the 50 to 60 age range suffering from chronic pain, and the later group of young personal trainers in their 20s. All 13 students had no prior exposure to yoga, and would be capable of teaching their own classes by the end of the intensive two-week program, truly building the local capacity.
The two-week intensive training consisted of poses, mindfulness and breath practices to bring about positive change, whether at the musculoskeletal level or at the deepest mental level. "Our approach is not a fairy tale of curing chronic pain," says Moon. "The basis of one's ability to feed their family and be an active member of society is about managing pain. These practices have been shown to lessen the reoccurrence and level of pain which gives people a chance of living with less overall pain as well as increasing mobility."
Both teachers find the work incredibly rewarding. "I look to serve others in everything I do—it really is the way I love to live and think we could all ideally live," says Moon, a native Canadian who recently returned to British Columbia after a 13-year stint in NYC. Risman, a New Yorker who now lives in Montreal, agrees with Moon that giving back is a natural and organic development of her yoga practice.
"This trip was an opportunity to get completely out of my usual 'yoga teaching box'," Risman expounds. "Teaching yoga with the sole intention to help people manage pain is different from my usual teaching in Canada, and allowed me to apply my skills as a teacher in a new way, which was a fantastic learning experience."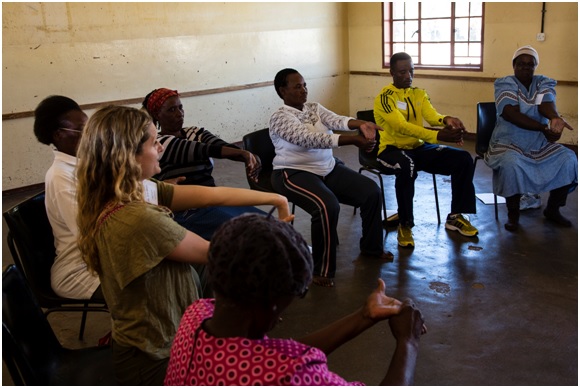 And both found inspiration from the no-holds-barred commitment that the students devoted to the mindfulness practices, diving in with no hesitation despite being totally new to the practice.
In a community that's far more moment-to-moment driven than our fast-paced future-obsessed Western world, the mindfulness practices were "profoundly and quickly taken on by the students," says Moon. The mindfulness element also reinforced that yoga is far more than twisting into lots of pretzel poses; the meaning behind the word yoga, "union," wisely refers to the union of mind, body and spirit.
Spreading the knowledge of the interconnected components of yoga in underserved regions not only heals physical pain, but literally raises the consciousness of the planet.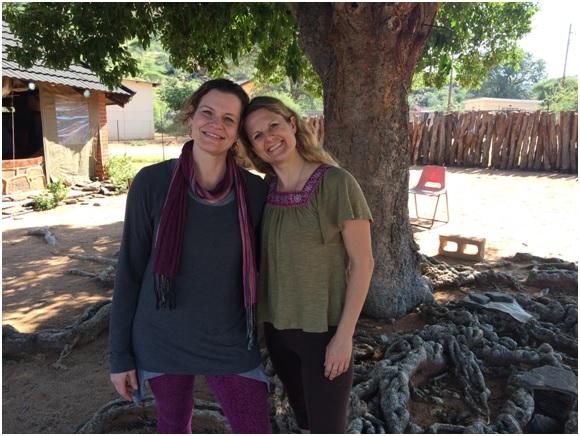 Since Moon and Risman returned to Canada in May, the newly minted teachers they trained have been leading classes of 20 to 30 villagers twice a week. Reduced pain and better well-being have also been reported among the group of women.
Next up for The Yoga Project is a launch in the Dominican Republic, and plans to continue the program when WSC opens clinics in China, Ghana, India and more underserved regions within the next few years. Moon and Risman are a shining example of the remarkable ripple effect that can occur when yogis take their practice out of immaculate studios and into the real world. As a true catalyst for change, The Yoga Project transforms the compassion cultivated from a yoga practice into measurable action—and proves that service yoga pays dividends for not just yourself, but the world.
Here's the basic, universal truth about helping others: oftentimes, it's the server that becomes the served.
The Yoga Project isn't the only organization catching on to the powerful effect that service yoga has on the world. Across the nation, nonprofits are springing up to bring yoga to jails, schools, hospitals, veterans and more. It's often said that the days you don't have five minutes to do yoga are the days you need yoga the most.
Now imagine how much that quote rings true for certain populations who could truly benefit from yoga, from sufferers of PTSD to young teens with limited resources. You don't need to be a yoga teacher to share the flame of compassion that a regular practice sparks in your heart.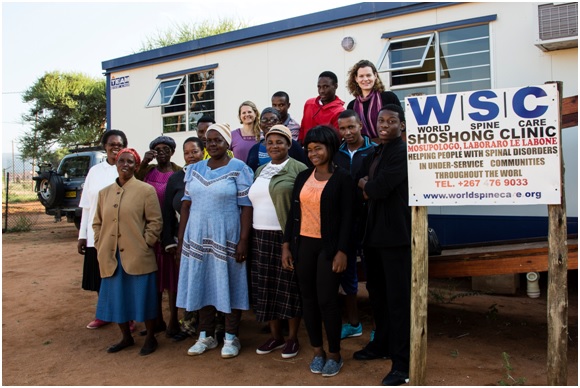 Service yoga is a reminder to all of the importance of taking yoga off the mat and into daily life. It's one thing to find your center when surrounded by soothing music and beautiful pictures, but quite another to apply it this real, busy, messy thing we called life.
Staying mindful of our yogic principles helps us stress less, love more and savor life—and when shared with others, truly changes the world we live in.
"Every single time you help somebody stand up you are helping humanity rise." ~ Steve Maraboli
~
Author: Hannah Chenoweth
Images: Courtesy of Author
Editor: Catherine Monkman