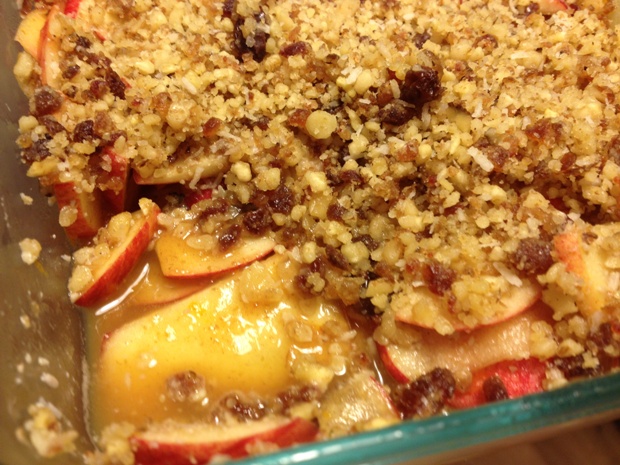 Excerpted from Healing the Vegan Way: Plant-Based Eating for Optimal Health & Wellness by Mark Reinfeld. Copyright ©2016. Available from Da Capo Lifelong Books, an imprint of Perseus Books, LLC, a subsidiary of Hachette Book Group, Inc.
~
Raw Apple Crumble
Yield: 5 cups crumble
Prep time: 30 minutes
Total time: 30 minutes,
Serving size: 1/2 cup
Number of servings: 10
There's some truth to the saying that an apple a day keeps the doctor away, mostly because of the antioxidant flavonoids contained in the peel.
Another important health component in apples is a special fiber called pectin, making for a unique fiber-plus-phytonutrient combination. This is a raw version of the commonly baked dessert, so you get all the health-boosting properties of the ingredients without having to turn on your oven (and a toothsome, crispy texture, to boot).
Raisins are energy boosters with all their natural sugar, not to mention iron and potassium. Walnuts are a favorite for their cancer-fighting, heart-healing, brain-boosting nutrients, and combining forces with dates, coconut, and spices, they create a perfect crumble topping for a healthy spin on this classic dessert. Enjoy this with a dollop of strawberry cashew cream.
Apple Layer
4 cups unpeeled, cored and thinly sliced apple (about 3 apples)
1 cup raisins
1/2 cup pitted Medjool dates
1/2 cup water
3/4 cup freshly squeezed apple or orange juice
1/4 teaspoon orange zest
1/4 teaspoon ground cinnamon
Pinch of ground nutmeg
Pinch of ground allspice
Pinch of sea salt
Crumble
1 1/4 cups chopped walnuts
1/4 cup pitted Medjool dates
2 tablespoons dried shredded unsweetened coconut
Pinch of ground cinnamon
Pinch of ground cardamom
1. Prepare the apple layer: place the apples and raisins in a bowl.
2. Place the dates, water, apple juice, orange zest, cinnamon, nutmeg, allspice, and sea salt in a blender and blend until creamy. Add to the apple mixture and mix well. Transfer to an 8 by 8-inch casserole dish.
3. Prepare the crumble: place all the ingredients in a food processor and pulse chop until the walnuts are finely ground. Do not overprocess. Sprinkle on top of apple layer.
Variations
Replace the apples with pears, peaches, or pineapple. Replace the walnuts with hazelnuts, pistachio nuts, or sunflower seeds. Replace the dates with dried figs or apricots.
Nutrition Facts per serving (122 g): Calories 248, Fat Calories 102.6, Total Fat 11.7 g, Saturated Fat 2.7 g, Cholesterol 0 mg, Sodium 19 mg, Total Carb 38.1 g, Dietary Fiber 4.6 g, Sugars 28.6 g, Protein 3.5 g
~
Author: Mark Reinfeld
Image: Courtesy of Author
Editor: Catherine Monkman