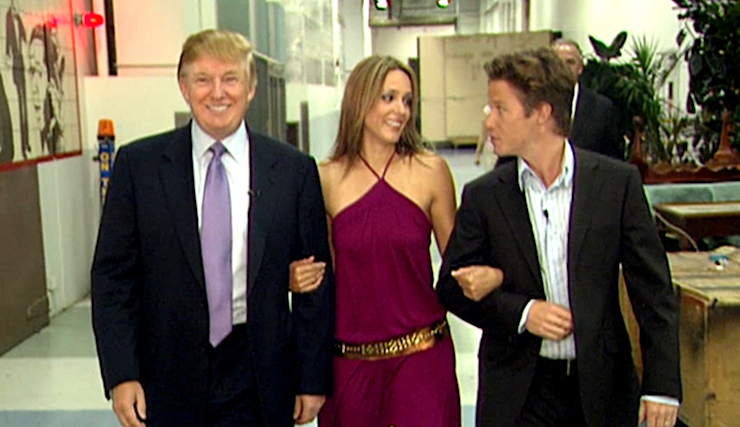 "It breaks my heart now to think of all the things I should have done to try to stop it but I was young, isolated and just as uncomfortable around my superiors as my peers."
"If one good thing comes out of the disgusting mess that has been the Trump candidacy, it's that a lot of us guys are looking in the mirror and realizing we need to object to stuff when it's said, not just laugh." #reddit #elephantjournal #billybush
~
Wow, thank you to everyone who participated in today's Facebook Live and helped to make it our most popular video yet!
It was truly heartwarming and encouraging to see a mindful conversation about this wild election season. It is possible and all of us just proved it!
Here are a few (out of many) of the great comments we received today about people's aspirations going forward:
Karlyn O'Hanley: My aspiration is that we can recognize the love rather than division hate and power.
Elizabeth Franklin: MINDFULNESS! Slowing down our speech we can learn about our own intentions and uncover small ways we may be contributing to the problem.
Anna Lee Plaxco: What the world could learn is to see women as people too. We aren't just the sidekick in some man's story. I feel sorry for the men who can't really value women for all of our daughters as to what is acceptable and our sons how to respect women
Amy Zuhlke: The new golden rule: treat others the way they want to be treated.
Natosha Crawford: One child at a time. We are responsible for the change we want to see
Kindred Hearts: WE see you. We HEAR you. We appreciate this *truth*. I am thankful it's out there, we are shutting this down by standing up with one another.
Alissa Martin-Brickman: What can the world learn: I hope unity, and empathy. We should all be working together. This kind of bullying never solves anything.
Jessie Dawson-Foley: We need to relearn respect & kindness toward each other. We have become desensitized.
Heather Ann: The world can learn from this moment is this–teach as our children to respect one another
Hedy Berelson: Speaking up in the moment to defend our beliefs and model examples for others
~
Resources Waylon Mentioned in Video:
This just in: if just men voted, Trump would win easy. Shocking. If just women voted, Hillary would landslide by epic proportions. Two maps, via Nate Silver. I got the heads up from Travis, our editor. Our convo:
[10/11/16, 7:44:15 PM] Travis May: Nate Silver pubbed electoral maps of what would happen if just women voted and one for just men. Thought it might something you would want to bloggerize.
[10/11/16, 7:44:24 PM] Waylon Lewis: so interesting!
[10/11/16, 7:44:38 PM] Travis May: Very different outcomes!
[10/11/16, 7:45:05 PM] Waylon Lewis: he's been wrong a bunch lately—and left NY Times after they made him huge—I don't have huge love for him. But I'll look!
[10/11/16, 7:45:46 PM] Waylon Lewis: So, basically, men are not only stupid…we're assholes:
This Republican woman just slammed the party on Twitter.
https://twitter.com/MBGlenn/status/785641127604916224
So let me get this straight: I, a conservative female, have spent years defending the Republican Party against claims of sexism. When I saw Republican men getting attacked I stood up for them. I came to their defense. I fought on their behalf. I fought on behalf of a movement I believed in. Not only charges of sexism, but I defended @marcorubio during Go8, I fought in my state to stop the @ScottWalker recall, etc… Now some Trojan horse nationalist sexual predator invades the @GOP, eating it alive, and you cowards sit this one out? He treats women like dogs, and you go against everything I – and other female conservatives – said you were & back down like cowards. Get this straight: We don't need you to stand up for us, YOU needed to stand up for us for YOU. For YOUR dignity. For YOUR reputation. Jeff Sessions says that he wouldn't "characterize" Trump's unauthorized groping of women as "assault." Are you kidding me?! Others try to rebuke his comments, yet STILL choose to vote for a sexual predator – because let's be honest, that's what he is. "What he said is wrong, and the way he treats women is wrong, but it's not wrong enough for me to not vote for him." Thanks, cowards. Various men in the movement are writing it off as normal, confirming every stereotype the left has thrown at them. So I'm done. I'm sooo done. If you can't stand up for women & unendorse this piece of human garbage, you deserve every charge of sexism thrown at you. I'm just one woman, you won't even notice my lack of presence at rallies, fair booths, etc., You won't really care that I'm offended by your silence, and your inability to take a stand. But one by one you'll watch more women like me go, & you'll watch men of ACTUAL character follow us out the door. And what you'll be left with are the corrupt masses that foam at the mouth every time you step Outside the lines. Men who truly see women as lesser beings, & women without self-respect. & your "guiding faith" & "principles" will be Attached to them as well. And when it's all said and done, all you'll have left is the party The Left always accused you of being. Scum. CC: @SpeakerRyan @tedcruz @marcorubio @SpeakerRyan @Reince And every other tool refusing to unendorse this monster.
Via Reddit: Playboy weighs in on catcalling/street harassment with an easy flowchart. Surprisingly good!
~
We got your social mediums right heah:
Listen: Walk your Talk on your commute or over dishes with Soundcloud.
Subscribe directly to our award-winning Youtube Channel.
 ~
Editor: Travis May