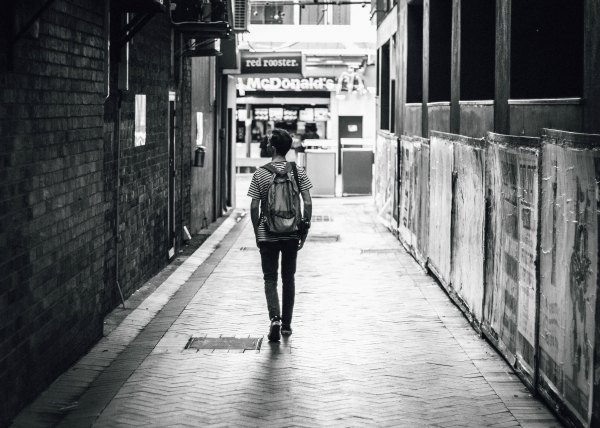 "But the beauty is in the walking—we are betrayed by destinations." ~ Gwyn Thomas
It's the sixth day of a writing course, and I haven't written a single word yet.
Deadline day is looming.
Writers surround me—teachers, colleagues and strange people in cafes. I'm in Paris, for God's sake! This is where everyone finds inspiration to write.
I'm away from the stress of my business and the mundanity of my life. The conditions are perfect.
I read somewhere there is no such thing as writer's block; rather, deeper issues come to the surface and impede our ability to write.
I take a break from staring at the blank computer to get some fresh air and clear my thoughts. I decide to take a walk without knowing where I'm going. The sun sets late in the Parisian summers; the long days make walking especially soul-nourishing.
I decide that there will be no writing today. That thought alone frees me.
I wander through the streets of Paris like a true flâneur—a term coined by Charles Baudelaire. It means to saunter aimlessly, experiencing our surroundings through our senses, removing ourselves from the world and putting ourselves into the heart of a city and becoming one with it.
I find myself in front of the Jardin du Luxembourg. The gardens are spread over many acres, and flowers bloom in different colors. I look around and see people laughing, children playing and lovers kissing. Life is everywhere.
No one cares that I can't write.
I observe the pigeons—fat and merry—and walk toward the huge trees across the garden from me. I'm in complete awe of this moment, and the stress I've brought with me slowly dissipates.
I continue my discovery of Paris, and I'm astonished how history finds me on every road, nook and alley. I find myself outside the University of Paris-Sorbonne, which Victor Hugo and many other notable figures attended.
I take a right at the end of the Pantheon and walk until the Place Contrescarpe. I find myself in front of a Patisserie Pascal Pinaud, and a strawberry tart jumps out at me. I sit down for a coffee and a sugar fix.
On my right, an old lady is reading an English book. She smiles at me. I ask her if this was the area that Hemingway frequented, and she points out a plaque showing where he lived with his first wife when they moved to Paris.
I recall how one day my son asked me about my sudden passion for writing. Was it out of loneliness? He wanted to know. Perhaps. But maybe I had finally reached a point where I couldn't bottle up any more of my thoughts. They had to come out.
I had lived most of my life pursuing success, money and prestige. I had been like a robot, using only my mind to keep my feet firmly on the material side of life, while ignoring my heart. Writing lay dormant in me; it was hidden deep in the crevasses of my heart, waiting to erupt.
I have slowly released myself from the shackles that have held me back since childhood. The more I align my values and actions, the more I feel free—and the further I grow from my old, inauthentic way of life.
I think about Hemingway—about how he would write early in the morning before hitting the cafes. I love how dedicated and passionate he was about becoming a great writer in those early Paris years.
I turn around to say goodbye to the old woman, but she has left. I get up to stroll, and I notice a vendor wearing dark trousers and a navy blue shirt with a short apron on top. His smile exudes joy. He speaks in rapid French to a couple of locals, and I can't understand a word.
He holds a purple aubergine in his hands, and I imagine he is explaining how fresh it is and how best to cook it. He does this with such passion that I want to buy the aubergine myself, even though I wouldn't know what to do with it.
I keep watching him for a while as he connects with passerby. Apart from clearly loving what he does, he's so carefree—absorbed in the simple details of life.
I am envious. I want to be free enough to get lost in the present moment. I wonder if writing could make me feel authentic to myself, allowing me to finally lose my analytical thoughts and become like the aubergine seller.
All the walking has allowed new ideas to surface—I'm having a hard time containing them. I enter one of those quintessential Parisian cafes, La Gueuze, and bring out my laptop.
I sit next to three youngsters drinking beers larger than their backpacks. Everyone sits facing the street; it's like no one in Paris wants to miss out on what's happening out there.
I sip my glass of Bordeaux and wonder if this is how my future is going to be, walking, discovering cities by foot and then sitting in cafes writing all about it. I think that I would feel free living like that, present and able to connect to my soul.
Author: Mo Issa
Image: Zachary Staines/Unsplash
Editor: Emily Bartran