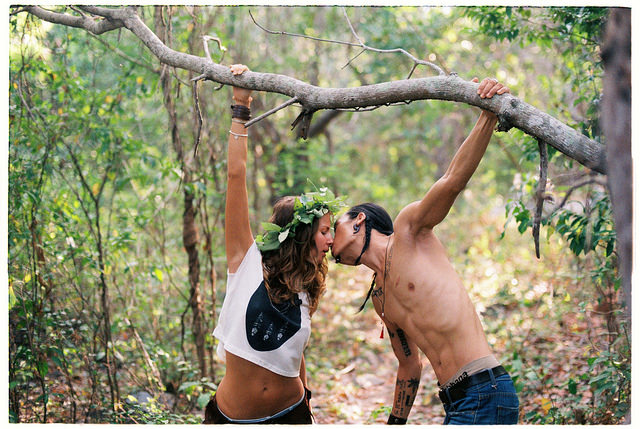 "And even if you're not here to stay, I'm happy the universe allowed your soul to stop by." ~ Unknown
.
Thank you—thank you for being you, and for finally showing me what that actually means.
Thank you for simply being the amazing man that you are, not without flaws or misconceptions that dot your heart, as the beautiful tarnish appears on a suit of armor.
There was a pull since perhaps the first moment your eyes met mine, and it was one that I wasn't always comfortable with, or even one that I knew what to do with. But we had entered into each other's atmosphere—and like the sun, you drew me in.
Easy has never been my style, and still it's as useless to me as expensive gems that only are valued for appearances. I prefer the grit in life, the hard-earned love and the fought–over hearts that beat even more magnificently because of all they've experienced.
I like it the real way.
And it seems that even when we didn't know what we were, our souls still recognized something in one another that made it deliciously impossible to stay away, even when that was what we were supposed to do.
Perhaps the chaos burned too deeply at times, but what else could we expect when we have a mirror placed in front of us that reflects all the areas we need to grow in? Because growth, while beneficial, is never painless.
There's death in a metamorphosis.
But still, through it all—and in spite of, and because of us—your soul showed up for mine.
You showed up not just for a minute, or for your convenience, but to do our work—work that both of our souls signed up for long before we met in this lifetime.
The work that is supposed to hurt, but only because it's supposed to bring us closer to God, as well as one another. I suppose the easiest thing would be for me to just say thank you for showing up, but it was more than that—you made me feel safe.
Honesty rolls too easily at times from my pink lips to yours—and so, even now, the words "I have never felt safer than when I am in your arms," seem to want to tumble out so you know exactly how deeply you have touched me.
So even if you're not here to stay forever—thank you for allowing your soul to show up for mine and for teaching me all you have; because I have to believe that any love that's taken the crazy path that we have must be designed by the divine.
There isn't a single story of greatness that doesn't also include trials—and honestly, there isn't one part of our story that I would erase or rewrite, because I think that, like most things, everything had to happen exactly as it was meant to.
I'm thankful for you—for who you are, not who you pretended to be for so long, but for the soul that has lived within all this time. I would be lying if I didn't say I knew that part of you was there all along, because even when your words were saying something else, I couldn't help but listen to your soul.
So maybe you were a surprise, but maybe you were something quietly familiar as well.
Something that was comforting, and perhaps someone that I needed all along.
I have given up predicting anything in this beautiful life, and I think that God has had the last laugh over us and our futile attempts of goodbye—but that doesn't mean that I know ultimately what your purpose is in my life.
I can't say for sure what we are, or what we will be to each other.
Because of so many of the words you've said to me, I've been inspired to think about things further. So when you said that ultimately we don't know the meaning of anything until we can look at it through the lens of hindsight, I think that there isn't any other way to truly know what any of this means.
Hindsight can arrive early or perhaps can be delayed, but in reality, it's simply the ability to see things once a cycle is complete, and once we are ready to see what there is to see.
Perhaps that is what this is for me—because the truth of it is that I don't know what my life would be like had your soul not stopped by. I can't imagine where I would be, or what kind of woman I would be living life as.
So much of the woman I am today is simply because of you.
So thank you for stopping by, thank you for allowing your soul to dance with mine and to complete our work together, but perhaps most of all, thank you for just being you.
The man I always saw when I gazed into your eyes, the man I knew you were all along and the man you truly are is beyond any expectation that I ever had.
I honestly can't imagine ever meeting another soul like yours in my entire life, and that is why I have and continue to fall in love with you a little more every day, even if that fall doesn't lead me anywhere.
I just don't think I have a choice as to whether I love you or not, because part of me feels like this is what I was born to do—to simply love you.
It doesn't matter where that love leads—because in truth, nothing else comes as naturally, and I don't think there is anyone more deserving of it than you, simply for being the man that you are.
It is that soul that I am so grateful for—I'm grateful that you let it show up…for mine.
.
"I noticed your face and yearned for your body but fell in love with the soul that dwelled within." ~ J.M. Storm 
~
Author: Kate Rose
Image: Flickr/Khánh Hmoong
Editor: Yoli Ramazzina