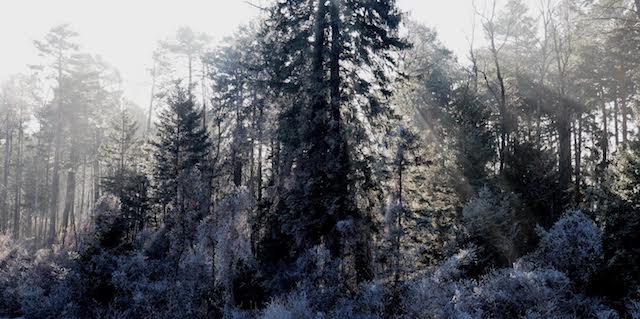 Once upon a time during the cosy evening hours on a snowy winter day, a wise head on young shoulders was cuddled up in bed.
Her ocean-coloured eyes were wide open looking for answers in the dark, and her mind was only slowly unwinding from the turbulent hustle and bustle of the past few days.
Dreamily, she played with the bun of her loosely tangled hair, her porcelain-shaded skin softly illuminated by the candlelight next to her bed. Her delicately carved body was wrapped in a warm coat of ivory-tinted blankets, making it seem as if she was floating in a shimmering sea of fairy dust.
The snow was gently falling onto her world, covering trees and rooftops with powdered sugar, muffling the sounds of rushed roads with their last-minute-hurries, slowing down the passage of time. She gazed at the snowflakes lovingly dance and twirl in the open wind—a glimpse of a passionate yet innocent love affair.
A one-of-a-kind kind of love,
the silent falling and melting of two,
dancing to the music of life,
and to the winds of change.
She watched their worlds collide beneath the stars; two souls flying and floating through forests of whispering trees and their hearts foolishly playing hide and seek behind mountains of snow. The air was filled with a sense of playfulness and excitement as she saw them bumping into one another, falling over while mischievously sneaking up on each other from behind, and light-heartedly laughing at their own clumsiness along the way.
Secrets were being shared in the softest of voices and hearts were being touched in between little celebrations of life's foolish adventures. They were as carefree as only two who have discarded their masks and armours can be.
She imagined them wandering off into the many sunrises that were yet to come, stumbling upon breath-taking views, and hurling themselves into raging storms and tender whirlwinds along the way. As they drifted past peaceful meadows sprinkled with shining silver, the redness of their flushed cheeks was glowing in the dark and the sound of their heartbeats composed a rhythmic symphony only the two could hear.
She saw them diving into their hearts with fearlessness in their eyes, their sight looking beyond imperfections as they twirled in circles, sideways and backwards.
Surrendering to the winds, each gently and confidently moving to their own tune. Both honouring the other's solemn dance and both knowing that if meant to be, the winds would turn once more and let them dance for as long as their music was being played, in the midst of all the sparkles in the midnight sky.
A love barely lived,
the transience of all,
A frozen wonder,
Within this snowfall.
The howling winds tugged on their heartstrings, the cold and the cruel moving them closer as they travelled deeper into the winter darkness, falling deeper and deeper for the other.
Both learning while falling.
Both longing for the softness of white pillows and crystallized blankets of snow—the other's nook being their safest place to rest.
Both craving the other's warmth on their ice-kissed bodies.
Both hearts wishing to be held by none other than each other.
And as their hands intertwined, she watched the magic hidden in their warm fingertips spark fires within. Four passionate eyes curiously strip-searching and hypnotizing, blurring their vision and leaving them out of breath—the blistering heat between the two transforming their world into liquid.
Floodgates of the sweetest desire released a force too strong to withstand and too painful to endure. The iced cages of their hearts burst into thousands of sparkling fractions as soft lips were kissed and tongues tasted the essence of love. Hands were exploring and hearts exploding, two bodies moving to the rhythm of their flames—tenderly melting as they fell.
And with one last breeze; they softly landed, hand in hand, on a sleeping lilac tree—two becoming one, once and for all.
And as the universe dimmed the light of her sun and switched on her sparkling stars, the young girl thought of him.
Quietly, she sent a goodnight kiss into the midnight sky, hoping it would find him in a place warm, safe and sound where dreams come true. Though she may never hold his heart in this lifetime, and she could no longer hear the chords of their song being played, he had been her favourite dance.
And a part of her would long for his precious melody 'till the end of her time.
~
Author: Muriel Anna Johnston
Image: Rachel Schmid ; Flickr/Deni Williams
Editor: Erin Lawson