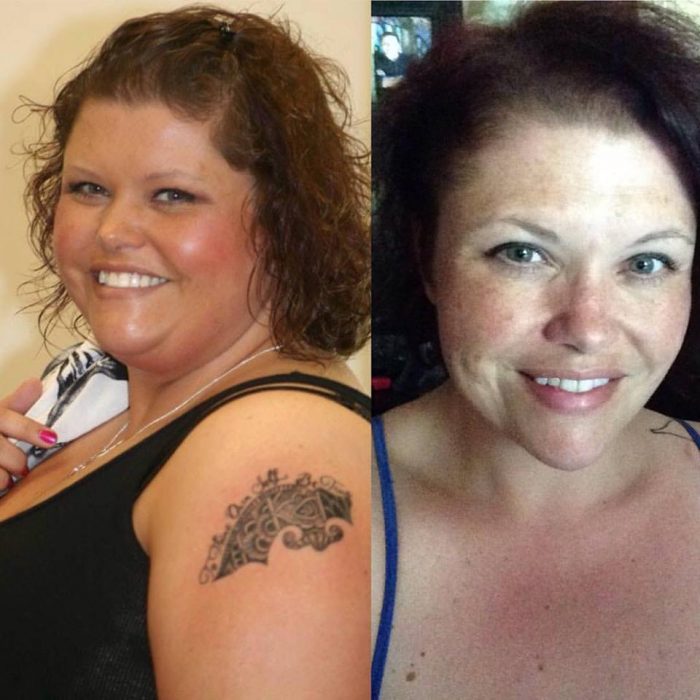 I was walking through the grocery store when my vision began to change.
My periphery went black. I had grown used to my hands shaking, but had never felt my knees trembling the way they did that day. I broke out in a sweat, the room started to spin, my heart raced. I felt like I might faint. I took a bottle of orange juice from the dairy case, opened it and started to drink. That's when I realized, it had been days since I had eaten anything.
Visiting the doctor was strange when I was morbidly obese. Usually, doctors didn't even address my weight. The extra hundred pounds I carried around the world with me literally felt like the elephant in the room.
We talked about lots of other things related to my weight. My doctor diagnosed me with Type 2 diabetes, and we talked about the cycle of insulin resistance. At that time, she recommended a diet lower in carbohydrates to help control my blood sugar. She prescribed a pill for me to take to help my insulin receptors become more sensitive.
A couple years later, she diagnosed me with high blood pressure. She wrote me another prescription for blood pressure medication. She mentioned that cardiovascular exercise might be beneficial, but urged me to start slowly to prevent injuries.
By the time I was 32, I weighed almost 250 pounds. I was taking medication for diabetes, high blood pressure and depression. I had constant pain in my feet and back. I literally spent my days on the couch, eating in front of the television.
Each time I went to the doctor for prescription refills, I hoped she would tell me how to lose weight. I knew I would feel better if I could just figure out how to make my body well. She never brought it up. After a few appointments of hinting at it, I decided to speak up and ask for help.
When I finally asked my doctor to help me lose weight, she had a few suggestions. The first was to take a medication called Phentermine every day. Phentermine is one of the "Phens" in the dangerous diet drug Phen-Phen. It's a stimulant drug that suppresses your appetite. She wrote the prescription, and told me to eat three times a day—whether I was hungry or not.
"What should I be eating?" I needed to know. I needed a clear plan to follow if I was going to be successful.
My doctor recommended that I eat pre-packaged, frozen meals from the grocery store. She felt that they would take the guess work out of portion control for me. She advised fruit and yogurt for breakfast, and the frozen meals for lunches and dinners. She told me to eat whatever I wanted in very small portions.
I was excited to have a plan. I had read somewhere that losing just 10 percent of my body weight would improve my overall physical health. Losing 100 pounds felt overwhelming and impossible, but 25? Surely, I could do 25.
I picked up my prescription and went to the grocery store to stock up on frozen meals that I could microwave twice a day.
Naturally, the medication came with some side effects. Though she had given me the smallest dose, phentermine is a powerful stimulant. It made me feel shaky and anxious. It did what it was supposed to do—it completely suppressed my appetite. I never felt hungry. I was instructed to eat whether I was hungry or not, but when I did, I felt queasy. Usually, food was the furthest thing from my mind.
When I went back in a couple weeks for a check-up, she was pleased with the results. I had lost a few pounds already—which was the goal. However, my heart rate had increased and so had my blood pressure.
I told her about that day in the grocery store when I almost passed out. She gave me a lecture, reminding me to eat, even when I didn't feel like it.
She recommended that I have a stress test done to check the health of my heart.
First we would do the test without the Phentermine. If that test looked normal, we would repeat it the next day, an hour after taking the medication, to see the effect on my heart.
When we were done with the second test, she had some new recommendations. I was to continue with the Phentermine for weight loss—but because it was speeding up my heart and increasing my blood pressure, we would increase the dose of the blood pressure medication I was already taking, and add a second medication as well to help stabilize my heart rate.
That's when the light bulb went off for me. I realized that she could only recommend pills or surgery. There was nothing else she could do. I felt like the only recommendations she could make were dangerous. I declined the new prescriptions and stopped taking Phentermine that day.
If I was going to get well, I would have to be my own advocate. I began learning about nutrition. I started exercising. I went to therapy and discovered that my weight struggle was much more emotional than physical. Around this time, I also got divorced and started working toward becoming happier in my life.
I began to accept that I had the eating disorder people don't talk about—I was a binge eater. I started working to identify and manage my triggers. I had to forgive myself for years of self-harm. Today, I'm still learning and still managing my disorder. I have days of feeling completely in control and days of wondering if I will ever feel in control again.
Managing my weight is an ongoing process—one that has taught me much about myself.
Mostly, I've found a new compassion for my body. Her able cells have carried me through nearly four decades on this earth. She has given life to two of my favorite humans ever. She suffered much abuse the years that I didn't cherish and respect her the way I should have.
Today, I know that ignoring my body's natural cues for hunger and eating highly processed, packaged foods are never going to create long-term health for me. Basically, the opposite of that advice turned out to be the healthiest thing for me. Listening to my body, eating real food, and finding ways to exercise doing things I love have helped me make huge changes in my lifestyle and health.
Just a few years ago, I was a size 24. I was on four prescription medications. I was inactive and quite unhappy. Today, I barely recognize the woman I was then.
I've never been happier as a curvy size 14. I take no prescriptions. I'm a licensed fitness instructor. My skin is clear, my eyes are bright, and I have tons of energy to do everything I want to every day. Most of all, I'm happy. My physical health is a reflection of my emotional well-being.
I'm grateful I chose not to listen to my doctor's weight loss advice. Getting physically healthy was about getting to the heart of why I eat what I eat. It's about making more conscious choices that are good for me and for the planet. And it's about letting go of the unrealistic ideals we learn from our media about what a woman's body should look like. It's about choosing to love myself, flaws and all, every day—and making choices that reflect only love and acceptance.