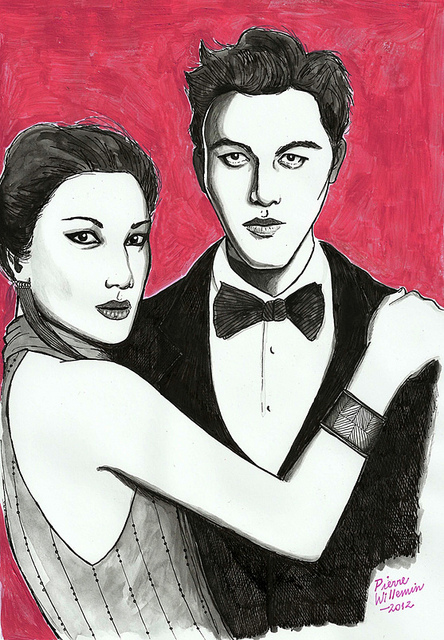 "Everything you do right now ripples outward and affects everyone. Your posture can shine your heart or transmit anxiety. Your breath can radiate love or muddy the room in depression. Your glance can awaken joy. Your words can inspire freedom. Your every act can open hearts and minds."  ~ David Deida
My partner and I celebrate an anniversary on Valentine's Day.
It is the day he first told me he loved me.
Most years, he forgets when it is. But when he does remember that Valentine's Day is coming, he buys me roses even though I keep telling him that carnations are my preference.
We have a great laugh about it and cuddle up to my favorite movie, A Walk on the Moon—which, by the way, is about a woman who has an affair. But who can blame her—it's with Viggo Mortensen!
I tried to count the other day how many times he has told me he loves me in the last 23 years, and we said conservatively 17,000 times—but I think it's more likely double or triple that.
We have a truly amazing love, and we are conscious of what a gift it is. It's not a perfect love (what's that, anyway?) and yet it is a love worth keeping for at least another 23 years—unless Viggo shows up, then I'm outta here.
So many times, he and I have talked about the urgency that is forced upon us by society to feel and demonstrate love on this one particular day; even thought by all rights we can still choose for ourselves what we feel.
Valentine's Day exposes our desire for love, for companionship, for validation. I used to be against the whole thing until I realized that it serves a good purpose. Valentine's Day allows us to explore our relationship with love and with ourselves. It is a faithful servant, returning each year to check in on our progress.
To be fair, I love romance. I kinda have to since I write erotic romance novels. I have been in love with love forever and a day, and romantic gestures stir my heart as much as the next girl's.
I think it is lovely that once a year, en masse, we move a mountain of love. Imagine, practically a whole planet is focused on one emotion. Sure, it may be just fabricated juju as far as the whole commercialism aspect is concerned, but aside from that, lovers everywhere are concentrating on the one person they call their own, thinking of ways to express their connection.
It's not wrong to love Valentine's Day, and not wrong to not love it, either. It is a day for us to be introspective about why love or why the lack of it creates such a powerful reaction.
In the end, it is a portal through which we can explore our love relationship with ourselves.
What is love anyway—is it an emotion, or is it our inherent nature?
I believe that we think it is an emotion, often demonstrated through actions, but really, love is an impulse that governs the whole universe. As an impulse, love is who we are so much more than what we feel. Feelings can go away, but our inherent nature is indestructible.
We are addicted to love because we are love. When we receive love, or an expression of love, it is a reflection of our own being. And that reflection looks and feels like home.
So often we hear that we must love ourselves first, that we must fill up on our own love instead of seeking it from another. That may be true, but we are all on a journey toward ourselves, reaching our center in our own good time.
But in the meantime, while we journey toward self-love and self-fulfillment, we can indulge in the love that emanates from another and the shenanigans of Valentine's Day in whichever fashion we choose.
Don't compare your day to anyone else's. Don't worry if he or she forgot the flowers. Leave your expectations at the door and open up to what is happening in your heart.
Maybe there isn't any money for a date, or maybe you have to work, or maybe you are alone this year. But not really alone, you see, because you are love, and that is the best gift of all—the sweetest treat you could be given.
I hope this Valentine's Day is one you will remember. One where the love that runs this whole damn world is at center stage. I hope you feel it.
In the years when I was alone for Valentine's Day, I would find someone to tell I love you to. One year it was my cat. In giving love, I felt the enormity of its presence.
I love you—three words that carry so much energy. I hope you can feel it. Love is magic. It grows stronger the more we share it. Happy Valentine's Day.
~
Author: Monika Carless
Image: Flicker/Pierre Willemin
Editor: Callie Rushton