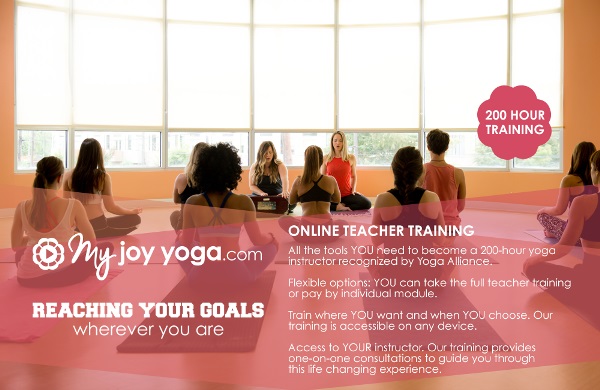 This is a post written by My Joy Yoga—an elephant partner. We're honored to work with anyone who is this dedicated to helping us master our yoga practice, providing stress-free certification, and allowing us the flexibility and freedom to train where and when we want.  ~ Ed.
When we first begin to practice yoga, we focus on the poses and the sequencing.
We work hard to master each new and challenging skill. And after a while—and maybe now is that moment—we get to a place where we feel confident in our accomplishments and start looking for that next level of achievement and self-improvement.
For many, that next level means sharing the joy of yoga with others. It means becoming a yoga instructor and starting that journey with a 200-hour Yoga Teacher Training Certification (YTT).

Deciding to begin your teaching journey with a YTT is a big commitment. Finding the time to get to the studio every other weekend or to an intense two-week training can cause havoc with your work and personal life—or maybe, there isn't a program near you.
My Joy Yoga has a solution you might consider: getting your certification online—on your time and at your pace.
The curriculum and faculty are identical to the Yoga Alliance certified training offered at Joy Yoga Center's Joy Yoga University.
Now, choosing to commit to a YTT, whether in studio or online, is only the beginning! Stay focused on your goal!
~
Here are eight reasons why you should see your commitment to YTT all the way through to certification.
1. You're ready for change. You will come through the training process transformed and ignited.
2. You want to deepen your practice. You've already made great gains but you're looking to take yourself to that next level. YTT will take you there.
3. You want to face your demons. YTT will challenge you and reward you by taking you through a process of self-improvement and self-actualization.
4. You want to be more open-minded. YTT will change your perspective on life, people, the universe, and even yourself.
5. You want to take it past the physical. You know yoga is more than poses and breathing. YTT will help you find the spiritual experience you are looking for.
6. You want to try different styles of yoga. Prepare to have your world expanded. YTT will introduce you to practices you may have never heard about, much less tried.
7. You want to learn more about how to live a life of balance. Life is full of challenges and complications. YTT will not only train you to help others find balance, it will improve your own ability to come into alignment with life's energy.
8. You want to share yoga with others. You will experience the real impact of yoga in your life when you begin to lead others through the practice.
Starting YTT may seem easy for some—at first. But too many people fail to complete their training because getting to class regularly can be a huge challenge. If you want to succeed at YTT, be sure to choose a training course that is flexible enough to keep you on your path to success.
Like so many things today, there is a technological solution that can help you customize your YTT experience to fit your lifestyle. It's called online yoga teacher training.
Here's how it works:
Online YTT lets you use a computer or mobile device to gain access to live and on-demand yoga teacher training. That means you can train at home—or anywhere! Total freedom. No more scheduling conflicts or travel time to consider because everything is mobile and online.
With this level of flexibility, you can expand your practice. Online YTT will further your practice and elevate you. And the flexibility of the online training makes it easier for you to share your love of yoga. You can take this training to teach others or learn more about yoga.
And online YTT is a great value. In some cases, tuition is half the cost of most programs and you create your schedule.
Consider the online YTT program available from My Joy Yoga.

Through this online training, you'll become a certified yoga teacher with the My Joy Yoga 200-hour Yoga Certification. With this course, you will save time and money by taking your instructor training online. You can work through the classes and tests at your own pace—from anywhere, at anytime. And they offer tons of support to ensure you get the best training available for one affordable price.
Even though it's an online course, it's completely comprehensive.
~
Here's a look at the subjects covered in this course:
>> Anatomy—structure, bones, spine/pelvis, joints, respiratory system, digestive system, nervous system, cardio lymphatic, endocrine system, and inflammation. This also includes Eastern medicine and working with injuries.
>> Philosophy, history and themes—with introduction to Eastern philosophy.
>> Asana—foundations, pose workshops, warm ups, standing and balancing, twists, back-bends, arm balances and inversions, restorative poses, forward folds, and hip openers.
>> Meditation and pranayama—body scan, moving meditation, mantra, Sama Vritti, Kappala Bhati, Bastrika, Nadi Shodana.
>> Teaching yoga—cueing poses, sequencing, and assisting.
Other features:
>> 200 hours of training
>> 75 video lessons
>> three one-hour one-to-one mentorship meetings
>> a one-hour group training session
>> certification recognized by Yoga Alliance
For those enrolled in the 200-hour course, you get six months of My Joy Yoga live streaming and on demand free.
Online YTT is a flexible and comprehensive way to achieve your goals. With My Joy Yoga, you get all the tools you need to become a 200-hour yoga instructor recognized by Yoga Alliance.
And it comes with a ton of flexible options:
>> You can take the full teacher training or pay by individual module.
>> Train where you want and when you choose. Our training is accessible on any device.
>> Have access to your instructor. Our training provides one-on-one consultations to guide you through this life-changing experience.
All of this flexibility means it will fit your needs, wherever you are on your path to achieving your goals. This program is for you, whether you are:
>> A yoga practitioner who is ready to expand your practice.
>> A personal trainer looking to provide additional offerings to your clients.
>> A group fitness instructor wanting to broaden your skill-set.
>> Someone looking to go beyond the mat.
Don't let the complexities and challenges of managing your time and other commitments become a barrier to achieving your goal of becoming a certified yoga instructor.
Find out for yourself exactly how effective online YTT can be at fitting your lifestyle and meeting your unique needs. We need to give ourselves every chance for success. We deserve it!
If you are not ready to commit to teacher training just yet, but want all of the convenience of practicing yoga at home, try out the My Joy Yoga app, available both on iTunes and the Google Play store, and start practicing in the comfort of your own home, and on your own time today!

~
Editor: Catherine Monkman