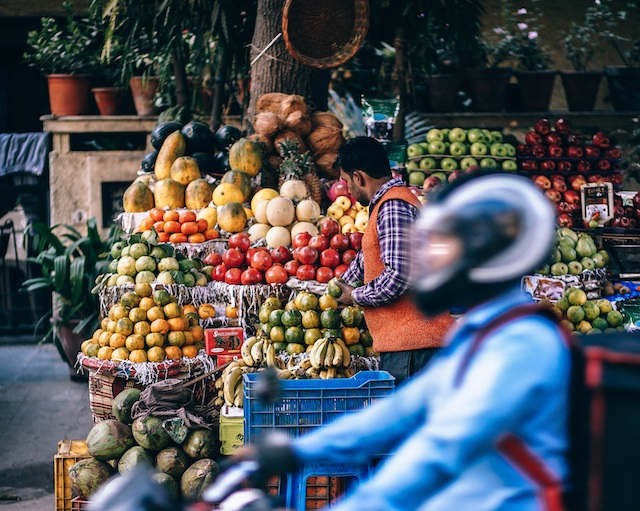 Editor's Note: No website is designed to, and can not be construed to, provide actual medical advice, professional diagnosis or treatment to you or anyone. Elephant is not intended as a substitute for medical or professional advice, care or treatment. 
~~
When I was growing up in India, I witnessed a spiritual master, my grandfather, whom I addressed as Baba, remind the diseased and the suffering of their abidingly healthy nature.
He taught them simple ways to align with nature's intelligence daily, and enigmatically, this ignited powerful healing of body, mind, and soul.
While there wasn't a focus on the symptoms of disease per se, I saw cancers disappear, ulcers heal, and chronic depressions lift.
I think I had rationalized that these "miracles" were possible because my teacher was a spiritually realized being. Clearly, my guru's spiritual presence was undeniable. But as I grew up and observed more, I recognized that Baba's skills in transmitting the highly rational science of an Ayurvedic lifestyle was also a key factor. I am so glad that my teacher imparted to me his spiritual conviction along with his scientific knowledge, which includes Ayurveda's lifestyle wisdom.
Did you know that besides the knowledge of energy systems called doshas that are our signature mind-body types, Ayurveda also offers us an easy-to-implement, practical guidance for healthy living every day. This lifestyle prescription is universal and applicable for everyone, at every age, whether you know your dosha or not.
Reading and implementing the lifestyle wisdom can be a rite of transition, from a life lived routinely or unmindfully, to masterful living, encompassing the freedom that comes from embracing nature's blessings to proactively influence the course of your health and well-being. From this perspective, Ayurveda boldly inspires us to claim our inherent healing power and shows us how to do it.
Ayurveda's lifestyle wisdom allows for the human body to adapt to the changes that are occurring in the environment. Western tradition has us following uniform prescriptions largely, but no so in Ayurveda. In fact, Ayurveda teaches that in any 24-hour period, there is a clock ticking, a clock that we should be mindful of because it maps energetic changes in the macrocosm with the change of time. Hence, we are asked to engage in life activities like sleeping, awakening, eating, and exercising in alignment with the macrocosmic energetic shifts.
Without the knowledge of Ayurveda, we may still instinctively follow the clock anyway—since we are creatures of nature, and thus, intuitively, we may do what is required of us, such as look for food around noon—but with Ayurveda's help, we can make sure that we are on mark.
At times, our busy lives seem to demand that we live in another rhythm to "get things done," and then we may miss the cues from our inner clock. Technology has made it possible for us to do anything at any time. We can cook food at any time of the day or night. We can darken our living quarters and sleep all day. We can stay up all night working on our computers. In these ways, our natural bio-cues can become tangled. If this has happened, then we can rewire our brain to follow Ayurveda's lifestyle clock. Following this clock externally allows our internal energies to sort themselves out and align with the rhythms of nature.
Yet, to remain in alignment with a changing macrocosm, it is important that we change our eating and lifestyle practices to reflect the change in the microcosm, which is our body. Doing so naturally enhances health, immunity, and mental alertness.
Adopting an Ayurvedic lifestyle takes time, however. For me, it was part of my karma or spiritual destiny because I was born into a family of traditional Ayurveda teachers and healers in northern India. I remember my teacher Baba telling me, "A well-lived day is medicine unto itself." So, I passionately believe in the lifestyle teachings; and now I invite you to make every day a health-protecting and health-reclaiming day, simply by the art with which it is lived.
But everyone must start somewhere. I believe Ayurveda holds the key to change your life for the better.
You can start with a single day and live it according to Ayurveda's insights. And then, keep going. Simple, consistent practices are important. This is when the miracles of wellness occur.
Try a typical day practicing Ayurveda and see the benefits for yourself.
5:30 a.m. Wake up no later than 6 a.m. and drink warm water right away.
6 a.m. Meditate. Practice yoga poses, such as Bridge, Cobra or Bow.
6:30 a.m. Do a self-massage with warmed sesame oil and then take a shower or bath with warm water. You will love it!
7 a.m. Have breakfast. Try my recipe for nectar fruit stir-fry (below) that also gently aids elimination and enhances energy—and has all the right spices to get your digestion going in the morning.
8-11:30 a.m. This is the best time of day to pursue intellectual activity and problem solving.
12 p.m. Have lunch. Let this be your biggest meal of the day and deliberately eat lighter in the morning and lightest at dinner.
1 p.m. Gentle movement helps with the physical lag after lunch. Walking one hundred steps is a good way to counteract dullness in the body. But do not over do it with exercising either! The focus is on enabling digestion with the right amount of movement, versus lethargy or naps right after eating that compromises it.
2 p.m. Take a five-minute break by sipping warm water or a tablespoon of pure, raw, and uncooked honey.
4 p.m. This is another opportune time to take a break with a hot beverage or piece of fruit.
5-5:30 p.m. Begin the gradual unwinding of the day with evening yoga, a short walk, or a deep breathing exercise.
6 p.m. Have a light dinner.
7-9 p.m. Engage in pleasant activities such as going for a walk, reading a book, or meditating.
10 p.m. Go to bed. But first, why not turn inwards, pause, breathe deeply, and offer yourself some well-deserved self-love? Sweet dreams follow, along with a deeply restful sleep.
Because of following Ayurveda lifestyle, we can rewire our brain to follow Mother Nature's own clock. Following this clock externally allows our internal energies to sort themselves out and align with the rhythms of nature.
In the end, let me suggest that you practice patience. Aligning with Ayurveda's lifestyle clock is no quick fix, but if you sincerely follow my recommendations, within a few weeks you will begin to experience tangible benefits, such as perceptibly reduced stress levels, improved sleep, better immunity, increased physical stamina, improved mood, greater mental clarity, enthusiasm, cheerfulness, and enhanced creativity.
~
Nectar Fruit Stir Fry with Ayurveda Spices
Marinade ingredients:
1⁄4 teaspoon ground turmeric
1/16 teaspoon asafoetida
1⁄4 teaspoon ground cumin
1⁄4 teaspoon rock salt
Ingredients:
2 medium-size ripe pears, sliced
1 heaping tablespoon ghee or clarified butter
1⁄4 teaspoon cumin seeds
1⁄4 teaspoon whole black peppercorns
1⁄2 teaspoon minced fresh garlic
1⁄2 teaspoon grated fresh ginger root
1 teaspoon ground coriander
1⁄2 teaspoon ground turmeric
Rock salt to taste
1/16 teaspoon asafoetida
1 teaspoon minced cilantro
Method:
1. Prior to cooking, pierce the pear slices with a fork and mix with the marinade ingredients. Marinate for 15 minutes.
2. Heat ghee in a pan. When ghee begins to shimmer, reduce heat to medium. Add cumin seeds and black peppercorns. Allow them to pop, about 10 to 15 seconds.
3. Add minced garlic and grated ginger and sauté for 20 seconds. Add pears.
4. Sprinkle coriander and turmeric over the pear slices. Add rock salt and asafetida and stir the entire mixture. Turn heat to low and cover. Do not add extra water as the pear will cook in its own steam. Cook for about 15 minutes.
5. Occasionally remove the cover and stir gently to avoid burning or sticking on the bottom of the pan. After 15 minutes, turn off heat. Add cilantro as garnish. Serve hot.
The pears can be served with Indian bread, pita bread, or quinoa.
~
~
~
Author: Acharya Shunya
Image: Unsplash
Editor: Travis May