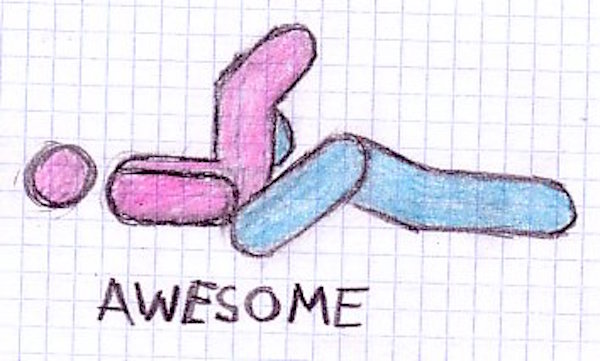 Warning: Adult content ahead.
~
As a sexologist, I am often asked for some quick tips for heightened intimacy and pleasure-filled sex.
It can be easy and more comfortable to stick to our daily routines, especially while juggling parenthood, work life, relationships, and more.
However, it is important to slow down and take the time to focus on inviting more pleasure into our lives. Oral sex can be one of the most beautiful expressions of intimacy, desire, and love for a partner or lover. That's why I am sharing my nine commandments for mind-blowing cunnilingus.
Before we get to the, ahem, juicy tips, let's review a definition. In case you're overwhelmed, simplifying the act will make it feel much more approachable:
Cunnilingus: Stimulation of the female genitals using the tongue or lips.
See also, "eating pussy," "eating her out," "going down on her." 
Whatever you call it—whether you've never done it before or you already consider yourself a master of flicking your tongue—let's simplify the act with some straight from the hips advice on giving delightful cunnilingus. Even if you're confident about giving oral pleasure, you may be curious to learn some new tricks of how to give her the best eating of her life.
Lovers of women, enjoy.
1. Create a powerful connection.
You can blow her mind with your mouth, but the most important aspect of any sex act is the connection between the two (or more) of you. If you and your partner feel intimate together, she'll feel safe to lay back, let go, and enjoy the pleasure of sex with you.
Focus on creating trust and a place for honest communication, and you'll set the stage for more pleasurable sex. The more we work on strengthening our communication, the better everything will be—including oral sex!
2. Find out how she feels before you dive in.
We probably (hopefully) don't need to establish that her consent is required—but, yeah, consent is non-negotiable.
Before you dive in, ahem, head first, does she actually want you to? This is when our powerful connection and communication skills come in handy. Does she enjoy oral sex? Has she had a few bad pussy-eating experiences? Does it make her feel extremely vulnerable, and are you okay with being gentle with her vulnerability?
These are all essential things to consider. To find out how she feels, you don't need to bring it up over an expensive dinner at a fancy restaurant. While you're kissing and fondling each other, you could say that you'd love to taste her and notice her reaction. More moaning or her pressing her hips into you is probably a good indicator that you've got the green light to go down.
Keep in mind that some women might be uncomfortable with the thought of you seeing their vulva and vagina up close. She may just need a little reassurance from you that you really want to do it—and enjoy it. This might be just the reassurance she needs to help her relax into the experience.
3. You're probably turned on, and that's okay.
There's no need to pretend it's all about her pleasure. Giving pleasure feels good for the giver, too! Actually, the more obvious you make it that you're enjoying yourself while pleasuring her, the more fun she's going to have while you're going to town.
You get to take a front row to her experience and the pleasurable sensations. It's less about you doing an act to her, and more about what you're doing together.
4. She has a body, pay attention to all of it.
While it can be easy to find yourself lost in the moment and focusing on your licking and tongue-swirling techniques, remember there's a whole person there, an entire aroused body that will enjoy your touch.
Indulge in her whole body and the experience first. Use your hands, lips, and body to show her how excited you are about the sight and sensations of all the parts of her soft skin. By slowing down and spending a moment finding pleasure in the whole experience, it will help her feel sexier. And when she feels sexier, the more intense her reactions will be.
Take your time, and enjoy all the kissing and teasing.
5. Warm it up.
By now, she could be very turned on, and once you have her verbal or unspoken nod of approval, start out by lightly touching the skin that almost touches the side of her outer lips with both your mouth and your fingers. Very slowly, move on to grazing her pussy directly. Offer gentle kisses and light gentle strokes with your fingers, combined with an occasional moan to let her know you're enjoying yourself too.
6. Proceed with caution.
The clitoris is the most sensitive part of a woman's body, as the nerve endings surrounding it are rich and diverse. This means she's capable of receiving a lot of pleasure, but also a lot of pain—so you'll also need to proceed with caution.
When you become absorbed in the moment, you'll naturally become attuned to her body and how she's handling all the stimulation. Start slowly, and let the stimulation build slowly from a light touch to a steady rhythm.
You can start with slow licks and large circles or long up-and-down movements to stimulate the whole area—just remember how sensitive her clitoris is so that you don't offer too many sensations from the start.
You can slowly increase your speed and shift your focus toward the head of the clitoris, keeping in mind that some women might prefer indirect stimulation (maybe only touching on top of her hood), while other women might really enjoy the direct pressure on the head of her clitoris.
7. Find your flow.
Every woman's experience is going to be unique—even from the last time with you. What worked for previous partners might not work with her.
Try a combination of side-to-side, sucking, kissing, and up-and-down strokes. Mixing it up is a fun way to find out what she's enjoying the most in the moment. Pay close attention to how her body is responding with every variation.
Once you've found a sweet spot and the right movement of your mouth—stick with it. If you think you're in the right spot, just slowly increase the pressure and the speed of your strokes until you reach the right point of intensity. Stay there until she has an orgasm. If you're not sure if you're hitting the right spot with the right pressure, pause and ask—she's not expecting you to be a mind reader!
8. Don't forget your hands.
As her pleasure continues increasing to greater levels, you might notice your hands have hardly moved. Feel free to try using your hands to increase her pleasurable sensations.
You can keep stroking her body, play with her inner and outer lips, or try some inner stimulation by slipping a finger inside her vagina as she's nearing closer and closer to the edge. Tease her a little by placing a finger right at the opening of her vagina, and see if she instinctively tries to draw your finger inside.
9. Remember, there are no rules.
There isn't a magical list of tips and tricks to giving the perfect cunnilingus (feel free to ignore most of the attention-getting headlines). These are just some guidelines intended to help give you the confidence to create a sexy and satisfying pussy-eating experience for both of you.
Keep playing, and find the perfect experience for you and your partner.
~
~
Author: Kelly McDonnell-Arnold
Image: kait jarbeau/Flickr; Flickr/Bryan Brenneman
Editor: Callie Rushton
~
Relephant:
~
Mindful bonus: