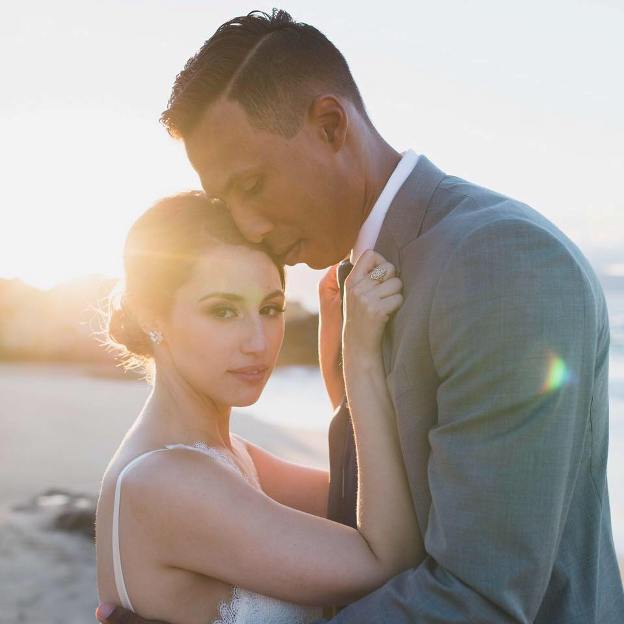 To love you is an adventure, a journey that I never wish to return from.
When we meet, whether either of us has been married before, whether I've worn white before or not, I can promise that I didn't know love—until you.
I've grown up a lot, and I know that I still have more to do. Yet I also know that no matter what changes ensue, it will be you who I'll still love at the end of my hardest days.
I don't need the simple vows of "in sickness and in health"—I know the most difficult times will come when we least expect them, when we think everything is fine and life suddenly turns dark. And so I vow to never leave your side, even if I don't agree with your choices, even if I can't see the way out. I will take your hand and walk together with you, trusting you, until the sun returns on a new day.
To promise our love is a beautiful thing, when everything seems as close to perfect as it could get, but the thing is: 
I won't always do the right thing, and I can't say that I will make your life easier. I can't tell you where this journey will lead us, or where we will call home.
But what I can vow is your story will end with me. As long as your soul returns to mine, we'll both be right where we are supposed to be. I can offer my heart to you—today, tomorrow, and in a hundred years when the world will have forgotten everything but the way in which we loved one another.
There may be days when we hurt one another, even if unintentionally, and tears may fall. In those moments, I vow to always be the one to apologize first and never cling to self-righteousness because the only way that we will win in this life is to stick together.
I don't plan to let my ego get in the way of what really matters.
I promise to see you, my love. As you are in this moment, and as you will be in the next. I will always put your growth first before any of my own desires of comfort within this relationship, and so I vow to support you through all of your dreams, your crazy idealizations, and whatever sparks your passion for a minute or more.
I believe in you, in the man that you are, and in the life you are meant to live—and so I will do anything that I can to help you along the way, even if that is nothing more than a kiss, a warm embrace, or a back rub.
We won't always be as we are in this moment—no, I promise you that we will be even better.
Not because youth will always bloom beneath the radiance of our skin, but because our love will continue to grow and deepen. We will become seasoned, experienced, and will be able to judge our lives not only by how well we loved one another, but by how many lives we have touched around us.
I vow, my love, to never limit either of us by what we only think is possible.
This life has the ability to be heartbreakingly beautiful, and I promise that nothing will ever stop us from soaking up as much of it as we can. There will be obstacles, barriers, and even those situations that leave us feeling like there's no way out, but together we will find a way—just as we always have.
The odds can stack against us, the tides may turn, but together, we will always rise.
Yet, perhaps more than all of this, I vow to stand in awe of change; whether it's your mind, your life, or your beliefs, it doesn't quite matter. Some, it seems, have feared the way we change more frequently than the seasons, yet it's within those fateful winds I find comfort: It means we will never attach a status quo to one another, to what we are meant to be, or what we accomplish.
I vow to be wrong, to be complicated, and despite that, to still understand you more effortlessly than anyone else ever has.
I may make you roll your eyes, or even sigh in exasperation, but I vow to bring that smile to your eyes that only I can, and I promise that I will kiss your sweet lips every single day of my life, reminding you that this love is never too good to be true, and that it's actually just what we both deserve.
If you already have children, I vow to love yours like my own. To take them into my arms when they've had nightmares, and to take their small hands and help show them the beauty of the world, whether it's the magic of a summer night with fireflies or the tiny shells found along a summer sea. I will be there for them just as you already are.
And if you don't, then I vow to delight in the way it will feel to carry your child—to enjoy the swelling of my ripe breasts and the feeling of tiny flutters within—knowing that it's all because a piece of you is now inside of me, growing beneath my heart.
But even then, I vow that our love will forever come first.
I won't forget that this life is only possible because of you and I, and the love that has grown between us. And so regardless of children, or jobs, or even the meandering paths that life may take, I vow to always be that woman who somehow lost and found herself simultaneously in your eyes.
I vow to always love you, and to remind you every day why you chose me to be your partner in this life.
~
Author: Kate Rose
Image: Via Rob & Amy Carter, Courtesy of Maui Maka Photography
Editor: Catherine Monkman
Copy Editor: Callie Rushton
Social Editor: Khara-Jade Warren